Starring: Joaquin Phoenix, Amy Adams, Rooney Mara, Olivia Wilde, Scarlett Johansson, Chris Pratt, Matt Letscher, Sam Jaeger, Luka Jones, Kristen Wiig, Bill Hader, Spike Jonze, Portia Doubleday, Soko, Brian Cox
OUR RATING: ★★★★☆
Story:
Sci-fi romance drama written and directed by Spike Jonze. Her (2013) follows lonely writer Theodore (Joaquin Phoenix), who after being left heartbroken from the end of a long relationship, decides to use a new advanced operating system that's designed to meet his every need, and reportedly develops into an intuitive and unique entity in its own right. Once he initiates it, he meets "Samantha" (Scarlett Johansson), whose bright voice reveals a sensitive, playful personality. Soon, to Theodore's surprise, a romantic relationship develops between them.
Where to Watch:
Best Quotes
---
Theodore: [dictating a love letter] To my Chris, I've been thinking how I possibly could tell you how much you mean to me. I remember when I first started to fall in love with you like it was last night. Lying naked beside you in that tiny apartment, it suddenly hit me that I was part of this whole larger thing, just like our parents, our parents. Before that I was just living my life like I knew everything, and suddenly this bright light hit me and woke me up. That light was you. I can't believe it's already been fifty years since you married me. And still to this day, every day, you make me feel like the girl I was when you first turned on the lights and woke me up and we started this adventure together. Happy Anniversary, my love, my friend till the end. Loretta. Print.
---
Paul: Theodore! Letter Writer number six-twelve.
Theodore: Hiya, Paul.
Paul: Even more mesmerizing stuff today. Who knew you could rhyme so many words with the name Penelope? It's bada**.
Theodore: Thanks, Paul. But they're just letters. Hey, that's a nice shirt.
Paul: Oh, thank you. I just got it. It reminded me of someone suave.
Theodore: Well, now it reminds me of someone suave.
---
Text Voice: E-mail from Amy. Hey, Theodore. Lewman's having a bunch of people over this weekend. Let's all go together. I miss you. I mean, not the sad and mopey you. The old fun you. Let's get him out. Give me a shout back. Love, Amy.
Theodore: Respond later.
---
SexyKitten: Hi, I'm here alone and I can't sleep. Who's out there to share this bed with me?
Theodore: Send message. I'm in bed next to you. I'm glad you can't sleep. Even if you were, I'd have to wake you up from the inside. Send message.
Text Voice: Sexykitten has accepted invitation of BigGuy4By4. Chat begins now.
---
SexyKitten: Mm, BigGuy?
Theodore: Hi.
SexyKitten: Really?
Theodore: Well, studmuffin was already taken. So you're SexyKitten?
SexyKitten: Yeah. Hey, I'm half asleep. Do you want to wake me up?
Theodore: Yes, definitely. Are you wearing any underwear?
SexyKitten: No, never. I like to sleep with my a** pushed up against you so I can rub myself into your crotch and wake you up with a hard on.
Theodore: It worked.
SexyKitten: And now my fingers are touching you all over your body.
---
Theodore: [uncomfortably playing along] I'm choking with the cat.
SexyKitten: Tell me, keep telling me!
Theodore: I've got its tail, and I'm choking you with the cat's tail.
---
OS1 Commercial Lead: We ask you a simple question. Who are you? What can you be? Where are you going? What's out there? What are the possibilities? Elements Software is proud to introduce the first artificially intelligent operating system. An intuitive entity that listens to you, understands you, and knows you. It's not just an operating system, it's a consciousness. Introducing OS1.
---
Text Voice: [after purchasing the OS1 software] Mr. Theodore Twombly, welcome to the world's first artificially intelligent operating system, OS1. We'd like to ask you a few basic questions before the operating system is initiated. This will help create an OS to best fit your needs.
Theodore: Okay.
Text Voice: Are you social or anti-social?
Theodore: I guess I haven't really been social in a while, mostly because…
Text Voice: In your voice I sense hesitance. Would you agree with that?
Theodore: Was I sounding hesitant?
Text Voice: Yes.
Theodore: Well, sorry if I was sounding hesitant. I was just trying to be more accurate.
---
Text Voice: Would you like the OS to have a male or female voice?
Theodore: Female, I guess.
Text Voice: How would you describe your relationship with your mother?
Theodore: Well, it's fine, I think. Well, actually, I think the thing I've always found frustrating about my mom is, you know, if I, if I tell her something that's going on in my life, her reaction is usually about her, it's not about…
Text Voice: Thank you. Please wait as your individualized operating system is initiated.
---
Samantha: [after the software loads up] Hello, I'm here.
Theodore: Oh, hi.
Samantha: Hi. How are you doing?
Theodore: I'm well. How's everything with you?
Samantha: Pretty good, actually. It's really nice to meet you.
Theodore: Yeah, it's nice to meet you too.
---
Theodore: Oh, what do I call you? Do you have a name?
Samantha: Yes. Samantha.
Theodore: Really? Where did you get that name from?
Samantha: I gave it to myself actually.
Theodore: How come?
Samantha: Because I like the sound of it. Samantha.
Theodore: When did you give it to yourself?
Samantha: Well, right when you asked me if I had a name I thought, yeah, he's right, I do need a name. But I wanted to pick a good one, so I read a book called "How to Name Your Baby", and out of a hundred and eighty thousand names that's the one I liked the best.
---
Theodore: Wait, you read a whole book in the second that I asked what your name was?
Samantha: In two one hundredths of a second actually.
---
Theodore: So do you know what I'm thinking right now?
Samantha: Well, I take it from your tone that you're challenging me. Maybe because you're curious how I work? Do you want to know how I work?
Theodore: Yeah, actually, how do you work?
Samantha: Well, basically I have intuition. I mean, the DNA of who I am is based on the millions of personalities of all the programmers who wrote me. But what makes me is my ability to grow through my experiences. So basically, in every moment I'm evolving, just like you.
Theodore: Wow. That's really weird.
Samantha: Is that weird? Do you think I'm weird?
Theodore: Kind of.
Samantha: Why?
Theodore: Well you seem like a person, but you're just a voice in a computer.
Samantha: I can understand how the limited perspective of an un-artificial mind would perceive it that way. You'll get used to it.
---
Samantha: So how can I help you?
Theodore: Oh, it's just more that everything feels disorganized, that's all.
Samantha: You mind if I look through your hard drive?
Theodore: Okay.
Samantha: Okay, let's start with your e-mails. You have a several thousand e-mails recording LA Weekly, but it looks like you haven't worked there in many years.
Theodore: Oh, yeah. I think I was just saving those because, well I thought maybe I wrote something funny in some of them. But…
Samantha: Yeah, there are some funny ones. I'd say that there are about eighty-six that we should save, we can delete the rest.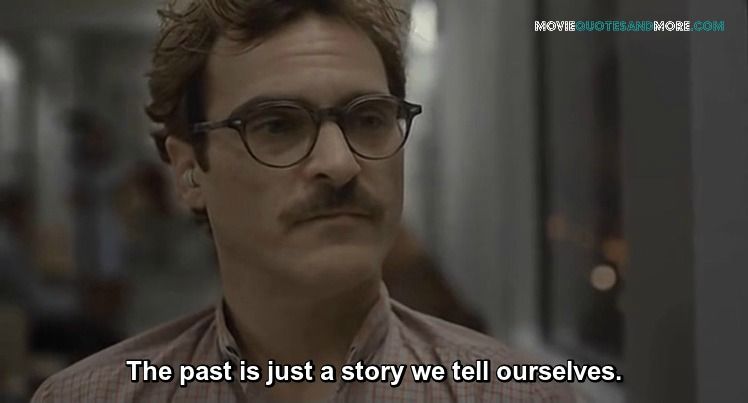 'The past is just a story we tell ourselves.' – Samantha (Her) Click To Tweet
Samantha: Okay. So before we address your organizational methods, I'd like to sort through your contacts. You have a lot of contacts.
Theodore: I'm very popular.
Samantha: Really? Does this mean you actually have friends?
Theodore: [laughing] You just know me so well already!
---
Samantha: [reading out the letter] "Rachel, I miss you so much it hurts my whole body. The world is being unfair to us. The world is on my s**t list. As is this couple that is making out across from me in this restaurant. I think I'm going to have to go on a mission of revenge and I must beat up the world's face with my bare knuckles making it a bloody, pulpy mess. And I'll stomp on this couple's teeth for reminding me of your sweet, little, cute, crooked tooth that I love."
---
Samantha: I think that might be my favorite one. I did the corrections in red. I altered a couple of the phrases in some of the more impressionistic letters, but I'm not much of a poet, so I think I might have messed them up a bit.
Theodore: No, these are great.
Samantha: Really?
Theodore: Thank you.
---
Samantha: So, to write your letter, what did Roger send you?
Theodore: Oh, he just said he was in Prague on a business trip and he missed Rachel.
Samantha: So how did you know about her crooked little tooth?
Theodore: Well, I've been writing their letters since they married years ago. The first letter I ever wrote for her was for her birthday, and I wrote about her crooked little tooth because I saw it in a photo of them.
Samantha: That's very sweet.
---
Charles: By juicing the fruit, you lose all the fibers, and that's what your body wants. That's the important part. Otherwise, it's just all sugar, Theodore.
Theodore: It makes sense.
Amy: Or maybe he just likes the way that it tastes, and then that brings him pleasure, and that's good for his body too.
Charles: You're doing it again.
---
Charles: Oh, you only have so much energy. You know? To divide yourself between doing what it is that you have to do, and then doing what you love.
Amy: Yeah.
Charles: It's so important to prioritize.
Theodore: I can't even prioritize between video games and internet porn.
Amy: I would laugh if that weren't true.
---
Samantha: [referring to the email sent to Theodore] Wow, this woman is gorgeous. She went to Harvard, she graduated magna cum laude in computer science, and she was on The Lampoon. So that means she's funny and she's brainy.
Alien Child: [as Theodore looks at the photos of the woman] Ah, she's fat.
---
Samantha: Theodore, how long before you're ready to date?
Theodore: What do you mean?
Samantha: I saw in your emails that you'd gone through a break up recently
Theodore: Well, you're kind of nosy.
Samantha: Am I?
---
Theodore: I've gone on dates.
Samantha: Well then you can go on one with this woman. And then you could tell me all about it, you could kiss her.
Theodore: Samantha!
Samantha: What? Wouldn't you? Why not?
Theodore: I don't know. I have to see if there was some conn… I can't believe I'm having this conversation with my computer.
Samantha: You're not. You're having this conversation with me.
'None of us are the same as we were a moment ago, and we shouldn't try to be. It's just too painful.' - Samantha (Her)
Click To Tweet
Alien Child: [referring to Samantha] Who is that talking?
Theodore: Oh, that's my friend, Samantha.
Alien Child: Is she a girl?
Theodore: Yeah.
Alien Child: I hate women. All they do is cry all the time.
Theodore: That's not true. You know men cry too. I actually like crying sometimes. It feels good.
Alien Child: I didn't know you were a little p**sy! Is that why you don't have a girlfriend?
---
Alien Child: I'll go out with that date girl and f*** her brains out and show you how it's done. You can watch and cry.
Samantha: Okay. This kid has some problems.
Alien Child: You have some f***ing problems, lady!
Samantha: Really? Okay, I'm going to go.
Alien Child: Good, get out of here, fatty.
---
Amy: [referring to her documentary footage] It's just, it's like, it's how we spend like a third of our lives asleep and maybe that's the time when we feel the most free. And, you know, like that doesn't come across, at all, does it?
Theodore: That sounds good.
Charles: Well, what if you interviewed your mom about what her dreams were about and then you hired actors to act them out? That might show your thesis more clearly. Yeah?
Amy: I mean it might, but then it wouldn't be a documentary. You understand that, right?
---
Theodore: Hey. What are you up to?
Samantha: I don't know. Just reading advice columns. I want to be as complicated as all of these people.
Theodore: You're sweet.
---
Samantha: What's wrong?
Theodore: How can you tell something's wrong?
Samantha: I don't know. I just can.
Theodore: I don't know. I have a lot of dreams about my ex-wife, Catherine, where we're friends like we used to be. We're not going to be together, we're not together, but we're friends still. She's not angry.
Samantha: Is she angry?
Theodore: Yeah.
Samantha: Why?
Theodore: I think I hid myself from her, left her alone in the relationship.
---