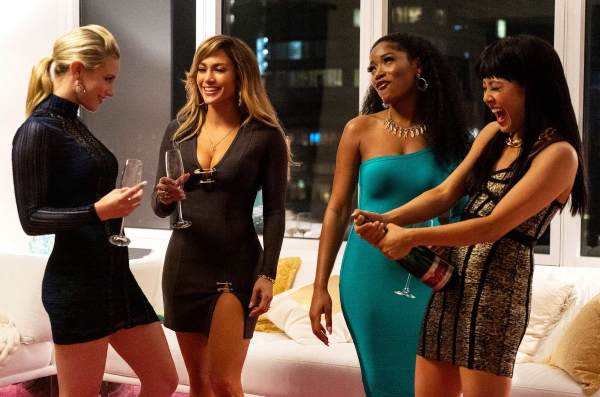 Starring: Jennifer Lopez, Constance Wu, Cardi B, Keke Palmer, Julia Stiles, Lili Reinhart, Lizzo, Madeline Brewer, Stormi Maya, Usher Raymond
OUR RATING: ★★★½
Story:
Comedy drama directed and written by Lorene Scafaria, based upon a New York magazine article by Jessica Pressler. Hustlers follows a crew of former strip club employees, led by Ramona (Jennifer Lopez), who band together to turn the tables on their Wall Street clients.
Our Favorite Quotes:
'Hurt people hurt people.' - Destiny (Hustlers)
Click To Tweet
'Look, there's nothing I can really say to make sense of what went down. But everybody's hustling. This city, this whole country, is a strip club. You got people tossing the money, and people doing the dance.' - Ramona (Hustlers)
Click To Tweet
Best Quotes
---
Strip Club Owner: [counting her earnings] So, minus forty percent is two-eight-seven, minus one-sixty.
Destiny: You said it was one-thirty.
Strip Club Owner: Well, you got here after five, didn't you?
Strip Club Owner: [Destiny reluctantly hands over the cash from her earnings] Bye, new girl.
---
Ramona: [to Destiny] Doesn't money make you horny?
---
Destiny: [meets Ramona on the roof of the club] Hey, can I get a light?
Ramona: Yeah.
Ramona: Where's your coat?
Destiny: I left it inside.
Ramona: [opens her fur coat] Yeah? Climb in my fur. Come on.
Destiny: Okay.
Ramona: Freeze out here.
Destiny: I know.
---
Ramona: I was a centerfold once.
Destiny: No way.
Ramona: '93.
Destiny: No f***ing way.
Ramona: Mm-hmm.
Destiny: Oh, my God.
Ramona: Back when Stevie Wonder came in.
Destiny: What the f*** did Stevie Wonder come to the club for?
Ramona: Casey had him in the Champagne Room. Swears to God he isn't blind.
Destiny: Wow.
---
Destiny: How come you're so good? I see you with every single kind of guy. And, I don't know, it's like you have them all figured out.
Ramona: I guess I'm just a people person. You know, it's easier if you think of them as like your rich friends, you know. Some of them are not so bad.
---
Destiny: [referring to her work at the club] But I'm not that good. I mean, if I, maybe if you like, I don't know, showed me moves.
Ramona: Maybe we could work together. You know? I could give you a crash course in this place. Introduce you to some of my regulars. It's just mostly Wall Street guys looking to spend money on pretty girls. What do you think of that?
Destiny: Yeah, that would be cool.
---
Elizabeth: [in 2014 we see Destiny being interviewed by Elizabeth] So, it was Ramona's idea that you two work together?
Destiny: Yes, that's right. And at this point, everything was aboveboard. I mean, I thought she was nice.
Elizabeth: And when would you say that things got out of control?
Destiny: Ramona was always in control.
---
Ramona: [shows pole dancing moves to Destiny] Front hook. Ankle hook.
Destiny: Yep.
Ramona: Knee hook. Hold on with that knee.
Destiny: Okay.
Ramona: From here, you could do the carousel. Put your head back. Come down. You can do Peter Pan. Knee hook. Just spin.
Destiny: [laughs] Jesus Christ.
Ramona: Then you can go into a fairy sit. Stag.
Destiny: That's pretty.
Ramona: Reverse stag.
Destiny: That's pretty too.
Ramona: Scissor sit. Table top.
Destiny: I can't do that.
Ramona: You can do that. You're going to do that. A climb.
Destiny: What if you don't have muscles to do that?
Ramona: You have muscles to do this.
Destiny: I don't have any.
Ramona: Every girl has muscles to do this. You could do this one, this is a martini. Fireman down. Boom.
---
Ramona: Hey, you know Diamond from the Bronx, right?
Diamond: What's up, baby-boogie-down- f***ing-Bronx-b**ch?
Ramona: Come on, she's going to help you.
Destiny: You're going to help me?
Ramona: You're going to help us out right now. Get in the chair.
Destiny: Okay.
Ramona: [to Diamond] Get in the chair.
---
Ramona: [teaching Destiny how to dance] You don't have to be the best dancer. You just have to make their eyes move just one inch.
---
Diamond: [teaching Destiny how to dance] You drain the clock and not the m**herf***ing c**k, you know what I'm saying? And you just go slow.
---
Diamond: [referring to their boyfriends] These m**herf***ers think that it's so fun to date a stripper, because it's like, "We move, and we f***. And we f*** the best. It's the s**t." And then, when they realize that we work six nights a week, last s**t we want to see is their damn d**ks!
Liz: I just want to chill on my couch, in some feetie pajamas with my ice cream, no makeup, and for damn sure not with these on.
---
Diamond: Well, I have a boyfriend.
Ramona: Since when?
Diamond: [holds up a d**do] Since now. He don't bother me. He don't get jealous. The only time he complain is when I don't change the batteries, b**ch.
Ramona: Too bad he ain't got no money.
Diamond: Well, b**ch, I can't have everything, can I?
---
Ramona: [as Destiny goes to buy a drink at the club] Hey. You an investor in this place?
Destiny: No.
Ramona: Then quit putting money back into it. Let the guys get f***ed up. First get them a single, then a double, then a triple, then go back to a double, and then a single. You want them drunk enough to get their credit card, but sober enough to sign the check.
---
Destiny: According to Ramona, there were three tiers of Wall Street guys.
Ramona: The guys at the bottom, they don't do anything dirty to make money. So, most of them don't have any. But if they do, you can milk them for every penny.
---
Ramona: [referring to the top clients] CEOs, CFOs, investment bankers, corporate raiders, hedge funders, ax murderers. Coming straight from the crime scene into the club. But not through the front. Oh, no. These guys, they don't want to be written about on page six. They come through the back. They take the private elevator to the one room without cameras. And they don't leave till they spend ten thousand, fifteen thousand dollars in one night.
---
Ramona: [referring to the top clients] They can be degrading, possessive, aggressive, violent. And they never get in any trouble. Because everyone's willing to cover their tracks. Because deep down they all want what they got. They all want to be on top, where there are no consequences. You're just another deal to them. And that's all they are to you. It's business. And it's a more honest transaction than anything else they did that day. All you have to do is figure out who you're dealing with, and then play them at their level.
---
Ramona: I'm designing my own swim-line.
Destiny: You made these?
Ramona: Uh-huh. I like to use a lot of mixed media. So I like find leather pieces, and then I get little like chains and make belts out of them. And this right here, these are epaulets. That's French for "little shoulders". You know, a lot of people are afraid to wear denim in the ocean, but I swear that these get more comfortable when they're wet. Specifically salt water.
---
Ramona: It's going to take some time for me to save up the money for my label, but I do have a client who's a graphic designer, and he mocked-up this logo for me. Swimona. It's catchy, right?
Destiny: Did you go to school for this?
Ramona: Yep. Thirteen credits away from graduating.
---
Destiny: I don't want to be dependent on anybody. Like ever. You know? I just want to be able to take care of my grandma for the rest of her life. Maybe go shopping every once in a while.
Ramona: [chuckles] Yeah. That's how I feel. I just want my daughter to be able to do whatever she wants, you know? Go to whatever school she wants, or not. If that's what she wants. I swear, I'd do anything for this kid. Motherhood is a mental illness.
Destiny: Well, that would explain my mother.
---
Destiny: [back to being interviewed by Elizabeth] I mean Ramona. How much of this is going into the article?
Elizabeth: Oh.
Destiny: It's just, I really hope it's not some story about all strippers being thieves or whatever.
Elizabeth: Not at all.
Destiny: Because they're not. And it's things like this that add to a stigma, and I don't want to perpetuate anything.
Elizabeth: Of course.
Destiny: You got to understand. I was making an honest living then. Everything was good. Everybody was happy. Everybody was making money.
---
Destiny: I made more money that year than a goddamn brain surgeon. And, sure, some days sucked. Like any other job. But other days…
---
Ramona: [when Usher shoes up to their club] What's your name?
Usher: Usher, baby.
Destiny: And for one last moment, everything was so glamorous and cool.
---
Destiny: The crash put everybody out of business. But I had other things on my mind.
---
Destiny: After I stopped working, I lost touch with Ramona. That's just what happens when you have a kid.
---
Interviewer: [being interviewed for a retail job] So you really don't have any retail experience.
Destiny: No, not yet. But that's why I'd really like to get retail experience, because then I would have it.
Interviewer: We're really looking for someone with retail experience.
Destiny: Well, how am I supposed to get retail experience without retail experience? I mean, I sold beer. What's the difference?
---
Ramona: You remember what we were like back then? Remember? We were like f***ing hurricanes. Weren't we?
Destiny: I just need to make money right now, though, you know? I just want to like be independent. Not need anybody. Just me and Lily. That's it.
---
Destiny: She told me what happened after the crash. With half of Wall Street unemployed, the club wasn't far behind. Mercedes got Ramona a job in fashion.
---
Ramona: Look, anyone can own one nice suit. You want to look at their shoes, their watches, briefcases, their wedding rings. Always look for a wedding ring. Once you got them on the hook, that's when we get the net.
---
Trailer: