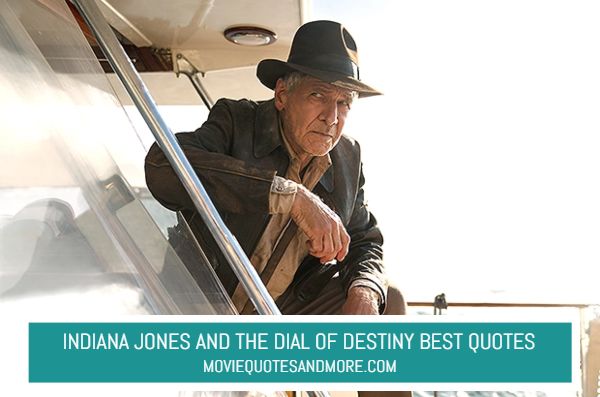 Copyright Notice: It's easy to see when our selected quotes have been copied and pasted, as you're also copying our format, mistakes, and movie scene descriptions. If you decide to copy from us please be kind and either link back, or refer back to our site. Please check out our copyright policies here. Thanks!
Starring: Harrison Ford, Phoebe Waller-Bridge, Antonio Banderas, John Rhys-Davies, Shaunette Renee Wilson, Thomas Kretschmann, Toby Jones, Boyd Holbrook, Oliver Richters, Ethann Isidore, Mads Mikkelsen
Story:
Action adventure sequel directed and co-written by James Mangold. Set in 1969, against the backdrop of the space race between the United States and the Soviet Union. Indiana Jones and the Dial of Destiny (2023) follows archaeologist and adventurer Indiana Jones (Harrison Ford) as he starts to feel doubts when the US Government recruits former World War II enemies in their desperation to beat the Soviet Union out in the competition to make it to space.
We'll add the best quotes once the movie is released and we've had a chance to watch it, but for now, here's a small selection.
Quotes:
Sallah: I miss the desert. I miss the sea. And I miss waking up every morning, wondering what wonderful adventure the new day will bring to us.
Indiana Jones: Those days have come and gone.
Sallah: Perhaps. Perhaps not.
---
Buyer: Who is this man?
Indiana Jones: I'm her Godfather.
Helena: He's mildly related.
---
Indiana Jones: [as he starts cracking his whip] Get back.
---
Indiana Jones: I don't believe in magic, but a few times in my life, I've seen things. Things I can't explain. And I've come to believe it's not so much what you believe, it's how hard you believe it.
Trailer: