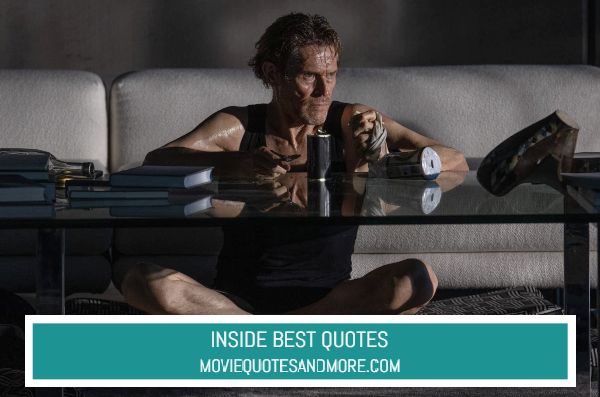 Copyright Notice: It's easy to see when our selected quotes have been copied and pasted, as you're also copying our format, mistakes, and movie scene descriptions. If you decide to copy from us please be kind and either link back, or refer back to our site. Please check out our copyright policies here. Thanks!
Starring: Willem Dafoe, Gene Bervoets, Josia Krug, Eliza Stuyck
Story:
Psychological thriller directed by Vasilis Katsoupis. Inside (2023) follows talented art thief Nemo (Willem Dafoe), who becomes trapped in a New York penthouse after his heist does not go as planned. Locked inside with nothing but priceless works of art, he has to use all his cunning and invention to survive.
We'll add the best quotes once the movie is released and we've had a chance to watch it, but for now, here's a small selection.
Quotes:
Colleague: [to Nemo, over earpiece] Final approach to target. Number one. Go! Go!
---
Colleague: [to Nemo, over earpiece] Okay, you got seven minutes. Stay focused. The art in here is worth millions.
---
Colleague: [to Nemo, over earpiece] Proceed to step two.
---
Nemo: [as the alarms go off] What's happening? Come in. Come in!
---
Nemo: It won't open.
Colleague: [over earpiece] Sorry, man. You're on your own.
---
Nemo: [over radio] Come in, number three. Number three, come in.
---
Nemo: Help me! Get me out of here!
---
Nemo: Go to Tompkins Square Park. Look for a guy named Danny Z. Do that for me. Tell him I'm stuck here. Nobody here but us pigeons.
---
Nemo: I feel you, brother. I'm going to set you free.
---
Nemo: When I was a kid, my teacher asked what I would save from my house if it were on fire. I answered, my sketchbook, my AC/DC album, and my cat, Groucho. I didn't mention my parents, or my sister. Does that make me a bad person?
---
Nemo: Cats die. Music fades. But art is for keeps.
Trailer: