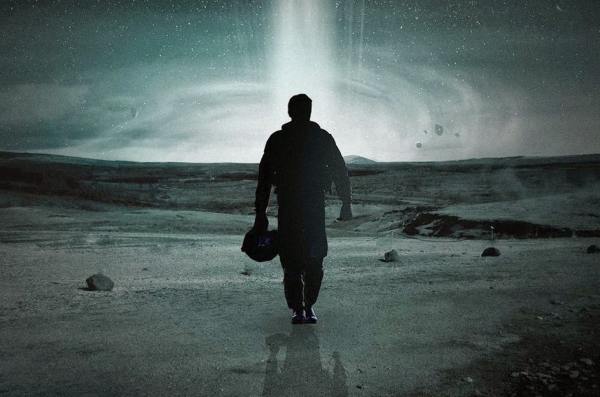 Starring: Matthew McConaughey, Jessica Chastain, Mackenzie Foy, Ellen Burstyn, Anne Hathaway, Andrew Borba, Wes Bentley, William Devane, Michael Caine, David Gyasi, Josh Stewart, Casey Affleck, Timothée Chalamet, John Lithgow, David Oyelowo, Bill Irwin, Topher Grace, Matt Damon
OUR RATING: ★★★½
Story:
Sci-fi adventure directed and co-written by Christopher Nolan. Inspired by the theories of Caltech astrophysicist Kip Thorne, Interstellar (2014) is set in the not too distant future where Earth has been ravaged by an environmental disaster known as the Blight forcing humanity to focus on basic survival. We follow former NASA pilot Cooper (Matthew McConaughey), who is a widowed father of two, Murph and Tom (Jessica Chastain and Casey Affleck), and is now a corn farmer. But when Cooper is seemingly accidentally reunited with an old colleague, Professor Brand (Michael Caine), he is offered the chance to help save humanity by leaving his family behind and setting out on an uncertain journey into space to find a new planet for humans to inhabit.
Our Favorite Quotes:
'We used to look up at the sky and wonder at our place in the stars. Now we just look down and worry about our place in the dirt.' - Cooper (Interstellar)
Click To Tweet
Best Quotes
---
Older Murph: My dad was a farmer. Like everybody else back then. Of course he didn't start that way.
---
Young Murph: I thought you were the ghost.
Cooper: There's no such thing as a ghost, babe.
Young Murph: Grandpa says that you can get ghosts.
Cooper: No, babe, that's because grandpa's a little too close to being one himself.

---
Cooper: Get the patch kit.
Young Tom: How am I supposed to patch it out here?
Cooper: You'll have to figure it out. I'm not always going to be here to help you.
---
Cooper: What's going on, Murph?
Young Murph: Why did you and mom name me after something that's bad?
Cooper: Well, we didn't?
Young Murph: Murphy's Law?
Cooper: Murphy's Law doesn't mean that something bad will happen. What it means is, whatever can happen, will happen. And that sounded just fine with us.
---
Young Tom: [referring to the drone] How long do you think it's been up there?
Cooper: The Delhi Mission Control went down same as ours, ten years ago.
Young Tom: So for ten years? Why did it come down so low?
Cooper: I don't know. Maybe the sun cooked it's brain or it was looking for something.
---
Young Murph: [referring to the drone] What are you going to do with it?
Cooper: I'm going to give it something socially responsible to do, like drive a combine.
Young Murph: Can't we just let it go? It wasn't hurting anybody.
Cooper: Listen, this thing needs to learn how to adapt, Murph, like the rest of us.
---
Young Murph: There's nothing special about which book. I've been working on it, like you said. I counted the spaces.
Cooper: Why?
Young Murph: In case the ghost is trying to communicate. I'm trying Morse.
Cooper: Morse?
Young Murph: Yeah, dots and dashes. It's…
Cooper: Yeah, I know what Morse code is, Murph. I just don't think your bookshelf is trying to talk to you.
---
Donald: When I was a kid, it felt like they made something new every day. Some gadget or idea. Like every day was Christmas. By six billion people, just try to imagine that. And every last one of them trying to have it all. This world isn't so bad. And Tom will do just fine. You're the one who doesn't belong. Born forty years too late or forty years too early. My daughter knew it, God bless her. And your kids know it, especially Murph.
Cooper: Well, we used to look up at the sky and wonder at our place in the stars. Now we just look down and worry about our place in the dirt.
Donald: Cooper, you were good at something and you never got a chance to do anything with it. I'm sorry.
---
Cooper: [to young Murph] It's not a ghost. It's gravity.
'Murphy's Law doesn't mean that something bad will happen. What it means is, whatever can happen, will happen.' - Cooper (Interstellar)
Click To Tweet
Cooper: It's not Morse, Murph, it's binary. Thick is one, thin is zero. Coordinates. That's it.
---
TARS: Where did you find those coordinates?
Cooper: Unless you want to end up as my second lawnmower, no, I think I'll turn you into a valve of a vacuum cleaner.
Brand: No, you won't.
---
Cooper: Who are you?
Brand: Dr. Brand.
Cooper: Yeah, I knew a Dr. Brand once, he was a Professor.
Brand: What makes you think I'm not?
Cooper: Wasn't near as cute either.
---
Williams: Explain to me how you found this facility.
Cooper: Kind of accidentally stumbled upon it. We were on a salvage run and we came across…
Williams: You're sitting in the best kept secret in the world. Nobody stumbles in here, nobody stumbles out.
Professor Brand: Cooper, please, cooperate with these people.
Cooper: Look, it's kind of hard to explain. Now, we learnt these coordinates from an anomaly.
Doyle: What sort of anomaly?
Cooper: Well, I hesitate to term it supernatural, but it damn well wasn't scientific.
Williams: You're going to have to be specific, Mr. Cooper, right now.
Young Murph: It was gravity.
'Absolute honesty isn't always the most diplomatic, nor the safest form of communication with emotional beings.' - TARS (Interstellar)
Click To Tweet
Professor Brand: Don't you know who we are, Coop?
Cooper: No, Professor, I don't.
Brand: You know my father Professor Brand. We're NASA.
Cooper: NASA.
Professor Brand: NASA. The same NASA you flew for.
---
Cooper: I heard they shut you down, sir, for refusing to drop bombs from the stratosphere on the starving people.
Professor Brand: Well when they realized that killing other people was not a long term solution, then they needed us back, in secret.
Cooper: Why secret?
Professor Brand: Because public opinion wouldn't allow spending on space exploration. Not when you're struggling to put food on the table. Blight. Wheat, seven years ago. Okra, this year. Now, there's just corn.
Cooper: Well we're growing more than we ever had.
Professor Brand: But like the potatoes in Ireland and the wheat in the dust bowl, the corn will die. Soon.
---
Cooper: We'll find a way, Professor, we always have.
Professor Brand: Driven by the unshakable faith that the Earth is ours?
Cooper: Well not just ours, no. But it is our home.
Professor Brand: Earth's atmosphere is eighty percent nitrogen. We don't even breathe nitrogen. Blight does, and as it thrives, our air gets less and less oxygen. The last people to starve, will be the first to suffocate. And your daughter's generation will be the last to survive on Earth.
---
Professor Brand: We're not meant to save the world. We're meant to leave it.
Cooper: Rangers.
Professor Brand: The last components of our one versatile ship in orbit, The Endurance. Our final expedition.
Cooper: You sent people out there looking for a new home?
Professor Brand: The Lazarus missions.
Cooper: That sounds cheerful.
---
Professor Brand: Lazarus came back from the dead.
Cooper: Sure, but he had to die in the first place. There's not a planet in our solar system that could sustain life and the nearest star is over a thousand years away. I mean, it doesn't even qualify as futile. Where did you send them?
Professor Brand: Cooper, I can't tell you any more unless you agree to pilot this craft. You're the best pilot we ever had.
Cooper: I barely left the stratosphere.
Professor Brand: This team never left the simulator.
'Don't trust the right thing done for the wrong reason. The why of the thing, that's the foundation.' - Donald (Interstellar)
Click To Tweet
Professor Brand: We need a pilot, and this is the mission that you were trained for.
Cooper: What, without even knowing it? An hour ago you didn't even know I was alive, and you were going anyway.
Professor Brand: We had no choice. But something sent you here, they chose you.
Cooper: Who's "they"?
---
Cooper: How long would I be gone?
Professor Brand: Hard to know. Years.
Cooper: I've got kids, Professor.
Professor Brand: Get out there and save them.
Cooper: Who's "they"?
---
Romilly: We started detecting gravitational anomalies almost fifty years ago. Mostly small distortions to our instruments in the upper atmosphere. In fact I believe you encountered one yourself.
Cooper: Yeah, in the Straits. My crash, something tripped my fly-by-wire.
Romilly: Exactly. But of all these anomalies, the most significant is this.
[he shows them an image of Saturn surrounded by a wormhole on the large screen]
---
Romilly: Out near Saturn, a disturbance of space-time.
Cooper: Is that a wormhole?
Romilly: It appeared forty-eight years ago.
Cooper: And it leads, where?
Professor Brand: Another galaxy.
Cooper: A wormhole is not a naturally occurring phenomenon.
Brand: Someone placed it there.
Cooper: "They"?
Brand: And whoever they are, they appear to be looking out for us. That wormhole lets us travel to other stars. It came right as when we needed it.
---
Doyle: They've put potentially habitable worlds right within our reach. Twelve, in fact from our initial probes.
Cooper: You sent probes into that?
Professor Brand: We sent people into it, ten years ago.
Cooper: The Lazarus missions.
'Our survival instinct is our single greatest source of inspiration.' - Dr. Mann (Interstellar)
Click To Tweet
Professor Brand: Twelve possible worlds, twelve Ranger launches carrying the bravest humans ever to live. Led by the remarkable Dr. Mann.
Doyle: Each person's landing pod had enough life support for two years. But they can use hibernation to stretch that making observations on organics over a decade or more. Their mission was to a**ess their world and if it showed potential, then they could send out a signal and bed down for the long nap, wait to be rescued.
Cooper: And what if the world didn't show promise?
Doyle: Hence the bravery.
---
Cooper: You don't have the resources to visit all twelve.
Doyle: No. Data transmission back through the wormhole is rudimentary. Simple binary pings on an annual basis give us some clue as to which worlds have potential. And one system shows promise.
Cooper: Well one, that's a bit of a long shot isn't it?
Brand: One system with three potential worlds? Not a long shot.
Cooper: Okay. So if we find a home, then what?
Professor Brand: That's the long shot. There is a plan A, and a plan B. Did you notice anything strange about the launch chamber?
---
Cooper: This entire facility is a centrifuge. Some kind of vehicle? A space station?
Professor Brand: Both. Plan A.
Cooper: How do you get it off the ground?
Professor Brand: The first gravitational anomalies changed everything. Suddenly we knew that harnessing gravity was real. So I started working on a theory and we started building this station.
Cooper: But you haven't solved it yet.
Brand: That's why there's plan B.
---
Brand: The problem is gravity. How to get a viable amount of human life off the planet? This is one way. Plan B: Population bomb. Over five thousand fertilized eggs weighing in at just under nine hundred kilos.
Cooper: Well how would you raise them?
Brand: With the equipment onboard we incubate the first ten. After that, with surrogacy the growth becomes exponential. Within thirty years we could have a colony of hundreds. The real difficulty with colonization is genetic diversity.
Brand: [referring to the vial] This takes care of that.
Cooper: Yeah, but what about the people here? You just, you'd give up on them? My kids?
Professor Brand: That's why Plan A is a lot more fun.
'Newton's third law. The only way humans have ever figured out of getting somewhere is to leave something behind.' - TARS (Interstellar)
Click To Tweet
Cooper: How far have you got?
Professor Brand: Almost there.
Cooper: You're asking me to hang everything on an "almost".
Professor Brand: I'm asking you to trust me. Find us a new home, and by the time you return, I would've solved the problem of gravity. I give you my word.
---
Trailer: