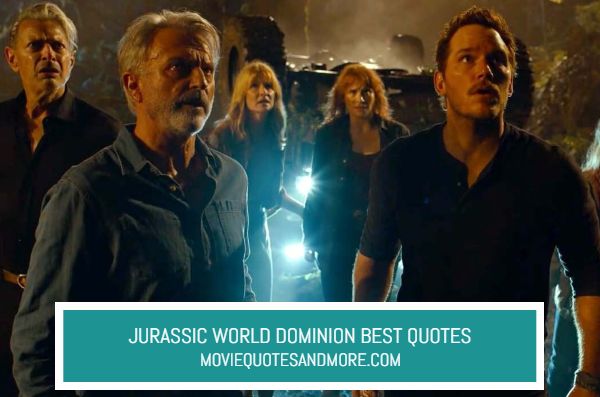 Copyright Notice: It's easy to see when our selected quotes have been copied and pasted, as you're also copying our format, mistakes, and movie scene descriptions. If you decide to copy from us please be kind and either link back, or refer back to our site. Please check out our copyright policies here. Thanks!
Starring: Chris Pratt, Bryce Dallas Howard, Laura Dern, Sam Neill, Jeff Goldblum, Mamoudou Athie, Scott Haze, Dichen Lachman, Daniella Pineda, Campbell Scott, Isabella Sermon, Justice Smith, Omar Sy, DeWanda Wise, BD Wong
Story:
Sci-fi adventure sequel directed and co-written by Colin Trevorrow. Jurassic World 3: Dominion (2022) takes place four years after Isla Nublar has been destroyed. Dinosaurs now live, and hunt, alongside humans all over the world. This fragile balance will reshape the future and determine, once and for all, whether human beings are to remain the apex predators on a planet they now share with history's most fearsome creatures.
We'll add the best quotes once the movie is released and we've had a chance to watch it, but for now, here's a small selection.
Quotes:
Hammond: I wanted to show that something that wasn't an illusion. Something that was real. Something that they could see and touch. Creation is an act of sheer will. Life, will find a way.
---
Maisie Lockwood: Blue had a baby. That's impossible.
Owen Grady: [to the baby dinosaur] Hey, girl.
Maisie Lockwood: You look just like your mother.
---
Owen Grady: [to Blue] I promise you, I am going to get her back.
---
Claire Dearing: We can't keep her here forever.
Owen Grady: If they find her, we're never going to see her again. We got to protect her. That's our job.
---
Ellie Sattler: Humans and dinosaurs can't coexist. We created an ecological disaster.
---
Ian Malcolm: Genetic power has now been unleashed.
---
Dr. Henry Wu: I have to fix a terrible mistake that I've made.
---
Alan Grant: Ellie Sattler.
Ellie Sattler: Alan Grant.
---
Alan Grant: You didn't come out all this way just to catch up, now, did you?
Ellie Sattler: You coming or what?
---
Ian Malcolm: We're racing toward the extinction of our species. We not only lack dominion over nature. We're subordinate to it.
---
Ian Malcolm: The doomsday clock might be about out of time.
---
Ramsay Cole: [to Sattler and Grant] I have to warn you, everyone's so excited to have you. You guys are absolute legends around here.
---
Ellie Sattler: If our world's going to survive, what matters is what we do now.
---
Owen Grady: I could use your expertise.
---
Alan Grant: A baby raptor?
Owen Grady: I made a promise we would bring her home.
Ian Malcolm: You made a promise to a dinosaur.
Owen Grady: Yeah. Why?
---
Claire Dearing: Come back.
Owen Grady: I always come back.
---
Owen Grady: You're willing to risk your life for people you've never met
Kayla Watts: You want to ask questions, or do you want to ride?
---
Owen Grady: That's another plane, right?
Kayla Watts: Not exactly.
---
Kayla Watts: Everybody hold on to somebody.
---
Ellie Sattler: What is that?
Alan Grant: Biggest carnivore the world has ever seen.
---
Owen, Alan: Don't move.
Ian Malcolm: Bigger. Why do they always have to go bigger?
---
Owen Grady: See? Not so bad.
Trailer: