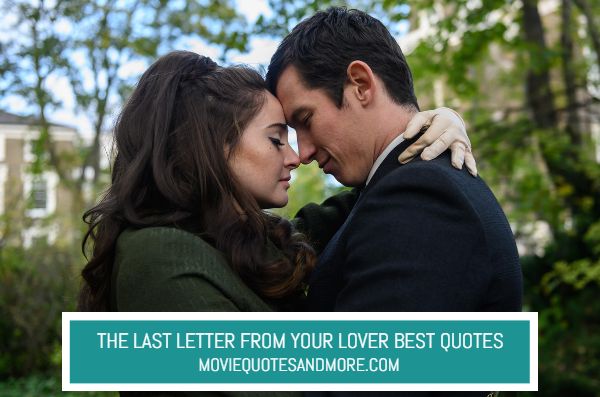 Starring: Felicity Jones, Shailene Woodley, Callum Turner, Nabhaan Rizwan, Joe Alwyn, Ncuti Gatwa
OUR RATING: ★★★½
Story:
Romantic drama directed by Augustine Frizzell. The Last Letter From Your Lover (2021) follows Ellie Haworth (Felicity Jones), an ambitious journalist in contemporary London who uncovers a series of love letters in the archives which tell the story of an intensely romantic but forbidden affair in the 1960s between Jennifer Stirling (Shailene Woodley), the wife of a wealthy industrialist, and Anthony O'Hare (Callum Turner), a financial journalist. As Ellie is drawn into the story, she becomes obsessed with discovering the lovers identities and finding out how their love story ends.
Copyright Notice: It's easy to see when our quotes have been copied and pasted, as you're also copying our format, mistakes, and movie scene descriptions. If you decide to copy our movie quotes please be kind and either link back, or refer back to our site. Please check out our copyright policies here. Thanks!
Our Favorite Qutoes:
'Seize this thing that is true, and real, and infinite. Yes, it is scary. But I believe living a lie is worse.' - Anthony O'Hare (The Last Letter From Your Lover)
Click To Tweet
'They say if we don't learn from past mistakes, we're bound to repeat them. But can we also learn to let go of the past.' - Ellie (The Last Letter From Your Lover)
Click To Tweet
Best Quotes
---
Andrew: I'm just saying I could give you my number.
Ellie: Or you could not. And we could avoid the whole, you know, me feeling guilty and never calling you back. You feeling dejected, never hearing from me again.
Andrew: I feel so used.
Ellie: Well, you know what, Rob? Welcome to my world.
Andrew: Name's not Rob.
Ellie: Andrew. F***, sorry.
---
Alice: [to Jennifer] I wish I could lose my memory. I'd run off into the sunset and forget I ever married Francis in the first place.
---
Alice: You were lovely, and funny, and full of joie de vivre. You have the perfect life, the cleverest best friend. The rich, handsome husband who adores you.
Jennifer Stirling: Do you know why we don't have children?
Alice: He's away an awful lot, your husband. It's one of the reasons I've always been horribly envious of you.
---
Rory: I just wanted to say quickly, I really enjoyed your feature on starter marriages, and all the like online dating stuff.
Ellie: Oh, yeah?
Rory: Yeah, yeah. The bit about, you know, the difference between passionate and companionate love. Yeah, I never really thought of it like that before.
Ellie: Thanks. It gives me a warm, gooey feeling knowing my unadulterated misery has finally been put to good use.
---
Anthony O'Hare: My dearest and only love, I know you're frightened, but believe me when I say I've known nothing like this before, and can assure you that I never will again. It's with that certainty that I've decided to make a bold decision. I'm going to take the job in New York. I'll be on platform two, Marylebone, Friday at 7:15 PM. Come with me, darling. Spare him a life half-lived, a marriage of convenience. More importantly, spare yourself. Seize this thing that is true, and real, and infinite. Yes, it is scary. But I believe living a lie is worse. We could be happy. So happy. Know that you hold my hopes, my heart in your hands. Your Boot.
---
Ellie: [after reading Athony's letter] Yeah, sad thing is if you're going to elope now, you'll probably just send a text.
Rory: WhatsApp.
Ellie: Yeah. It'd be like, "Hey, babes, meet me at the station if you're interested. Hashtag comewith, if you want to change your life forever." Smiley face, aubergine, road sign, sausage.
---
Ellie: [referring to the letter] What do you think you'll do with it?
Rory: Burn it. No. I'm kidding. Probably just make sure it gets properly catalogued.
Ellie: Don't. What about returning it? Or trying to track down whoever sent it.
---
Jennifer Stirling: [reading Anthony's letter] "Dearest J, I know what the situation cost you, darling Jenny. But I also know that you and I could no more not love each other than the Earth could stop circling the Sun. You were upset the last time we parted, and I cursed myself for it. My frustration overwhelms me. There is never enough time. Never enough of you. Let's meet tomorrow. B."
---
Jennifer Stirling: [reading Anthony's letter] "My darling J, I'm still lost somewhere between our time dancing the night away at Alberto's, and being together on the Riviera. Felipe told me I was like a drunken fool, as I remembered those summer days together. If all we are allowed are hours and minutes, I will etch them on to my memory so that I can recall them in the same way that when I close my eyes, I see your heavenly face. You are never far from my thoughts. Your Boot."
---
Jennifer Stirling: You're here to write marvelous things about my husband, I believe.
Anthony O'Hare: Is that right?
Jennifer Stirling: "Beacon of sound commercial practice, turnover increasing year after year."
Anthony O'Hare: Are you asking me, or telling me?
Jennifer Stirling: I'm his wife, Mr. O'Hare. I can hardly be impartial.
Anthony O'Hare: In my experience, there's no one more brutally impartial than a wife.
Jennifer Stirling: Indeed. I'm afraid Larry is running a little late.
Anthony O'Hare: Perhaps not so marvelous after all.
---
Anthony O'Hare: When you get out, you meet as many people as possible, travel the world, because people like that, people like that make me want to stick a revolver in my mouth and pull the trigger. And the women, Jesus! Spoiled little tai-tais with barely an original thought to string together between them.
Jennifer Stirling: I'm sorry we were such a disappointment.
Anthony O'Hare: Christ, I'm drunk.
Jennifer Stirling: Evidently. Perhaps, Mr. O'Hare, the next time you find yourself in the company of such bores, you would do well to leave early. I just ask that whatever your views of me and my spoiled life, you won't attack Larry in print. Please excuse me.
---
Anthony O'Hare: [reading his letter to Jennifer] "Mrs. Stirling, I am an ungracious pig. I'd like to be able to blame exhaustion, or some uncharacteristic reaction to shellfish, but I am afraid it was the combination of the alcohol, which I shouldn't take, and the choleric temper of the socially inept. There is little you could say about me that I have not already deduced about myself in my more sober hours. Please allow me to apologize. Yours shamefacedly, Anthony O'Hare."
---
Jennifer Stirling: So you really found last night that unbearable?
Anthony O'Hare: I admit it. I find armed conflict a less daunting prospect.
Jennifer Stirling: You're William Boot from Scoop. Evelyn Waugh?
Anthony O'Hare: I know who William Boot is, Mrs. Sterling.
---
Jennifer Stirling: [referring to when her and Larry met] A few months later, he asked me to marry him, and I said yes. My parents were delighted.
Anthony O'Hare: How so?
Jennifer Stirling: Good family. Good job.
Anthony O'Hare: And those things are important to you, are they?
Jennifer Stirling: Aren't they to everyone?
Anthony O'Hare: I guess so.
---
Anthony O'Hare: [referring to his son] Lives with my ex-wife, who does her best to make sure I don't corrupt him.
Jennifer Stirling: And why would she think you would corrupt him?
Anthony O'Hare: Because I was unfaithful.
---
Jennifer Stirling: [referring to his son] You must miss him.
Anthony O'Hare: I do. Sometimes I wonder whether if I'd have done what I did if I'd known quite how much.
Jennifer Stirling: Is that why you drink?
Anthony O'Hare: Don't try to fix me, Mrs. Stirling.
---
Jennifer Stirling: Did you love her? Your wife?
Anthony O'Hare: I thought I did before, but we were young, and I'm not sure I knew what love was.
Jennifer Stirling: Have you ever loved anyone?
---
Anthony O'Hare: My son. Have you ever loved anyone?
Jennifer Stirling: I'm married.
Anthony O'Hare: You are.
Jennifer Stirling: For the record, Larry and I are perfectly content.
Anthony O'Hare: I'm glad to hear it.
---
Ellie: [reading Antony's letter] "It's 4:00 AM, and I can't sleep. It's like The Road to Madness, but I lie here imagining him next to you, his license to touch you, to hold you, and I would do anything to make that freedom mine. For as long as I can't have you, I'll conjure you here instead. Your scent, your hair, that slow sideways smile when something I say amuses you. Darling J, I've never wished harder for the dawn. Your Boot."
---
Ellie: [referring to the letters] Now I'm going to have to know how it ends. Which means, not only is the rest of my day f***ed, but, guess what, so is yours.
Rory: How f***ed are we talking?
Ellie: Well, I have to know if there are more of these.
---
Jennifer Stirling: Dear Mr. O'Hare, or shall I call you Boot? Larry called away overseas last minute. It would appear we are both marooned here until he returns. And you without the proper beach attire, how embarrassing. Care to pass the time together this afternoon? I know a darling little shop where you could find your next seaside tome. Yours, J.
---
Anthony O'Hare: Dear Mrs. Stirling, or may I call you J? Thank you for the offer, and frankly, for the rescue. I'm indebted to you for persuading me out of my room yesterday. I would love to return the favor. I know nowhere, of course, but if you can suggest a place, I can keep you laughing with my terrible schoolboy French.
---
Jennifer Stirling: Dear Boot, I'm delighted I managed to propel you, blinking, into the sunlight. I would be happy to take you up on your invitation. Perhaps we can spend a few hours in town commiserating over our mutual inadequacies with the local language. Are you free on Thursday?
---
Anthony O'Hare: I am free Thursday. But I'm also free tomorrow, and the day after, and the day after that as well. By the time Mr. Stirling returns, we could very well cover the entire coastline. Let me know what time suits you. Boot.
---
Ellie: While I was researching, I came across some mysterious old love letters among her things. Not sure how, or why they ended up there, but digging into it for my next feature, 1965, illicit love affair. They're so rich in feeling. I've never read anything quite like it.
---
Jennifer Stirling: I've received a wire. Larry's back this evening. He is to return to London immediately.
Anthony O'Hare: I see. And what do you want?
---
Anthony O'Hare: Dearest J, please know that I was not rejecting you. I have never wanted to kiss someone so badly. But when you looked up at me, something changed. And in that moment, I feared our desires would destroy us. You're an honest, remarkable creature, and I did not want to be the man responsible for making you someone less than you are. For that reason, I've spent the last week hating myself for the one decent thing I've ever done. So consider this. Spontaneity is at the heart of many wonderful things, but it is also at the root of much discontent. And if we are to embark upon something, I ask only that we make this decision as one. I write these words with you in mind, and my heart swells. So whatever the outcome, let us survive together. You'll find me at Postman's Park on Friday at 6:00 PM. I'll be there waiting. Yours, respectfully, B.
---
Rory: [referring to the archive room] Before we go in, you're going to have to remove your shoes.
Ellie: Seriously?
Rory: Kidding.
Ellie: You're a funny guy.
---
Anthony O'Hare: My dearest J, there is no sound sweeter than your knock on the door. It's like there's always a part of me waiting for it. I struggle to focus at work because my thoughts veer irrevocably back to you. What do global warfare and politics matter to me now? If this carries on, they'll put me on the gardening pages.
---
Trailer: