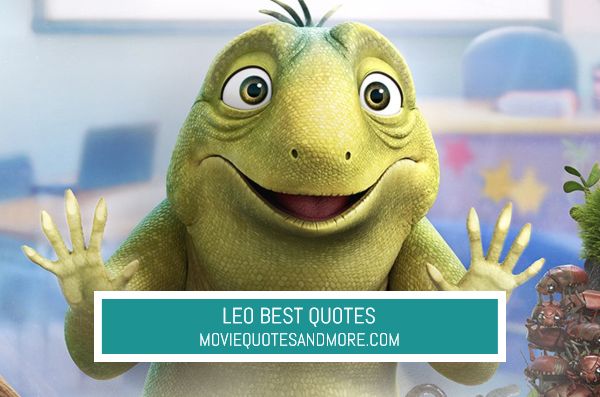 Copyright Notice: It's easy to see when our selected quotes have been copied and pasted, as you're also copying our format, mistakes, and movie scene descriptions. If you decide to copy from us please be kind and either link back, or refer back to our site. Please check out our copyright policies here. Thanks!
Starring: Adam Sandler, Bill Burr, Cecily Strong, Jason Alexander, Sadie Sandler, Sunny Sandler, Rob Schneider, Jo Koy, Jackie Sandler, Heidi Gardner, Robert Smigel, Nick Swardson, Stephanie Hsu, Nicholas Turturro
Story:
Netflix animated musical comedy directed by Robert Marianetti, Robert Smigel, and David Wachtenheim. Leo (2023) follows jaded 74-year-old lizard Leo (Sandler) who has been stuck in the same Florida classroom for decades with his terrarium-mate turtle (Bill Burr). When he learns he only has one year left to live, he plans to escape to experience life on the outside, but instead gets caught up in the problems of his anxious students, including an impossibly mean substitute teacher. It ends up being the strangest but most rewarding bucket list ever.
We'll add the best quotes once the movie is released and we've had a chance to watch it, but for now, here's a small selection.
Quotes:
Leo: Wow. Summer's over? Here we go.
---
Turtle: Alright, another year, another batch of fifth-grade head cases.
Leo: I tell you what. One kid calls me Lizzy this year, I quit.
Turtle: Just don't pee in my lettuce bowl, and we'll be alright.
Leo: I don't know. I got a feeling this year's going to be different. Something big is going to happen.
Turtle: Eh. You say that every year.
---
Leo: Could you not do that on my pillow?
---
Turtle: Okay, we got to move!
---
Leo: This is incredible!
---
Young Boy: [mockingly] "I'm a lizard!"
Turtle: [to Leo, who's got his back to the boy] That's good. Don't dignify it.
---
Leo: [singing] Back to school.
Trailer: