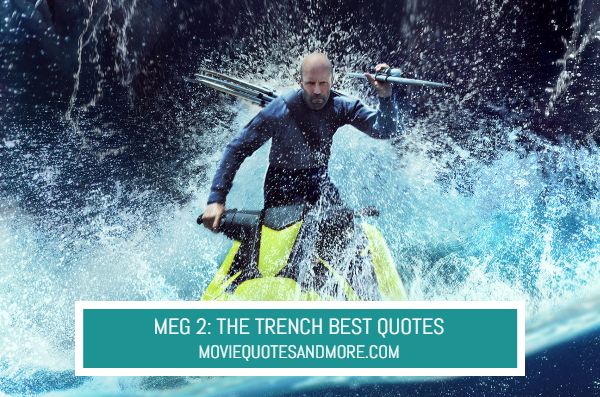 Starring: Jason Statham, Wu Jing, Shuya Sophia Cai, Page Kennedy, Sergio Peris-Mencheta, Skyler Samuels, Sienna Guillory, Cliff Curtis
OUR RATING: ★★★☆☆
Story:
Action adventure horror sequel directed by Ben Wheatley. Meg 2: The Trench (2023) centers on Jonas (Jason Statham) as he and global action star Wu Jing lead a daring research team on an exploratory dive into the deepest depths of the ocean. Their voyage spirals into chaos when a malevolent mining operation threatens their mission and forces them into a high-stakes battle for survival. Pitted against colossal Megs and relentless environmental plunderers, our heroes must outrun, outsmart, and outswim their merciless predators in a pulse-pounding race against time.
Where to Watch:
Best Quotes
---
Cargo Ship Captain: [referring to Jonas] I want him caught, dead or dead.
---
Jonas Taylor: You're all under arrest. For the illegal dumping of radioactive materials. Yeah, you, you, you, you, and you.
Cargo Ship Captain: What, me, and him, and him? And him?
Cargo Ship Captain: [to his men] Kill him.
---
Jonas Taylor: I know. You want to see the warrant. It's right in my pocket.
Jonas Taylor: [flips them off as he jumps into the sea] I'll see you in court, yeah?
---
Mac: [referring to Jonas] He's like a green James Bond. I like it.
---
Mac: [as he flies past the goons] Hello, suckers.
Rigas: [referring to Jonas] Looks like he's been making friends.
Mac: Wherever he goes, people just love him. God knows why.
---
Mac: I cannot believe you got this far in life without knowing how to tie a tie.
Jonas Taylor: First, let's not overstate how far I've gotten in life. Second, never involved wearing a monkey suit.
---
Jonas Taylor: [referring to Montes] I don't like him.
Mac: You don't like anyone.
Jonas Taylor: I like you.
Mac: That's because I save your life all the time. I buy you beers, and I back you up in bar fights.
Jonas Taylor: It's because you're a special guy.
---
Jiuming Zhang: [in Mandarin] As the great poet Song Lian said, "Man is limited only by his imagination."
---
Party Guest: [in Mandarin] Do you think there are more creatures to be discovered down there?
Jiuming Zhang: There has to be.
'If you love your job, you'll never work a day in your life.' - Jonas Taylor (Meg 2: The Trench)
Click To Tweet
Mac: [referring to Jonas, to the guests] Go on, give him a hug. Give him a tickle. Oh, he loves people.
---
Meiying: Mom was diving all the time at my age.
Jonas Taylor: Not to twenty-five thousand feet.
Meiying: Saying it's too dangerous?
Jonas Taylor: Too dangerous for you. But not dangerous.
Meiying: In psychology, they call that "cognitive dissonance".
Jonas Taylor: In the real world, they call it "parenting".
---
Jonas Taylor: Why are you swimming with the meg, Jiuming?
Jiuming Zhang: I'm conducting an experiment.
Jonas Taylor: Is the experiment "Do I taste good?"
---
Jonas Taylor: A meg is not trainable, Jiuming. But if you want to be eaten in front of your niece, go ahead.
Rigas: Fifty bucks says this is going to end badly.
Lance: I'll take that action.
Sal: I am all in for team shark.
DJ: What? You can't bet on a shark, man. That's bad karma.
---
Jonas Taylor: Jiuming, I'd like to respectfully suggest that this is truly a terrible idea. Megs and humanity were never meant to mix.
Jiuming Zhang: Haiqi and I have a special bond.
---
Jiuming Zhang: [referring to Haiqi] I can't figure out what's wrong with her. She's been acting strangely all week.
Jonas Taylor: You can clickety-click all you want. The problem is that it's a meg. And you're a snack.
---
Jiuming Zhang: You're taking bigger and bigger risks each time you go out.
Jonas Taylor: Well, I guess we both know about that.
Jiuming Zhang: It's not the same. With me, there's a calculation of risks.
Jonas Taylor: Not that I see.
---
Jiuming Zhang: [to Meiying, in Mandarin] I hadn't had any contact with your grandfather for many years. Then he asked your mum to bring me this calligraphy. "Dragon travelling across the Four Seas." I thought it was a form of ridicule, but I came to realize that he wanted me to find my own way. Like the dragon, I hope you can find your own fate.
---
DJ: Diving in T-minus twenty minutes. All eyes open for a straightforward sweep and scan. The usual.
Rigas: Yeah. There's no usual down there.
---
Curtis: What's with all these toys you have hanging around your console, Lance?
Lance: They're not toys. They're figurines.
Mac: They are definitely toys, Lance.
'We work the problems one by one. We do what's in front of us. And then we do the next thing.' - Jonas Taylor (Meg 2: The Trench)
Click To Tweet
Jess: Jonas, can you confirm O2 levels?
Jonas Taylor: Consumption is eleven percent over mission spec. Guess Rigas is nervous.
DJ: More like you're a mouth breather.
Jiuming Zhang: He totally is.
Rigas: I can feel the breeze from over here.
Jonas Taylor: Yeah. Firstly, it's called a deviated septum. Second, I distinctly remember deviating it while saving your ungrateful a** from a seventy foot megalodon.
---
Jonas Taylor: You got to be kidding me.
Meiying: I see that you're angry. But I believe that this is a reasonable and responsible decision.
Jonas Taylor: Stop the dive.
Rigas: Full stop. But before you start yelling, can I just say, I did all kinds of stupid things when I was fourteen. And look how I turned out.
---
Jiuming Zhang: We've got company.
Sal: Guys, it's a meg. Approaching fast.
Mac: That's not possible.
---
Sal: Charging the predator countermeasures.
Jonas Taylor: We'll be dead before they're online.
---
Rigas: How did your pet shark get down here, Jiuming?
Jiuming Zhang: She must have escaped. How did that happen?
Sal: Predator countermeasures active.
Rigas: Proximity alert. Megs.
Meiying: No way.
---
Rigas: That's the biggest meg I've ever seen.
Jonas Taylor: Biggest meg anyone's ever seen.
Sal: That's got to be the apex predator.
---
Jiuming Zhang: This is an exploration mission. Let's explore.
---
DJ: Really, Mac? So, we're going to follow some giant sharks to a unknown sector? Man, this some dumba** s**t, mark my words.
---
Jonas Taylor: Your mum loved this place more than anything.
Meiying: Well, I'm glad I finally get to see it.
Jonas Taylor: Don't get used to it. You're grounded for the rest of your life.
Meiying: I love you too.
'Sometimes, there's a situation, and bad things are happening, and you just have to get involved.' - Meiying (Meg 2: The Trench)
Click To Tweet
Jiuming Zhang: It's some instinctual gathering.
Rigas: Incredible.
Jiuming Zhang: They're here to mate. This is why Haiqi has been acting strangely.
Jonas Taylor: Oh, great. More megs.
---
Merc Diver: Hey, Montes. Why do you get to stay in the submarine?
Montes: It's good to be the king.
---
Jonas Taylor: Good to hear your voice, Mac.
Mac: Not as good as it is to hear yours, brother. Talk to me.
Jonas Taylor: It ain't good.
---
Mac: Those suits have two hours of air tops. They're only designed for brief extravehicular work.
Jonas Taylor: We'll go slow and steady. They'll hold.
Mac: It's three kilometers. You'll be defenseless out there.
Jonas Taylor: What do you want from me, Mac? This is what we got, and this is what we're going to do. Half our team is dead, and I'm not losing the other half.
---
Jonas Taylor: What the hell are you doing?
Jiuming Zhang: Saving your a**. And walking back to that station. What are you doing?
Jonas Taylor: Saving your a**. And walking back to that station.
---
Sal: Hey, you need to calm down or you're going to run out of oxygen, Lance.
Lance: I don't think I can.
Rigas: Think of it as cosplay. Or we could be paintballing.
Curtis: Like the ultimate team-building exercise.
---
Jonas Taylor: We need to cover distance while the megs are still occupied.
Meiying: Away from the megs is fine by me.
---
Rigas: Is it just me, or does walking three kilometers underwater sound like hard work?
Curtis: It certainly wasn't on my to-do list.
---
Meiying: Anybody want to play a game?
Jiuming Zhang: A game?
Rigas: This isn't a game.
Curtis: She means to keep our minds occupied.
Rigas: Right now, my mind is pretty damn occupied.
---
Jonas Taylor: Rigas, cover our six. Shoot anything that moves.
Rigas: You bet your a** I will.
---
Jiuming Zhang: Many contacts to our right. Coming in fast.
Jonas Taylor: What, megs?
Jiuming Zhang: No. Smaller. Faster.
Jonas Taylor: Everybody make it to the station!
---