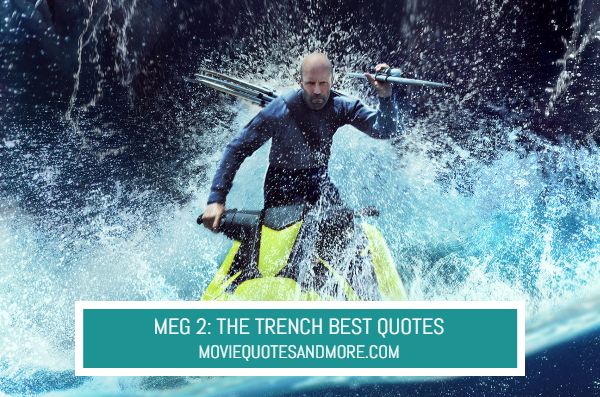 Copyright Notice: It's easy to see when our selected quotes have been copied and pasted, as you're also copying our format, mistakes, and movie scene descriptions. If you decide to copy from us please be kind and either link back, or refer back to our site. Please check out our copyright policies here. Thanks!
Starring: Jason Statham, Wu Jing, Shuya Sophia Cai, Page Kennedy, Sergio Peris-Mencheta, Skyler Samuels, Sienna Guillory, Cliff Curtis
Story:
Action adventure horror sequel directed by Ben Wheatley. Meg 2: The Trench (2023) centers on Jonas (Jason Statham) as he and global action star Wu Jing lead a daring research team on an exploratory dive into the deepest depths of the ocean. Their voyage spirals into chaos when a malevolent mining operation threatens their mission and forces them into a high-stakes battle for survival. Pitted against colossal Megs and relentless environmental plunderers, our heroes must outrun, outsmart, and outswim their merciless predators in a pulse-pounding race against time.
We'll add the best quotes once the movie is released and we've had a chance to watch it, but for now, here's a small selection.
Quotes:
James 'Mac' Mackreides: Jonas. We need your help.
---
James 'Mac' Mackreides: We're detecting increased aquatic activity twenty-five thousand feet deep in the trench. It's an ancient ecosystem untouched by man. Whatever is down there is trying to make its way to the surface.
---
DJ: This was a bad idea.
Jonas: Just a little bit.
---
Man: Jonas. We've got company.
---
Woman 1: That's the biggest meg I've ever seen.
Jonas: Biggest meg anyone's ever seen.
Woman 2: That's the apex predator.
---
Jonas: Everybody make it to the station!
---
Man: You can make it! Keep going!
---
Woman 1: Three massive megs and who knows what else have escaped the breach.
---
Woman 2: I just hope it goes better than last time.
Man: What happened last time?
Jonas: You don't want to know.
---
Jonas: We've never seen this before. They're hunting in packs.
---
Woman 3: You can relax. This place, meg-proof. I mean, Jonas was always afraid of this, but I was also thinking…
[a meg crashes through the glass and takes her]
Trailer: