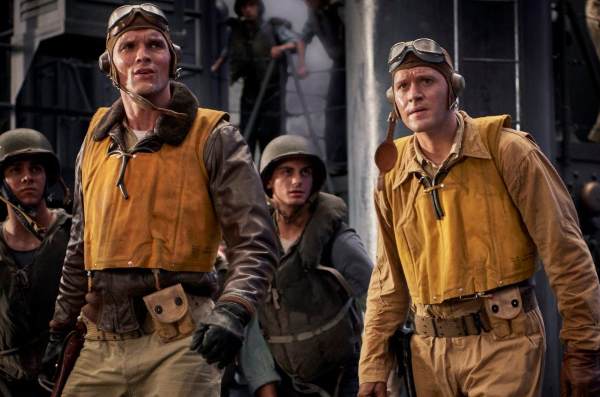 Starring: Patrick Wilson, Luke Evans, Aaron Eckhart, Ed Skrein, Nick Jonas, Mandy Moore, Dennis Quaid, Woody Harrelson, Jake Weber
Story:
Historical war drama directed by Roland Emmerich. Based on the real-life events, the story centers on US soldiers and pilots who change the course of World War II by persevering through the Battle of Midway in June 1942, where the US and Imperial Japanese naval forces fought for four days.
Quotes: 
Man: The situation in the Pacific is far worse than reported.
---
LCDR Wade McClusky: Pearl Harbor is the greatest intelligence failure in American history.
---
LCDR Wade McClusky: The Japanese are planning something bigger.
---
ADM Chester Nimitz: So what's the target?
LCDR Wade McClusky: We believe it's Midway.
---
VADM William Halsey: Washington disagrees.
LCDR Wade McClusky: Washington is wrong.
---
Lt. Dick Best: Today we're going to be underdogs. Today we prove the American Navy isn't a joke.
---
Lt. Dick Best: You'll remember this moment for the rest of your life.
What do you think of Midway quotes? Let us know what you think in the comments below as we'd love to know.
Trailer: