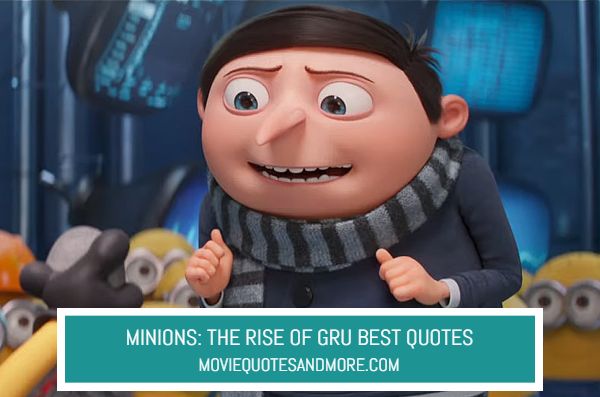 Copyright Notice: It's easy to see when our selected quotes have been copied and pasted, as you're also copying our format, mistakes, and movie scene descriptions. If you decide to copy from us please be kind and either link back, or refer back to our site. Please check out our copyright policies here. Thanks!
Starring: Steve Carell, Pierre Coffin, Taraji P. Henson, Jean-Claude Van Damme, Dolph Lundgren, Danny Trejo, Lucy Lawless, Alan Arkin, Michelle Yeoh, Russell Brand, Julie Andrews
Story:

Animated comedy sequel directed by Kyle Balda, Brad Ableson and Jonathan del Val. Set in the 1970s, Minions: The Rise of Gru (2022) follows young Gru (Steve Carell), growing up in the suburbs. A fanboy of a supervillain supergroup known as the Vicious 6, Gru hatches a plan to become evil enough to join them with backup from his loyal followers, the Minions. When the Vicious 6 oust their leader, legendary fighter Wild Knuckles (Alan Arkin), Gru interviews to become their newest member. It does not go well, and only gets worse after Gru steals from them and suddenly finds himself the mortal enemy of the apex of evil. On the run, Gru turns to an unlikely source for guidance, Wild Knuckles himself, and discover that even bad guys need a little help from their friends.
We'll add the best quotes once the movie is released and we've had a chance to watch it, but for now here's a small selection.
Quotes:
Bob: Good night.
Kevin: Good night.
Gru: Yes, yes, yes. Good night.
Stuart: Good night!
---
Gru: Minions. There are a lot of there villains in the world, but I am going to be a super villain.
---
Minions: Mini Boss! Mini Boss! Mini Boss!
Gru: Alright. Alright. I'm not mini. Please stop calling me that.
---
Gru: [to the villains; waiting to be interviewed for joining the Vicious 6]  Hello. Everybody is here for the interview? Me too.
Gru: [to the villain next to him] What do you drive? I got a jet bike.
---
Receptionist: They're ready to see you, Mr. Gru.
Gru: Oh, good. Great. Here we go!
---
Gru: [loudly as he walks up to the Vicious 6, who are sat up on a high desk]] Distinguished villains, my name is Gru! I feel like I'm talking too loud, even though our proximity doesn't require this kind of volume!
Belle Bottom: You seriously think a puny little child can be a villain?
Gru: Yes, I am pretty despicable. You don't want to cross me.
Belle Bottom: [the Vicious 6 starts laughing] Come back when you've done something evil to impress me!
---
Belle Bottom: [as Gru steals a precious stone belonging to the Vicious 6] He took the stone!
Sevengeance: Get him!
Belle Bottom: There's the little thief!
Gru: [to one of the minions] Otto, take the stone back to the lair. I'll distract them!
---
Gru: [to the minions] This is the biggest day of my life! This kid just stole something from the worst villains in the world! Now I will be a supervillain. Now, all I need is Otto. Where is Otto?
Gru: [Otto comes forward, replies and pulls out a rock] Are you pulling on my legs right now? Otto, where is the stone?
Gru: [Otto then goes onto tell his story of what he did with the stone] Did you just trade my future for a bedrock?!
Otto: Si.
[the other minions gasp in shock]
---
Belle Bottom: [to the minions as the Vicious 6 break into Gru's home] Ooh, I didn't mean to scare you. Now, where is Gru?
---
Belle Bottom: Time to strike!
---
Gru: My minions will save me.
---
Master Chow: You like picking on little guys, huh?
---
Master Chow: I am a master of kung-fu. I will teach you.
---
Gru: Minions assemble!
---
Minions: Mini Boss! Mini Boss! Mini Boss!
Gru: I'm not… Ugh!
Trailer: