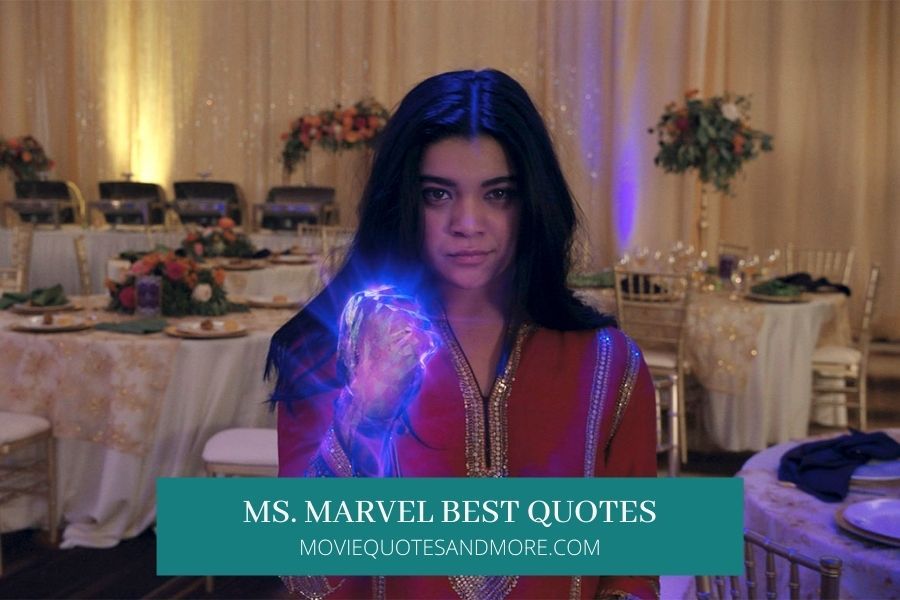 Our list of the best quotes from Disney+ MCU action adventure TV series Ms. Marvel, which follows Kamala Khan (Iman Vellani), a 16 year-old aspiring artist, an avid gamer, and a huge fan of the Avengers, particularly Carol Danvers/Captain Marvel. But Kamala has always struggled to find her place in the world, that is, until she gets super powers like the heroes she's always looked up to.
Copyright Notice: It's easy to see when our selected quotes have been copied and pasted, as you're also copying our format, mistakes, and movie scene descriptions. If you decide to copy from us please be kind and either link back, or refer back to our site. Please check out our copyright policies here. Thanks!
1. Generation Why
'Let's be honest, it's not really the brown girls from Jersey City who save the world.' - Kamala Khan (Ms. Marvel)
Click To Tweet
Kamala Khan: Finally, the moment everyone has been waiting for. The final chapter to my ten part series on Earth's mightiest hero, Captain Marvel. This week, we're focusing on the battle of Earth. Now we all know the story. The Avengers were trying to save the world, but if we're being honest here, they were losing, badly. Alien ships invading, Thanos being a jerk about magical Stones. Our heroes were done for. Until, Captain Marvel blasted in!
---
Kamala Khan: Now who was this glorious, well-coiffed hero? Due to my extensive research, and my diligent studying of Scott Lang's podcast interviews, who seems like a pretty cool guy. I've learned a lot about Captain Marvel, and I know at least three things to be true. One, she blasted through Thanos's fleet like a flaming angel. And you know what? She looked good doing it. Two, she like punched Thanos right in the face. No offence to any of the other Avengers, but I really don't think they could've done that. And three, sometimes, someone can come out of nowhere and do something amazing.
---
Kamala Khan: I know some of you think, "Well, she abandoned the people of Earth." But look, it's not true. Obviously we don't know exactly what she's been up to. But maybe she just needed a break, you know? Can a woman just live, hmm?
---
Kamala Khan: Next week, I'm going to kick off a special two-part series on why I think Thor is secretly a gamer. Remember, new episodes drop every Wednesday. Be sure to like, comment, and subscribe at Sloth Baby Productions.
---
Yusuf: Aamir, if you don't stop praying long enough to put some food in your mouth, one day you will starve to death.
Aamir: May Allah forgive you one day.
2. Crushed
'My whole life I've either been too white for some people, or too ethnic for others. And it's been this very uncomfortable, sucky, in-between.' - Nakia (Ms. Marvel) Click To Tweet
Gym Teacher: Morning, Camelia.
Kamala Khan: Morning. Actually, I've been meaning to tell you for years, my name is pronounced Kamala.
Gym Teacher: Huh.
---
Bruno: The videos you sent were just flashes of pink light and I didn't see anything.
Kamala Khan: Oh, you didn't see anything? I tried to shrink, and fly, and talk to ants, and none of it worked.
Bruno: What makes you think you have Ant-Man powers?
Kamala Khan: Because we're both charming, and we look a lot younger than we are.
---
Kamala Khan: [referring to Zoe] Dude, just imagine how many followers the girl who saved her would get.
Bruno: I feel like secret identities are secret for a reason.
Kamala Khan: Yeah, but a million followers?
---
Nakia: [referring to Zoe] There's another superhero catastrophe, and she's sitting there, bragging about being saved by the budget Captain Marvel.
Kamala Khan: Thank you.
Nakia: What?
---
Zoe: But it was all just so life-changing. Which is why I'm going to have a party on Friday. You know, to celebrate the fragility of life. I mean, also the half a million followers thing, but mostly the fragility of life.
Bruno: She's celebrating the fragility of life.
Kamala Khan: Yeah, we're so not going to that party.
3. Destined
'Good is not a thing you are. It is a thing you do.' - Sheikh Abdullah (Ms. Marvel)
Click To Tweet
Kamala Khan: [referring to her great-grandmother] So, how did you all say you knew her? Was it, like, did you guys meet in school or something?
Najma: Not exactly. Aisha was from another dimension, and so are we.
---
Kamala Khan: You all look very good for being around in the '40s.
Fariha: Thank you.
Aadam: [referring to Kamran] Okay. Not all of us. The kid's seventeen.
Kamala Khan: Oh, good. That's a relief.
Najma: You're right. She is adorable.
Kamran: I never said that. Not that I don't think that. I was trying to keep that to myself.
'Have you ever felt like you were up against the world? Like you wanted something so bad, and then it actually happened, but in reality, it's just not as great as you imagined it.' - Kamala Khan (Ms. Marvel)
Click To Tweet
Kamala Khan: I never got a chance to thank you for saving me, by the way.
Najma: The least we can do is protect Aisha's family. We didn't even know she had any until you put on that bangle, and we sensed the presence of Noor.
Kamala Khan: Noor? That means light, right? Noor Girl. No, that's not it.
---
Najma: [to Kamala] There's Noor within us as well. It slows down our aging, for one thing. But we can't access its full potential in this dimension. But maybe because you're from here, you can.
'The man who chooses family is never alone.' - Yusuf (Ms. Marvel)
Click To Tweet
Kamala Khan: What about Kamran? Wasn't he born here too?
Najma: That bangle helps you unlock the Noor. Maybe one day something will do the same for him.
Kamala Khan: I don't know. It seems like a lot of bad things happen because of this bangle.
4. Seeing Red
'What you seek is seeking you.' - Waleed (Ms. Marvel) Click To Tweet
Flight Passanger: First time to Pakistan?
Kamala Khan: What makes you say that?
Flight Passanger: You're gripping that stuffed animal pretty tight.
Kamala Khan: Oh. It's actually a napping pillow.
Flight Passanger: Right.
---
Kamala Khan: I thought I wasn't allowed to speak. Unless laws of grounding are no longer applicable in international waters?
Muneeba: After you ruined your brother's wedding, really? You'll be serving out your sentence for years.
---
Kamala Khan: Was the house always this massive?
Muneeba: Yes, but it could use a paint job.
Sana: Yes, and paint all over this charm?
'If you have lived like I have, lost what I have, you learn to find beauty in the pieces.' - Sana (Ms. Marvel)
Click To Tweet
Kamala Khan: [referring to the bangle] Nani, why did you send this to me? Am I…
Sana: A Djinn? Of course. At least, that is what my father told me.
Kamala Khan: How are you so casual about this?
Sana: I don't see what the whole fuss is about. It's just genetics.
---
Sana: You're focusing on the wrong things. It is not about how I see the vision, or if you are a Djinn. The important thing is that when the bangle was used the last time, it saved my life.
Kamala Khan: Like the trail of stars? The day you left India.
5. Time and Again
'When the soul lies down in that grass, the world is too full to talk about. What you seek is seeking you.' - Hasan (Ms. Marvel)
Click To Tweet
Hasan: [flashback, 1942, in Urdu] We want freedom peacefully without riot, However, don't consider our peaceful attitude as being weak.
---
Aisha: [as he wakes her up using his stick] Touch me and I'll break your leg.
Hasan: What? You mean this one? It's okay. I don't use it much anyway.
---
Aisha: What do you want?
Hasan: Well, for one, I'd like you to stop trampling on my poor roses. But from the looks of it, I think you need more help than they do.
---
Hasan: So, do you have a name? Or shall I just call you hungry? Perhaps you can tell me where you're from then? I see. You're clearly not British. And you're not from this village. So, what brings you to my doorstep?
Aisha: I like your roses.
Hasan: Ah, she speaks.
6. No Normal
'Just because someone treats you as their enemy, doesn't give you the right to treat them as yours.' - Sheikh Abdullah (Ms. Marvel) Click To Tweet
Agent Deever: This is what happens when the wrong people get powers.
Agent Barrie: What do you mean, the wrong people?
Agent Deever: Kids, Agent Barrie.
---
Bruno: It wasn't easy when Kamala first got her powers either.
Kamran: What would she do?
Bruno: Well, she's Kamala, so she stress-ate a gyro.
---
Kamala Khan: I am the Light Girl.
Aamir: You're what?
Kamala Khan: Night Light.
Aamir: Oh, my God. I had no idea.
'There is no normal. There's just us and what we do with what we've been given.' - Kamala Khan (Ms. Marvel)
Click To Tweet
Kamala Khan: You told them?
Muneeba: But, Kamala, I only told Abbu, really.
Yusuf: What are you implying?
Aamir: In classic Khan gossip train, you tell Ammi, she tells Abbu, and we overhear, because he always has his phone on speaker.
Muneeba: Speaker. Speaker is the problem.
---
Tyesha: [to Kamala] I have been dying to ask you, are your powers limitless, or do you have to recharge?
Aamir: Also, I've been dying to ask you, on Eid, did you drop that kid on purpose,
or was that like a game-time decision?
Trailer: