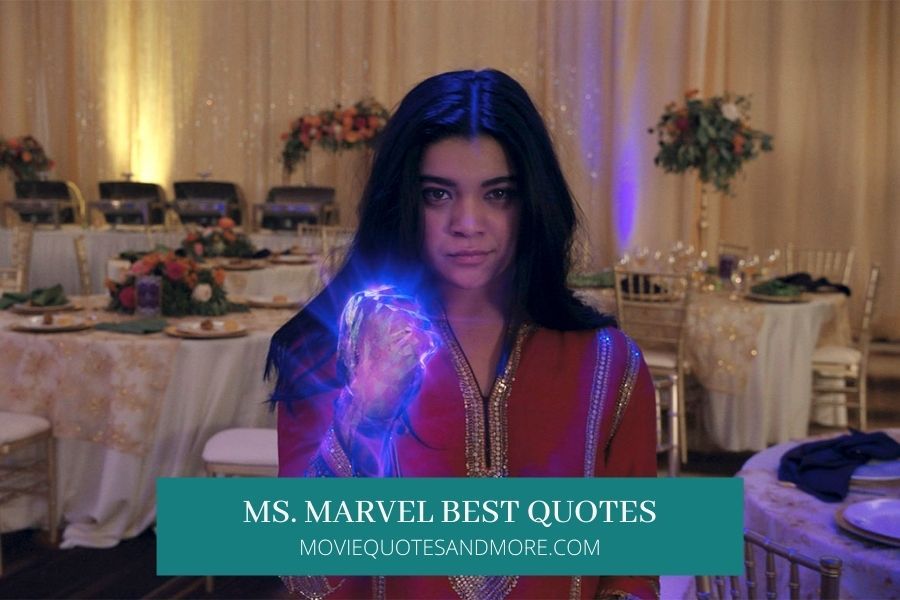 Our list of the best quotes from Disney+ MCU action adventure TV series Ms. Marvel, which follows Kamala Khan (Iman Vellani), a 16 year-old aspiring artist, an avid gamer, and a huge fan of the Avengers, particularly Carol Danvers/Captain Marvel. But Kamala has always struggled to find her place in the world, that is, until she gets super powers like the heroes she's always looked up to.
We'll add the best quotes once the series is released and we've had a chance to watch it, but for now here's a small selection.
Copyright Notice: It's easy to see when our selected quotes have been copied and pasted, as you're also copying our format, mistakes, and movie scene descriptions. If you decide to copy from us please be kind and either link back, or refer back to our site. Please check out our copyright policies here. Thanks!
Quotes:
Zoe Zimmer: Camella?
Kamala Khan: Kamala.
Zoe Zimmer: Another Avengers shirt. Cute.
---
Kamala Khan: She thinks I'm some kind of weirdo.
Bruno Carrelli: You are a weirdo.
---
Kamran: Excuse me.
Kamala Khan: Yeah.
Kamran: You're kind of on my shirt.
Kamala Khan: [embarrassed] Sorry!
---
Mr. Wilson: Okay. So first off, I just want to say, I get it.
Kamala Khan: You get what?
Mr. Wilson: High school. Boys. But, you're staring out the window in your little fantasy land. Kamala! Hey! Already? Really? Come on.
Kamala Khan: Do I have to figure out my whole future before lunch, or just like…
---
Kamala Khan: Have you ever wanted something so bad, and then it actually happens? But it's not as great as you imagined it.
---
Kamala Khan: Maybe they're right. I spend too much time in fantasy land. It's not really the brown girls from Jersey City who save the world. That's a fantasy too.
---
Muneeba Khan: That is not you.
---
Muneeba Khan: Kamala, I don't know what's going on with you.
---
Muneeba Khan: Just know whatever you are facing, you don't have to do it alone.
---
Aamir: Did something happen to you?
Kamala Khan: No. Why? Did you hear something?
---
Bruno Carrelli: What does it feel like?
Kamala Khan: Cosmic.
---
Kamala Khan: I always thought I wanted this kind of life, but I never imagined any of this.
---
Najma: Do you know what you are?
---
Kamala Khan: I'm a Super Hero.
Trailer: