Copyright Notice: It's easy to see when our selected quotes have been copied and pasted, as you're also copying our format, mistakes, and movie scene descriptions. If you decide to copy from us please be kind and either link back, or refer back to our site. Please check out our copyright policies here. Thanks!
Starring: Daniel Kaluuya, Keke Palmer, Steven Yeu, Barbie Ferreira, Brandon Perea, Michael Wincott
Story:
Horror written and directed by Jordan Peele. Nope (2022) follows residents in a lonely isolated town in California who bear witness to an uncanny and chilling discovery.
We'll add the best quotes once the movie is released and we've had a chance to watch it, but for now, here's a small selection.
Quotes:
Young Woman: Did you know that the very first assembly of photographs to create a motion picture was a two second clip of a black man on a horse? And that man is my great-great-grandfather.
Man: Great.
Young Woman: There's another great, grandfather. But that's why back at the Haywood Ranch, as the only black owned horse trainers in Hollywood, we like to say, since the moment pictures can move we had skin in the game.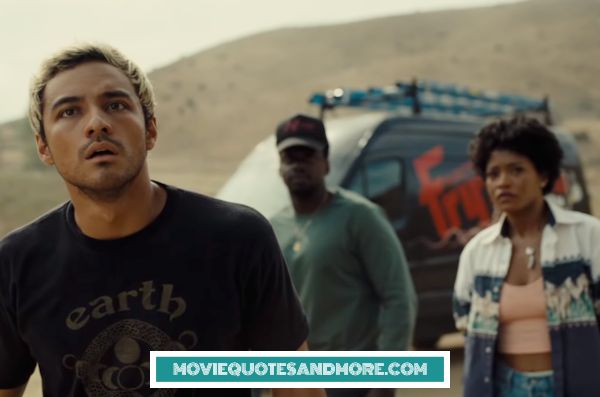 Man: What's a bad miracle? They got a word for that?
---
Young Woman: Yeah. No, no, no. Run!
Trailer: