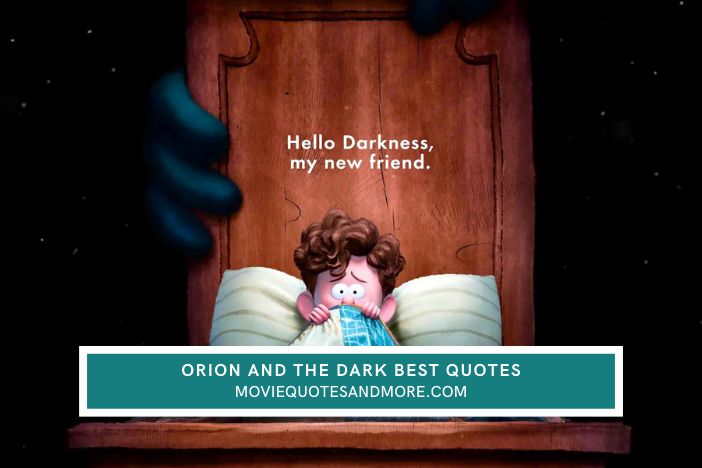 Copyright Notice: It's easy to see when our selected quotes have been copied and pasted, as you're also copying our format, mistakes, and movie scene descriptions. If you decide to copy from us please be kind and either link back, or refer back to our site. Please check out our copyright policies here. Thanks!
Starring: Jacob Tremblay, Paul Walter Hauser, Werner Herzog
Story:
Netflix and DreamWorks animated fantasy adventure comedy directed by Sean Charmatz and written by Charlie Kaufman. Orion and the Dark (2024) centers on Orion (Jacob Tremblay), who seems a lot like your average elementary school kid, shy, unassuming, harboring a secret crush. But underneath his seemingly normal exterior, Orion is a ball of adolescent anxiety, completely consumed by irrational fears, and of all his fears, the thing he's the most afraid of is what he confronts on a nightly basis, the dark. So when the literal embodiment of his worst fear pays a visit, Dark (Paul Walter Hauser) whisks Orion away on a roller coaster ride around the world to prove there is nothing to be afraid of in the night. As the unlikely pair grow closer, Orion must decide if he can learn to accept the unknown, to stop letting fear control his life and finally embrace the joy of living.
We'll add the best quotes once the movie is released and we've had a chance to watch it, but for now, here's a small selection.
Quotes:
Orion: My name is Orion, and I'm afraid. Afraid of what, you want to know? It's most things, to be candid. Girls in general. Being responsible  for my team losing. Giving the wrong answer in class. Richie Panichi. But all the things that I'm afraid of, I'm most afraid of the dark.
---
Dark: Ta-da!
Orion: What are you?
Dark: Isn't that obvious? The room's dark. It's dark out. Hello? I'm Dark.
---
Dark: Of all the kids who are terrified,  you are by far the loudest,  the most obnoxious, and frankly, you're on a whole different level.
Orion: You're keeping a list?
Dark: Yes, I'm keeping a list. Do you know how many kids are afraid of me? You come watch me do my job for one night, and you'll finally see that I'm nothing to be afraid of.
---
Dark: Are you in or are you in?
Orion: I'm…
---
Dark: Pretty great, right? Orion, I'm going to get you to overcome your fears if it kills me. And I'm immortal, by the way. So I've got all the time in the world.
---
Dark: Allow me to introduce the other night entities.
Orion: There's more?
---
Dark: We're fun. You're going to love us.
Night Entity #1: You brought the screamer?
Night Entity #2: The kid who's afraid of everything?
Dark: Uh…
Night Entity #3: Helping random children to boost your fragile self-esteem is not  in our job description.
Dark: Woh. That is insightfully harsh.
---
Orion: You really think you can fix everything I'm afraid of in one night?
Dark: One night can change everything. Is it me or am I more excited  about this than you are?
---
Dark: Open your eyes.
Orion: No way.
Dark: Come on!
Dark: [Orion falls off his back] See how much better that is? Kid?
Dark: [as he catches Orion] Gotcha!
---
Light: How you doing, kid?
Orion: Who is he?
Night Entity #1: Light. He's Dark's nemesis.
Dark: You got to be kidding me.
Orion: It makes me feel safe. Like I'm wrapped in a warm blanket. You know, if you're into that kind of thing.
Trailer: