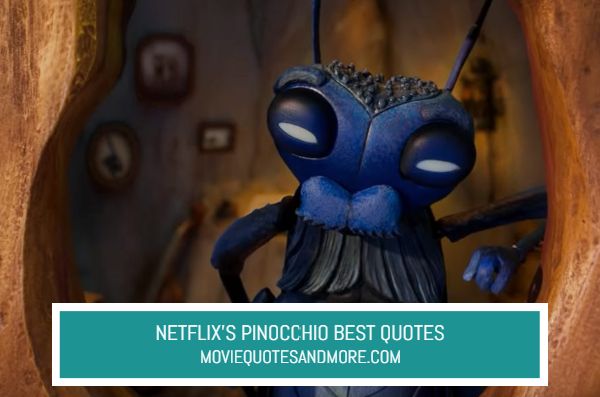 Copyright Notice: It's easy to see when our selected quotes have been copied and pasted, as you're also copying our format, mistakes, and movie scene descriptions. If you decide to copy from us please be kind and either link back, or refer back to our site. Please check out our copyright policies here. Thanks!
Starring: Gregory Mann, Ewan McGregor, David Bradley, Ron Perlman, Tilda Swinton, Christoph Waltz, Cate Blanchett, Tim Blake Nelson, Finn Wolfhard, John Turturro, Burn Gorman
Story:
Netflix's stop-motion animated musical fantasy directed by Guillermo del Toro and Mark Gustafson. Pinocchio (2022) is a dark, twisted retelling of the famous Carlo Collodi fairytale about a wooden puppet who comes to life and dreams of becoming a real boy. However, when Pinocchio (Gregory Mann) comes to life, he turns out not to be that nice of a boy, creating mischief and playing mean tricks, but he eventually learns a few lessons.
We'll add the best quotes once the movie is released and we've had a chance to watch it, but for now, here's a small selection.
Quotes:
Sebastian J. Cricket: From my many wanderings on this earth, I had so much to say, about imperfect fathers and imperfect sons. And about loss, and love. I've learned that there are old spirits who rarely involve themselves in the human world. But on occasion, they do. I want to tell you a story. It's a story you may think you know, but you don't. A story of the wooden boy.
---
Sebastian J. Cricket: You see, I, Sebastian J. Cricket, was there. As a matter of fact, I lived, actually lived, in the heart of the wooden boy.
---
Pinocchio: Where am I?
---
Fairy with Turquoise Hair: I feel as though you've been here before. The wooden boy with the borrowed soul. Be his son. Fill his days with light. We shall call you Pinocchio.
---
Pinocchio: Oh, what a day. What a day.
Trailer: