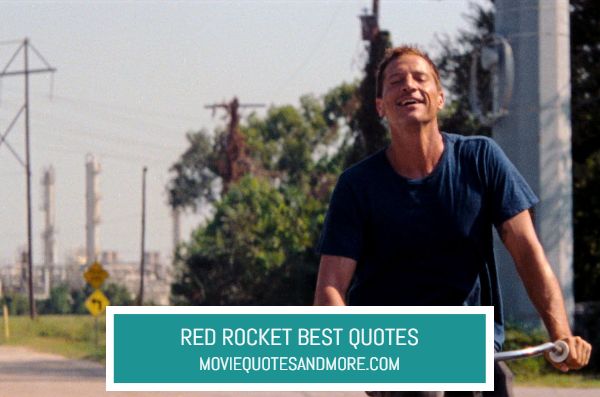 Copyright Notice: It's easy to see when our selected quotes have been copied and pasted, as you're also copying our format, mistakes, and movie scene descriptions. If you decide to copy from us please be kind and either link back, or refer back to our site. Please check out our copyright policies here. Thanks!
Starring: Simon Rex, Bree Elrod, Suzanna Son, Brenda Deiss, Judy Hill, Marlon Lambert, Brittany Rodriguez, Ethan Darbone, Shih-Ching Tsou, Parker Bigham
OUR RATING: ★★½
Story:
A24 comedy-drama directed and co-written by Sean Baker. Red Rocket (2021) centers on Mikey Saber (Simon Rex), a washed-up porn star who returns to his small Texas hometown, where his estranged wife, Lexi (Bree Elrod) lives. Just as he seems to be making things work, Mikey meets Strawberry (Suzanna Son), a young woman working the cash register at a local doughnut shop, and he falls right back into his old habits.
Our Favorite Quote:
'You do what makes you happy today, because there might not be a tomorrow.' - Mikey (Red Rocket)
Click To Tweet
Best Quotes
---
Mikey: I know this is unexpected.
Lexi: Oh, nothing with you is unexpected.
Mikey: Still got that sass.
Lexi: Look, I don't know what you want, but I can't help you. So it doesn't matter how, or why you're here. Go away!
---
Mikey: Seriously. I just need a place to crash for a couple of days. What's the big deal?
Lexi: Mikey, go f*** yourself.
---
Mikey: If I would have called you would have said no.
Lexi: I'm still saying no. So you f***ed yourself back in it.
Mikey: Oh, please. Come on, you know me.
Lexi: Damn straight, I do.
---
Lexi: You said you're never going to step a foot in Texas again.
Mikey: And then the world f***ed me. What can I say?
---
Mikey: [to Lexi] See your mom's saying, "Let him in. Let him in and take a shower." And the dog's like, "Oh, he's a good man. I can tell by his nice energy."
---
Mikey: Like everyone blame me like, "Oh, Mikey, he's the bad guy." It's like, whatever. It's bulls**t.
---
Mikey: For like three nights I slept on a f***ing street. I slept in an alleyway. I used my shoes as a goddamn pillow. It's f***ing bulls**t. My neck was so sore. I got beat up. That's how this, all this happened, two homeless f***ers beat the s**t out of me. They took everything, except my phone and my wallet. And the only reason they didn't get that is the cops showed up and arrested my a**.
Lil: Why did you get arrested?
Lexi: I have a feeling there's a whole lot more to this story.
Lil: I'm sure there is.
---
Lexi: Let's give it a couple of days, and see how it goes.
Mikey: Yeah. Whatever you're comfortable with. I don't want to make you uncomfortable. I'm here to help. And, look, before long, it'll be like we're still married.
Lexi: We are still married.
---
Mikey: [looking through Lexi's clothes] Not even one man shirt?
Lexi: Beggars can't be choosers, Mikey!
---
Manager #1: Your last job listed is over seventeen years ago. That's quite a gap in employment.
Mikey: Well, you know, I've worked almost every day for the last seventeen years. It's just, I've been self-employed.
Manager #3: What line of work?
Mikey: Oh, mostly entertainment.
---
Mikey: Okay. Alright. Look, I'll just be honest with you, man. You don't recognize me, do you? I'm an adult film actor.
Manager #1: Excuse me?
---
Mikey: Why don't you just Google me? Look up Mikey Saber.
Manager #1: Mikey…
Mikey: Saber, S-A-B-E-R-X-X-X. Go ahead. Search it.
Manager #3: Unbelievable.
Mikey: Yeah, that's what they say. Yeah, just pull down. Yep. That's me right there. Younger me, but…
Manager #1: Oh, that certainly is you.
---
Mikey: Two thousand movies, six awards, thirteen nominations in hall of fame did that. Now I want to start fresh, and really start a new chapter, a new life with, with you and your company, ma'am.
Manager #4: I'd really like to help you, but my management, they would not permit this.
Manager #3: I'm sorry, but you are just simply overqualified for this job.
Manager #1: I'm just not sure our customers would be comfortable with you waiting on them. They may have seen one of your movies.
---
Leondria: So why are you back, Mr. Hollywood?
Mikey: Oh. Well, me and the old lady trying to give it another go.
---
Leondria: [referring to Mikey and the weed] I bet you any goddamn week, his a** going to smoke that s**t itself.
June: Well, I'm glad I gave him some Reggie bush.
Leondria: That's what I'm talking about. You are smart, baby girl.
---
Leondria: [as Mikey brings in the money for selling the weed] You weren't bulls**t.
Mikey: I don't bulls**t. Just please don't give me that "nickel for a s**t" again, or I won't get repeaters.
Leondria: It's not "nickel for a s**t", son.
---
Lonnie: Lexi used to babysit me all the time.
Mikey: Oh, yeah.
Lonnie: Yeah. My parents came home one night. Y'all were humping in their bedroom. You jumped out the window naked. They called the cops on you and everything.
Mikey: Yep. Yep. Now I remember. Oh, s**t. Your mother hates me.
Lonnie: Oh, well, I mean she hated you, man. Yeah, she died.
Mikey: Damn. Sorry to hear that.
---
Lonnie: God, I remember when y'all left, man. Y'all were like celebrities, you know. F***ing two porn stars, the couple.
Mikey: Yeah, that's cool.
Lonnie: Oh, dude, they used to show Lexis f***ing videos at every one of the highest school parties. And I got to brag, man, because she was my neighbor.
Mikey: And babysitter.
Lonnie: Yeah, man. And babysitter, man.
---
Mikey: The last three houses I lived in, they had dishwashers. I'm not doing the dishes. I don't do that s**t.
Lil: You do not live here. This is my kitchen. If you can't follow the rules, out, out, out!
Mikey: I'm tired of you talking to me like a little kid. Hey, Lexi.
Lil: Don't you disrespect your mother-in-law.
Mikey: Your mom's starting s**t with me. Can you please inform her I'm not a d**k?
Lexi: Why would I lie to my mother?
---
Mikey: I'm going to pay you guys. And, look, I've been walking the dog. I'm providing protection.
Lexi: She's an outside dog. She doesn't need walking, man.
Mikey: I'm providing security. I'm helping out.
Lexi: We don't need security. Do we need a security guard, ma? I didn't know that we hired a security guard.
Mikey: Yeah. You're safe now, because I'm here.
---
Mikey: I know I said I'd help out with the rent. So I'm not going to help out with the rent.
Lexi: Well, get the f*** out then!
Mikey: [gets out some cash] I'm going to pay the whole goddamn thing.
Lil: Now you're talking.
---
Mikey: What did the doughnuts do in their first date?
Strawberry: I don't know.
Mikey: They glazed into each others eyes.
Strawberry: That's so stupid. But I can't believe I haven't heard that one.
Mikey: Well, I wrote it. You couldn't have heard. I kind of write doughnut jokes on the side. It's one of my many talents.
---
Mikey: I'm back. Just like I promised. I'm a man of my word. So in the future, you can always rely on me.
Strawberry: Back to tell more doughnut jokes.
Mikey: No, that was actually the only doughnut joke I had, and it took me a very long time to write that one. That's all I got.
---
Strawberry: I'm old enough.
Mikey: For what?
Strawberry: Oh, God. I'll be eighteen in three weeks. Okay?
Mikey: I knew it. You're too old for me.
---
Strawberry: So what do you do in LA?
Mikey: I've been in entertainment.
Strawberry: I knew it. You have that Hollywood vibe.
Mikey: Yeah. You dig?
Strawberry: Yeah. So what did you do in entertainment?
Mikey: Manager, slash, agent.
Strawberry: Like for actors?
Mikey: Yeah.
---
Strawberry: So you live in Hollywood managing actors. But you're in Texas City riding a bike, selling weed, and hitting on high-schoolers?
Mikey: Well, my Camaro's in LA, you know. I wasn't going to drive all the way to Texas. It's like a three day drive.
---
Lil: Mikey, all seriousness. I appreciate you taking care of bills. That way it keeps Lexi from being on the Craigslist. Do you understand what I'm saying?
Mikey: Yeah.
Lil: So I need to know, are you in or out? If you're in, I welcome you here. Because if you're out, don't let the door hit you in the a**.
Mikey: I'm in. I'm in.
---
June: So I heard you do porn or something?
Mikey: Five AVNs.
June: What, that's an STD?
Mikey: No, no, no. It's the adult film awards. It's like the academy awards for what I do.
---
Trailer: