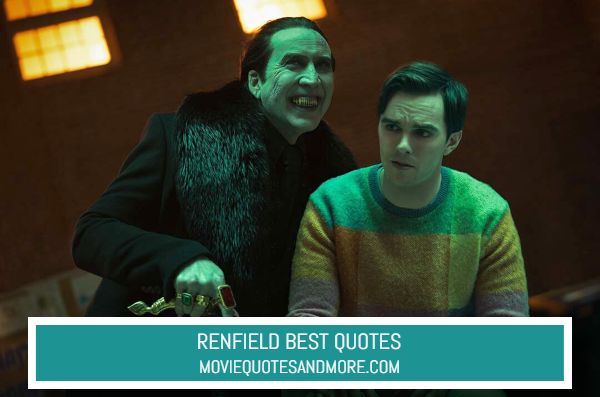 Copyright Notice: It's easy to see when our selected quotes have been copied and pasted, as you're also copying our format, mistakes, and movie scene descriptions. If you decide to copy from us please be kind and either link back, or refer back to our site. Please check out our copyright policies here. Thanks!
Starring: Nicholas Hoult, Nicolas Cage, Awkwafina, Ben Schwartz, Adrian Martinez, Shohreh Aghdashloo, Bess Rous
OUR RATING: ★★★☆☆
Story:
Horror comedy directed by Chris McKay. Renfield (2023) centers on Renfield (Nicholas Hoult), the tortured aide to history's most narcissistic boss, Dracula (Nicolas Cage), who decides to leave his centuries-long line of work as a henchman and finds a new lease on life in modern day New Orleans when he falls in love with a feisty, but perennially aggressive traffic cop named Rebecca Quincy (Awkwafina).
Best Quotes
---
Renfield: [whilst he's at a support group meeting] Hello. My name is Robert Montague Renfield. And just like all these decent folks, I am in a destructive relationship.
---
Dracula: Mr. Renfield, I bid you welcome. I am Dracula.
Renfield: When I met him, I was a real estate lawyer hoping to make a deal that would change my life and my family's lives forever. Oh, and it most certainly did.
---
Renfield: And then he made me his familiar. Which means that I take care of Master's every need. Including staff changes, and arranging his special dietary requirements.
---
Renfield: Look, I didn't just jump into serving the Prince of Darkness. We had some great times. But just like all great times, they come to an end.
---
Renfield: Dracula's powers come from consuming human life. Mine come from eating bugs.
---
Dracula: I am your only salvation. I am your only friend. I am the only one who cares for you.
Renfield: I actually remember thinking, "He really, really means it this time."
---
Renfield: At the peak of his powers, Dracula goes on a full-tilt blood-sucking bender, the good guys show up and do their thing, and then it's up to me to clean up the mess. It's what I call our transitional period. So I take him to a new city, nurse him back to full power, find a decent place to ride it out until the whole cycle starts all over again.
---
Support Group: I am enough, and I have enough. I deserve happiness. I am grateful for all that I am. And I take full charge of my life today.
Renfield: They can repeat these affirmations all they want. It'll never make their problems go away. But I can.
---
Renfield: Now, no one's ever going to call me a hero, but I've come up with a mutually beneficial solution for people like Caitlyn, get rid of their monsters by giving mine what he needs.
'It is important for you to remember that the only person who can save us is ourselves.' - Mark (Renfield)
Click To Tweet
Renfield: I am something much, much worse. I'm a friend of Caitlyn.
---
Dracula: Fetch me the hand.
Renfield: Yes. Right away. There you go. A little amuse-bouche. Palate cleanser.
---
Dracula: What is this?
Renfield: That's Doug, I believe.
Dracula: Doug is trash! You're feeding me trash!
---
Dracula: You know, I don't ask for much, Renfield. Just the blood of a few dozen innocent people.
---
Dracula: I want happy couples, unsuspecting tourists, a handful of nuns, a busload of cheerleaders.
Renfield: A busload of cheerleaders?
Dracula: A busload of cheerleaders will get me back to full power like that.
'Success really is the best revenge.' - Bellafrancesca Lobo (Renfield)
Click To Tweet
Dracula: [to Renfield] It must be difficult to be caught between their rules and mine. Their rules offer a confusing tangle of morality, whereas mine are very simple. You can kill and eat whatever you want and never die. And it truly is a gift. And yet, you seem to think it makes you some sort of a monster. Do you have any idea how inconsiderate that is? My needs are the only thing that matters, servant.
---
Renfield: I suppose this is what you'd call my health-care plan. His blood has the power to heal the injured. And there's not even a copay. Unless you consider my soul.
---
Rebecca: He was running from something, sir. And then he crashed into a DUI checkpoint, committed ten felonies, and not to mention eff-you-ing a room full of cops.
Kyle: You eff-you me all the time.
Rebecca: F*** you, Kyle!
---
Chris: [referring to the bar] You think you'll get answers here?
Rebecca: I think we'll get dinner. Maybe answers for dessert.
'You're not a hero. You're not even a villain. You're just a guy that kills random people.' - Rebecca (Renfield)
Click To Tweet
Renfield: [referring to Lobo] That was amazing. You were amazing. What you did. You stood up to him. How did you do that?
Rebecca: What kind of life would I lead under the thumb of one of those a**holes?
Renfield: A very sad one.
---
Rebecca: Did I watch you cut a guy's arms off with a decorative serving platter?
Renfield: Oh, yeah. That was adrenaline.
Rebecca: It was awesome.
---
Rebecca: Are you from around here, or…
Renfield: Oh, no. I'm everywhere.
Rebecca: Ah, military. That would explain all the moves.
Renfield: Yeah, but forever ago. The Great War. Iraq. Maybe not great, you know, but overall pretty good. Three out of five stars.
---
Rebecca: You must really not be from around here, because we certainly don't see your kind very often.
Renfield: I'm sorry, what kind is that?
Rebecca: Heroes.
---
Renfield: Ah, f***. Do you think it's too late to grab one of those nuns?
'You want to be a hero, you have to risk everything.' - Rebecca (Renfield)
Click To Tweet
Dracula: What have I been doing all these years? I mean, look at me, lurking in the shadows and filth like some kind of a diseased animal. You said it yourself, I deserve better. So, why am I not embracing what I truly am?
Renfield: Which is?
Dracula: A god, Renfield. An immortal, insatiable, all-powerful being.
---
Dracula: Everything you said about the modern world is true. It is a dangerous place. Only not for us. For them, it's a dangerous, sad, broken place full of fear and desperation. It's weak. Longing for a powerful force to guide it, control it, dominate it. Like you. I mean, this entire society was designed by Renfields, for Renfields. So, why should I have to adapt to it? It should have to adapt to me.
---
Dracula: We're in this together, Dracula and Renfield. From now on, humanity will no longer be divided by the good and the evil, only by followers, and food. You and I forever, until the end of time.
---
Carol: How is my life? My life is like a never-ending hallway of fun house mirrors, but all the clowns are me.
---
Mark: Are you okay?
Renfield: No. I need to get out of a toxic relationship.
---
Renfield: My boss, he's pretty delusional, I think. He thinks he can take over the world.
Mark: He's a narcissist, Renfield. We all know exactly how you feel.
---
Sharon: You can't get him out of your head.
Renfield: No.
Trevante: Ooh, and you feel like he could kill you with the snap of his fingers.
Renfield: Yes. Wouldn't even need to snap.
Weird Kevin: He controls rats with his mind.
Mark: It's okay. It's okay. He's on medication.
---
Mark: But if you were to stop focusing on his needs, what would happen? Yeah. What would happen? Stop focusing on his needs. What would happen?
Renfield: He won't grow to full power.
Mark: Exactly. He won't grow to full power. What? That's so weird! Why would you phrase it like that? But, yes. He's right.
---
Renfield: Robert Montague Renfield, yes, at your service.
Rebecca: You look different.
Renfield: Oh.
Rebecca: Good different. I really like your sweater.
Renfield: Oh, thank you. I went to Macy's.
---
Renfield: [to Rebecca] I'm here to give my witness statement.
Chris: You always bring flowers to give a witness statement?
---
Trailer: