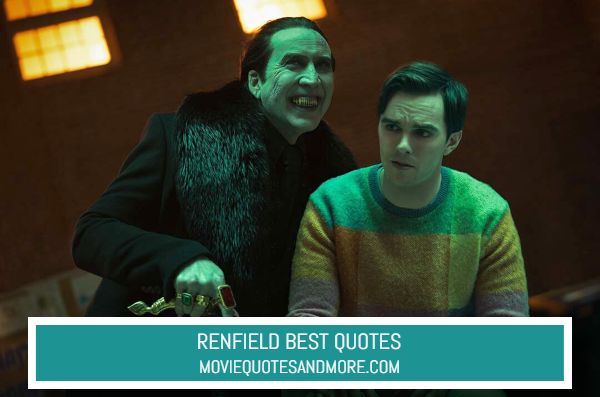 Copyright Notice: It's easy to see when our selected quotes have been copied and pasted, as you're also copying our format, mistakes, and movie scene descriptions. If you decide to copy from us please be kind and either link back, or refer back to our site. Please check out our copyright policies here. Thanks!
Starring: Nicholas Hoult, Nicolas Cage, Awkwafina, Ben Schwartz, Adrian Martinez, Shohreh Aghdashloo, Bess Rous
Story:
Horror comedy directed by Chris McKay. Renfield (2023) centers on Renfield (Nicholas Hoult), the tortured aide to history's most narcissistic boss, Dracula (Nicolas Cage), who decides to leave his centuries-long line of work as a henchman and finds a new lease on life in modern day New Orleans when he falls in love with a feisty, but perennially aggressive traffic cop named Rebecca Quincy (Awkwafina).
We'll add the best quotes once the movie is released and we've had a chance to watch it, but for now, here's a small selection.
Quotes:
Renfield: Sorry to interrupt.
Group Therapy Leader: Are you okay?
Renfield: I need to get out of a toxic relationship.
---
Group Therapy Leader: [to Renfield] Why don't you start by telling us what brought you here?
---
Renfield: My boss, he's different.
Sharon: You can't get him out of your head?
Renfield: No.
---
Dracula: I need your assistance.
Renfield: I'm coming, Master.
---
Trevante: Oh, you feel like he could destroy you with the snap of his fingers.
Renfield: Wouldn't even need to snap.
Group Therapy Leader: Okay.
Group Member: That sounds familiar.
Renfield: Yeah. What?
---
Dracula: Renfield, bring me innocent victims. I want a handful of nuns, a busload of cheerleaders.
---
Renfield: And I just want a normal life again. But this modern world is a dangerous place.
---
Rebecca Quincy: [after taking down the gunmen] Thank you. You saved my life. Did I watch you cut a guy with a decorative serving platter?
Renfield: It's all in the wrist.
---
Renfield: Let me explain. My boss gave me this power. In return, I tend to his needs, including care, feeding.
---
Rebecca Quincy: [to Renfield] You bring him people to eat? You're like the guy that gets the villain's Postmates.
---
Group Therapy Leader: But if you were to stop focusing on his needs, what would happen?
Renfield: He won't grow to full power.
Group Therapy Leader: Exactly. He won't grow to full power. What? That's so weird! Why would you phrase it like that? But, yes.
---
Group Therapy Leader: Hi, are you here for the meeting? Well, come on down.
Renfield: No. No!
---
Dracula: Some call me the dark one. Others, the Lord of Death. To most, I am Dracula
Renfield: Okay. Obviously we're dealing with a little bit more than just narcissism here.
---
Dracula: Now, let's eat!
Trailer: