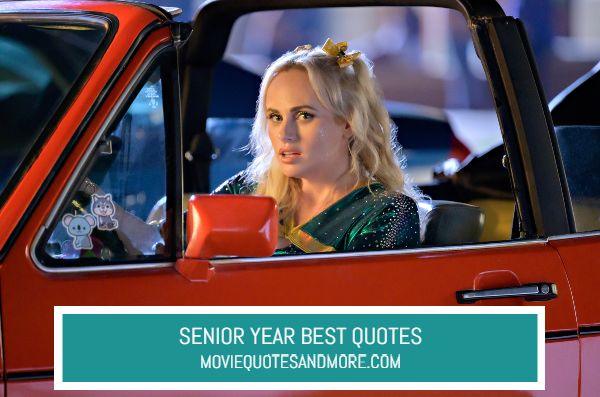 Copyright Notice: It's easy to see when our selected quotes have been copied and pasted, as you're also copying our format, mistakes, and movie scene descriptions. If you decide to copy from us please be kind and either link back, or refer back to our site. Please check out our copyright policies here. Thanks!
Starring: Rebel Wilson, Justin Hartley, Angourie Rice, Sam Richardson, Zoë Chao, Mary Holland, Chris Parnell, Alicia Silverstone, Avantika Vandanapu, Michael Cimino, Jeremy Ray Taylor, Joshua Colley, Brandon Scott Jones
OUR RATING: ★★½
Story:
Netflix comedy directed by Alex Hardcastle. Senior Year (2022) follows high-school cheerleader Stephanie (Rebel Wilson), who after suffering a head injury falls into a coma before her senior prom. Twenty years later, Stephanie finally wakes up to discover that she is now a 37 year-old woman. Upset about not being able to finish high school, she decides to return to high school, regain her status, and claim the prom queen crown that eluded her.
Our Favorite Quotes:
'Don't waste your time telling the people who love you the most that they don't count. They are the only ones that count.' - Jim Conway (Senior Year)
Click To Tweet
Best Quotes
---
Young Stephanie: I'm having a birthday party, if you guys want to join.
Young Tiffany: Cute that in Australia you call it a party, because in America, we call that a freak show.
Young Stephanie: Well, it's actually not a freak show because we have cake, so.
---
Stephanie: [referring to young Tiffany and Blaine] God, I just wanted to be like them so bad. If they were this amazing in high school, imagine how perfect the rest of their lives would be.
---
Stephanie: I hated thinking that life wasn't for me, that I was destined to be just some average, boring, invisible girl who had no friends. In Australia, we call that a Nigel, but whatever. You guys know what I mean. I wanted to be something more. And that's when I decided, that's it. I'm going to become popular.
---
Young Stephanie: I'm on a diet of only bananas and ice cubes till prom.
---
Young Stephanie: You know, Dad, I saw at the mall, in that empty store next to Wet Seal, that they were holding like groups for widows and widowers. Looked pretty jumping.
Young Seth: You're a catch, Mr. Conway. A sad woman would totally go out with you.
Jim Conway: I'll tell you what, I'll ask somebody out when you do, Seth.
---
Young Stephanie: Did you hear Tiffany went behind my back and got the Activities Committee to make the prom king and queen song "Wherever You Will Go" by The Calling?
Young Seth: No. You know, that piece of gossip hasn't really trickled down to me yet.
Young Stephanie: Well, when it gets to you, believe it.
---
Young Stephanie: There she is, Deanna Russo, Harding High cheer captain and prom queen '95. Banging bod. She's boy-band rich and lives in the most beautiful house in Maryland with her, three, two, one, perfect husband, Harding High quarterback with a famously girthy dong. So I've heard. They're just like me and Blaine. I want it so bad I can practically taste them frenching. It's my dream life. And it all starts with prom queen.
Young Seth: Well, I think you're better than just another Deanna Russo.
---
Young Stephanie: [to young Seth] Okay, I'm going to let you out here because I got to make my entrance. Oh, also, I need that sock back. It's Blaine's. We use it for handies.
---
Young Stephanie: You know you're invited, right?
Young Martha: Did you just invite me to a party that's at my own house?
---
Young Stephanie: I'm inviting you to the VIP section. Seth will be there too. So you'll have someone to talk to.
Young Martha: Right. I could also talk to you.
Young Stephanie: Right. Yeah, duh. Except I'm probably going to be losing my bottom half virginity to Blaine. So I'll be like in and out. So will Blaine, literally. You know what I mean?
---
Young Stephanie: For the last time, Tiffany, I won cheer captain fair and square, and you and Blaine were broken up when we got together. I don't cheat. So why do you continue to be the butt-roids on my butt?
---
Young Tiffany: You won't want to throw a party after I beat you for prom queen.
Young Stephanie: What makes you think you're going to win?
Young Tiffany: Because I'm MTV, and you're VH1. I'm the real deal, and you're a poser.
---
Stephanie: [after waking up 20 years later from her coma at the hospital] I'm ready for prom.
---
Stephanie: Excuse me. I'm not sure what happened, but I think there's been a mistake, and I've been put in the wrong room, because there's a bunch of birthday cards for like a really old person. And the TV's flat, like the back of it is missing, and I really need to see who's number one on TRL.
Nurse: [over speaker] Dr. Johnson to the third floor. The cheerleader just woke up.
Stephanie: Oh, I don't mean to be a b**ch, but "cheer captain".
Nurse: [over speaker] Cheer captain.
Stephanie: And do you have any like Von Dutch jeans? Because this is like really unflattering.
'It doesn't matter who has the most friends, or likes, or followers. If you just have one or two great friends, who will support you, then you've got it all. And that is something worth fighting for.' - Stephanie (Senior Year)
Click To Tweet
Stephanie: [as she sees her own reflection in the mirror] What are you staring at? Hello? It's very rude to be a stare bear. Hello? Are you… Stop doing that! Why are you doing that, you freaky old…
Nurse: [as Stephanie passes out, over speaker] And the cheerleader's back down. Oh, cheer captain.
---
Dr. Jean Johnson: This defies scientific explanation.
Stephanie: Being this hot?
Dr. Jean Johnson: No. Stephanie, it's 2022.
Stephanie: No way.
---
Stephanie: Are you sure I haven't been Freaky Friday'd into some old lady's body?
Dr. Jean Johnson: You've been in a coma for almost two decades.
---
Jim Conway: I never thought I'd have this moment again. I was this close to freezing you.
Stephanie: What do you mean, Dad?
Jim Conway: Oh, don't worry. I couldn't afford it. So I was only going to freeze your head.
---
Stephanie: Martha, you look like an Ally McBeal character.
Martha: Oh, my God. Thank you.
---
Stephanie: Oh, my God. What is that, a tiny TV?
Martha: No. No, Steph, this is my cell phone.
Stephanie: Oh, my God. Woh! Really? That is very cool. I always knew you'd be like some high-powered, Sex and the City businesswoman. Total Miranda, right, Dad?
Martha: I'm actually a high school principal at Harding.
Stephanie: Oh, my God. You still got a good sense of humor. I mean, that's actually a very cool and important job.
---
Stephanie: [as she watches the video of her accident] Oh, my God. I went down like a bag of d**ks.
---
Stephanie: So you cannot say the R-word.
Martha: Right.
Stephanie: And, oh, sorry. Coma brain. What was the other word you can't say?
Martha: Gay.
Stephanie: Ha! Made you say it.
---
Stephanie: [after finding out that Tiffany and Blaine are married] I see what you did here. Get rid of me so you can steal my dream life
Tiffany: Oh. Steph. No, no, no. Look, I know we never saw eye to eye back then, but, you know, the beautiful thing about time is you move on.
---
Tiffany: [to Stephanie] I really look forward to putting the past behind us. You know, move past the past.
---
Stephanie: Wait, Madonna's now called Lady Gaga?
Martha, Jim: No.
Stephanie: No. But she looks exactly like Madonna.
---
Stephanie: Dad. What the F? Who was in charge of my feeding tube? My boobs are huge.
Jim Conway: Well, you're just getting older. You know, bodies change, and pretty soon, you'll go through menopause.
---
Stephanie: I can't do this. I was so close to having my dream life.
Jim Conway: You still can, sweetie.
Stephanie: I can't. Look at this.
Jim Conway: Well, if anyone can do it, it's you.
---
Stephanie: [to Martha] This is exactly the type of car a principal would drive. It's like you nailed it.
---
Stephanie: [after declaring she wants to go back to high school] I cannot move on to the next chapter of my life if I'm still stuck in the old one for twenty years.
Martha: And I understand that, but, Steph, I can't let an almost forty year-old woman into high school.
Stephanie: Yeah. But you heard the doctor. I'm still seventeen mentally.
'I'm still afraid that if I show everyone my real self, the wrong people will make fun of me. But it's the only way for the right people to see me.' (Senior Year)
Click To Tweet
Martha: But you know what? There's only a month of the school year left.
Stephanie: Oh, that's perfect! That's basically the time that I missed! Oh, that is like fate. Like Destiny's Child.
---
Mr. T: I'm Mr. Tapper, the guidance counselor. But you can call me Mr. T.
Stephanie: Is that because you "pity the fool" who has a bad first day?
Mr. T: Oh. Well, yeah. Yeah, I would feel terrible.
Stephanie: No. I meant like, you know, Mr. T. "I pity the fool. I pity the fool."
Mr. T: I've never said that before, but I guess I could start if you wanted me to. I pity the fool! Mr. T is pitying fools over here.
---
Stephanie: Where are all the prom king and queen winners?
Mr. T: Oh, Principal Riser felt that it sent a bad message, so she replaced it with something more positive.
Stephanie: That looks like a bunch of tampons.
Mr. T: Yeah, it is. But it's also found art.
Stephanie: So you're saying they're found tampons.
Mr. T: Oh, yes, I am.
---
Seth: Look at you. You look great!
Stephanie: It's me! Like, look, I'm walking and talking.
Seth: Yeah. Doing all those things.
Stephanie: Everything.
Seth: Just like you used to, walk and talk.
---
Trailer: