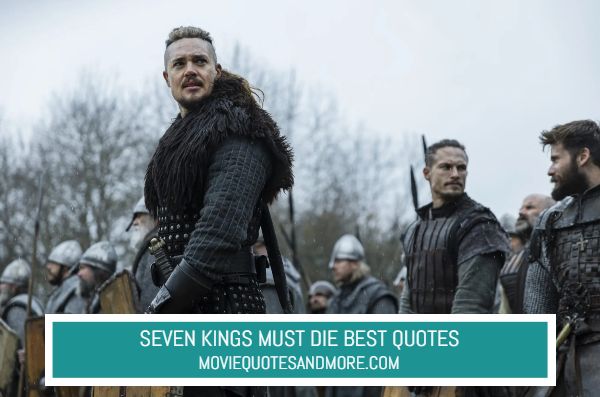 Copyright Notice: It's easy to see when our selected quotes have been copied and pasted, as you're also copying our format, mistakes, and movie scene descriptions. If you decide to copy from us please be kind and either link back, or refer back to our site. Please check out our copyright policies here. Thanks!
Starring: Alexander Dreymon, Harry Gilby, Mark Rowley, Arnas Fedaravicius, Cavan Clerkin, James Northcote, Laurie Davidson, Elaine Cassidy, Rod Hallet
Story:
Netflix historical action drama directed by Edward Bazalgette. Sequel to the The Last Kingdom television series, in Seven Kings Must Die (2023), following the death of King Edward, as invaders and rival heirs battle for the crown, Uhtred of Bebbanburg (Alexander Dreymon) and his comrades adventure across a fractured kingdom in the hopes of uniting England.
We'll add the best quotes once the movie is released and we've had a chance to watch it, but for now, here's a small selection.
Quotes:
Woman: Edward, rightful king of these lands, has died. Do not assume Aethelstan will be king.
---
Man #1: Do you know the prophecy, Uhtred? "Seven kings die, all of Britain will unite."
---
Man #2: Something is underway.
---
Aethelstan: I do the bidding of the Lord.
---
Man #3: [to Uhtred] War is coming. You only have to choose a side.
---
Ingilmundr: God wants you to fight.
---
Uhtred: Your lands will be overrun.
Aethelstan: This is all lies!
---
Uhtred: We can defeat them united. Or we go back into an age of darkness.
Trailer: