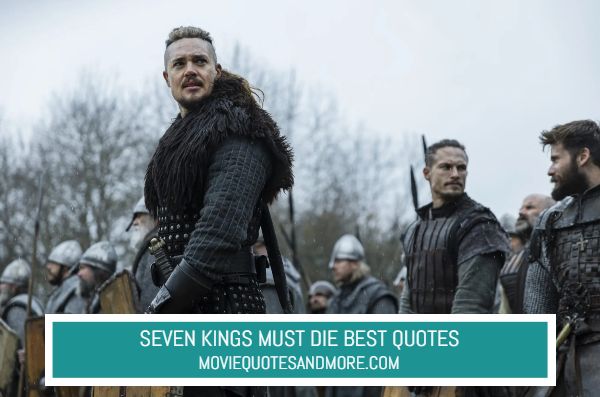 Copyright Notice: It's easy to see when our selected quotes have been copied and pasted, as you're also copying our format, mistakes, and movie scene descriptions. If you decide to copy from us please be kind and either link back, or refer back to our site. Please check out our copyright policies here. Thanks!
Starring: Alexander Dreymon, Harry Gilby, Mark Rowley, Arnas Fedaravicius, Cavan Clerkin, James Northcote, Laurie Davidson, Elaine Cassidy, Rod Hallet
OUR RATING: ★★★☆☆
Story:
Netflix historical action drama directed by Edward Bazalgette. Sequel to the The Last Kingdom television series, in Seven Kings Must Die (2023), following the death of King Edward, as invaders and rival heirs battle for the crown, Uhtred of Bebbanburg (Alexander Dreymon) and his comrades adventure across a fractured kingdom in the hopes of uniting England.
Best Quotes
---
Finan: For a hundred years, there was chaos in our lands. War between Saxons and Dane invaders. And war between men who wanted to be kings. My lord, Uhtred, son of Uhtred, born a Saxon, but raised a Dane, had brought about a fragile peace. But as King Edward's health faltered, trouble spread. And while most of the country was sworn to the Saxons, Uhtred's land of Northumbria was not. And enemies were keen to exploit this.
---
Anlaf: A king dies, Saxons always turn on each other.
---
Aldhelm: Loyalties are shifting and factions forming. It is not certain who supports us. We should flee with your son whilst we can.
Queen Eadgifu: I will not forgive this. Nor forgive Aethelstan for leaving us exposed. Damn him for his absence.
---
Queen Eadgifu: Uhtred betrayed my husband. Are we sure this is wise?
Aldhelm: Uhtred was like a father to Aethelstan. He can be trusted. We go to the last kingdom.
---
Ingrith: Hear my words. "Seven kings must die".
---
Uhtred: [to Eadgifu] Your husband showed himself hostile to those of Danish blood. As such, he was not the right man to unite England. If he had been, England would be united.
Aldhelm: But now things can be different. Aethelstan can be the king to fulfill the Saxon dream.
---
Uhtred: Do you think we can still execute an ambush?
Sihtric: If it is for Aethelstan, then yes. If he does not fall asleep.
Finan: Once. I fell asleep once.
---
Uhtred: I will not send young men to do a task I swore to do myself.
---
Osbert: No good comes of sitting waiting for a birthright.
Uhtred: So you train the horses and you teach that boy how to defend himself. No one likes the third son of a dead king.
'Men who sit on cold earth find the cold earth calls for them.' - Ingrith (Seven Kings Must Die)
Click To Tweet
Queen Eadgifu: I wish to say one thing of Aethelstan. He is not quite the carefree boy you raised.
Aldhelm: He has grown very much into his faith. The Brotherhood of Oswald exert great influence.
Uhtred: I have scared off such men before. For some reason, monks find me terrifying.
---
Uhtred: Let's go play kingmaker.
Finan: Once again.
---
Sihtric: Saxon names are much alike.
---
Finan: If there's a bed, it's mine.
---
Aethelstan: [as he stabs and kills Aelfweard] God chose me rightful heir.
'Whatever we suffer protects those we are apart from.' - Queen Eadgifu (Seven Kings Must Die)
Click To Tweet
Uhtred: What happened to you? You had no need to kill your brother.
Aethelstan: I did, Uhtred. Or in time, he would return.
Uhtred: You dishonored your word, Aethelstan.
Aethelstan: I did not. I told him to yield. I did not say he would survive.
---
Uhtred: You kill one hundred fathers, you give three hundred sons a reason to defy you. Think! Now's the time to unify.
Aethelstan: Uhtred may be right in this matter.
Uhtred: I speak only as a man who has made mistakes before.
---
Uhtred: Why the Danish name?
Ingilmundr: Born to a Dane, but raised a Saxon. I found Christ through the works of Alfred, and indeed through the writings of your son in Rome. You must be proud of him.
Uhtred: He is a true scholar. I'm just the fool who made him.
---
Ingilmundr: Honor your word. Swear to Aethelstan what you denied his father. Cede your lands and make England whole. As you say, it is the time for unity.
Uhtred: I will swear to a king, and you are not yet crowned. Nor will I kneel to you covered in blood.
'No warrior dies a peaceful death.' - Sihtric (Seven Kings Must Die)
Click To Tweet
Ingilmundr: [referring to Uhtred] How did he know we were coming here?
Aethelstan: He's always found a way to protect me.
---
Ingilmundr: [referring to the crowing of Aethelstan] Does Uhtred stand by his word?
Aethelstan: No. Uhtred has not come. Clearly, he…
Ingilmundr: He wishes to remain king in his own land. May God protect him from his vanity. But towards you, it is a cruelty.
---
Finan: It's not Serpent's Breath, but it's lighter, it's sharper, and it's got a garnet. Give it a name. Manslayer. Ball-taker. Uhtred, Sword of Uhtred. You actually smiled, Lord.
Uhtred: Perhaps losing my sword was a sign that my battle days are over.
---
Uhtred: "Seven kings must die." For what? What did your wife see?
Finan: She sees nothing. I swear.
---
Aethelstan: Will we be forgiven? Our sin weighs heavy.
Ingilmundr: Yes, it does. But remember, God holds us in the balance. Every sin can be weighed against an act of faith. Grow the faith and the sin is diminished.
Aethelstan: What if the shadow of sin obscures the faith?
'All regret is worthless.' - Uhtred (Seven Kings Must Die)
Click To Tweet
Ingilmundr: [to Aethelstan] Go beyond what Alfred dreamed of. Look to the islands God made, not the countries ordained by men, and bring all to Christianity. So when you are judged, you will be found in balance. And thus may accept both the sin, and the conquest against it.
---
Uhtred: Why is Aethelstan doing this?
Pyrlig: He says to unite Christians. And in his prayers, he talks much of atonement.
Uhtred: Atonement? For what?
Pyrlig: The death of his brother. The b****rdy of his parentage? I do not know.
---
Uhtred: You should not have stepped on my land.
Aethelstan: You should not have broken your word, humiliated me, as you humiliated my father.
Uhtred: I'm trying to make you see you're on the wrong path.
---
Uhtred: [referring to Ingilmundr] Aethelstan, hump who you wish, but do not fall under the influence of those who seek power.
'Only fools try to understand destiny.' - Ingilmundr (Seven Kings Must Die)
Click To Tweet
Uhtred: Aethelstan, you are a kind man, but you are tenderhearted, and Ingilmundr is seeking power for himself and for his brotherhood.
Aethelstan: Lies. Lies and ignominy.
Uhtred: There's no ignominy. He just turns you from your kin.
Aethelstan: And you are turned from your king! You seek to be one yourself.
---
Aethelstan: Let us leave the King of Northumbria to think on his errors.
Uhtred: I have no dream to be a king. Only to protect you.
Ingilmundr: Like you ran to protect him in Aegelesburg and ended up being beaten by boys? Should he really take counsel from a man who loses his sword to a child?
Aethelstan: Northumbria needs a lord with lust for battle.
---
Ingilmundr: As all fathers fall, and all sons take their place.
'A dream unites a people who once sought to kill each other. Without it, we go back into an age of darkness.' - Uhtred (Seven Kings Must Die)
Click To Tweet
Aethelstan: [as he orders Aldehlm to be hanged] You turned your back, Aldhelm. Now I turn mine.
---
Uhtred: [to Ingilmundr] Whatever power you hold over Aethelstan, today it ends.
---
Anlaf: Aethelstan turns against his friends. Succumbs to a wild dream to be a monarch for all your land. In time, he will come for you, Shetland. You, Orkney. He will take what belonged to your forebears and call it Britain.
---
Anlaf: War is coming. You only have to choose a side.
---
Trailer: