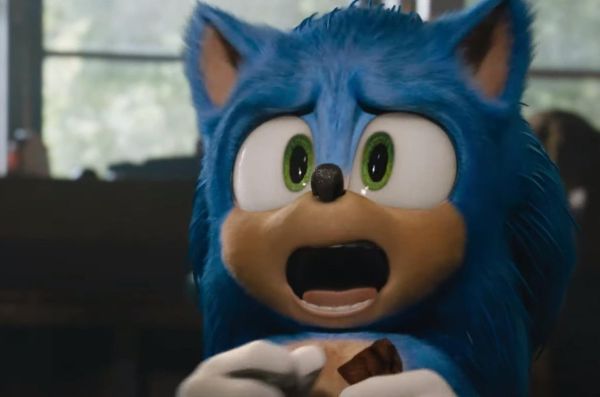 Copyright Notice: It's easy to see when our selected quotes have been copied and pasted, as you're also copying our format, mistakes, and movie scene descriptions. If you decide to copy from us please be kind and either link back, or refer back to our site. Please check out our copyright policies here. Thanks!
Starring: James Marsden, Ben Schwartz, Jim Carrey, Tika Sumpter, Adam Pally, Neal McDonough
OUR RATING: ★★★½
Story:
Live-action adventure comecy directed by Jeff Fowler, based on the video game franchise of the same name published by Sega. Sonic the Hedgehog (2020) follows small-town sheriff Tom Wachowski (James Marsden), who teams up with Sonic (Ben Schwartz), an anthropomorphic blue hedgehog who can run at incredible speeds, in his battle against Dr. Robotnik (Jim Carrey).
Our Favorite Quote:
'Confidence, a fool's substitute for intelligence.' - Dr. Robotnik (Sonic the Hedgehog)
Click To Tweet
Best Quotes
---

Sonic: [we see him being chased by Robotnik through San Francisco] So I know what you're thinking, "Why is that incredibly handsome hedgehog being chased by a mad man with a mustache from the Civil War?" Well, to be honest, it feels like I've been running my whole life. Is this too much? Am I going too fast? It's kind of what I do. You know what? Let's back up.
---
Sonic: [moviequotesandmore.com] I was born with extraordinary powers, and was told to keep them in secret. And like any kid, I did the exact opposite.
---
Sonic: That's Longclaw, she took care of me. She was basically Obi-Wan Kenobi, if Obi-Wan Kenobi had a beak and ate mice.
---
Sonic: Turns out, with great power comes great power-hungry bad guys.
---
Wade: [over police radio] Tom, do you read me? Are you there?
Tom: No, Wade, I'm actually on a yacht in Barbados with Rihanna.
Wade: OMG. That's amazing. Please send pics.
Tom: No, Wade, I'm at the speed trap.
Wade: Already? How did you get back so fast? Barbados is in the ocean.
---
Sonic: [on Earth living in a cave by himself] So what were you expecting? A dirty little hedgehog eating berries, and struggling to survive? Think again, because I am living my best life on Earth.
---
Sonic: [moviequotesandmore.com] And if I'm ever discovered, I'll follow Longclaw's instructions, and use my rings to escape to a new planet. A nice, safe little world filled only with mushrooms. Gross, smelly mushrooms. I hate mushrooms. But let's not worry about all of that. This is Green Hills. The greatest place on Earth. These are my people, and dare I say, I am their lovable space creature. So what if they don't know I exist?
---
Sonic: [referring to Tom] My favorite person is the Doughnut Lord. Protector of this town, and defender of all creatures, big and small.
---
Sonic: [as he's spying on Tom's wife, Maddie, as she does yoga] Doughnut Lord lives with Pretzel Lady. She is super nice to animals, and strangely was born without bones.
---
Sonic: [as he's spying on Tom and Maddie watching Speed] Yes! Keanu, you are a national treasure.
---
Sonic: [reciting a line from the movie Speed] "Pop quiz, hot-shot." A classic line.
---
Sonic: [as psychiatrist] You don't think your prolonged isolation is making you a bit crazy perhaps?
Sonic: Crazy? Me? No way, Doc. You got me all wrong.
Sonic: [as psychiatrist] And despite all these so called friends of yours, deep down you're still rather lonely? Perhaps afraid that you'll be alone forever?
---
Sonic: [moviequotesandmore.com] I really am alone. All alone. Forever.
Sonic: [starts running triggering an electromagnetic pulse that knocks out power] I'm sure no one noticed that giant blue explosion, right?
---
Air Force Chief of Staff: [after Sonic has knocked out the power, referring to Robotnik] He's a psychological terrifier!
Vice Chairman Walters: But he's also brilliant. Five PhDs. IQ off the charts. And his drone tech is revolutionary.
Army Chief of Staff: You're sure he can handle this?
Vice Chairman Walters: He has a perfect operations record. Remember the coup in Pakistan?
Army Chief of Staff: No.
Vice Chairman Walters: Or the uprising in Azerbaijanistan?
Navy Chief of Staff: It's not even a country.
Vice Chairman Walters: Exactly. And you can thank Robotnik for that.
Air Force Chief of Staff: I can't believe you're bringing that freak into this.
Vice Chairman Walters: Neither can I. But we have no choice.
---
Dr. Robotnik: Are you in charge here?
Major Bennington: Yes, I am.
Dr. Robotnik: No. Wrong!
Major Bennington: Name…
Dr. Robotnik: I'm in charge! Me!
Major Bennington: Is Major Ben…
Dr. Robotnik: I'm in charge.
---
Dr. Robotnik: [to Bennington, referring to his technology] You've never seen anything like this before? It says I'm the top banana in a world full of hungry little monkeys. Allow me to clarify. In a sequentially ranked hierarchy, based on level of critical importance, the disparity between us is too vast to quantify. Agent Stone.
Agent Stone: The doctor thinks you're basic.
---
Dr. Robotnik: [referring to Bennington] Is he still looking at me funny?
Agent Stone: Yes, he is.
Dr. Robotnik: Tell him to stop, or I'll pull out his search history.
Agent Stone: If you don't stop looking, the doctor, he'll take a closer look…
Major Bennington: I'm not deaf.
Dr. Robotnik: And tell him his men report to me now. Blah-blah-blah. Blah-blah-blah.
---
Dr. Robotnik: [moviequotesandmore.com] I'm sorry, major, what was your name?
Major Bennington: Benning…
Dr. Robotnik: Nobody cares! Nobody cares. Listen, Major Nobodycares. You know why nobody cares who you are? Because nobody cares about your feeble accomplishments. And nobody cares how proud your mommy is that you're now reading at a third grade level. Have you finished Charlotte's Web yet? Spoiler alert, she dies in the end. But she leaves a big creepy egg sac.
[as he releases his drones]
Dr. Robotnik: Oh, my babies. Look what came out of my egg sac.
---
Dr. Robotnik: [to Bennington] You know what I love about machines? They do what they're told. They follow their programming. They don't need time-off to get drunk, and put the boat in the water. And you do what you're told. Stand over there on the edge of your personal abyss, and watch my machines do your job.
---
Dr. Robotnik: [after finding one of Sonic's footprints] Do you see anything useful in this image?
Agent Stone: Nothing at all, doctor.
Dr. Robotnik: Of course you don't. Your eyes weren't expertly trained to spot tracks by the Native American Shadow Wolves.
---
Dr. Robotnik: [to Stone, referring to Sonic's footprint] This blackout was not a terrorist attack, and that's no baby Bigfoot. This guy is something else entirely.
---
Sonic: [as Sonic sees the army men hunting for him] Okay. Okay. Everything is fine. You played some baseball, got a little upset. Lightning shut out of your butt, and now they're coming for you.
---
Sonic: [moviequotesandmore.com] Earth isn't safe anymore. Time for plan B, Mushroomville. I got to take my stuff. Okay, essential items only. Okay, toothbrush, toothpaste, hair gel, night light, funny hat. This half-eaten cantaloupe. Oh, and my scented candle. My entire comic book collection. Bean bag chair. Can a bean bag chair fit in a backpack? No, no, no. Of course not. That's stupid! Okay, what else? The rings! The rings. Yes, of course!
---
Tom: [talking to Maddie on the phone] Hey, exciting stuff here. We had a power outage. The whole town went dark. It was like a sign telling me to get out of Dodge.
Maddie: Wade must've lost his mind.
Tom: Yeah. And he does not have much to lose.
---
Sonic: [to himself as he enters Tom's garage] Didn't work out on Earth, but that's okay. You're going to a safe world. A nice safe world full of mushrooms. Mushrooms, that'll be your only friends. That sounds awful. I can't do this! You have to do it. There's no other option.
---
Sonic: [after Tom finds Sonic in his garage] Uh, meow?
Tom: Ahh!!!
Sonic: Ahh!!
[Tom shoots at Sonic with a tranq gun]
---
Tom: [after cagingthe unconscious Sonic] The Blue Devil.
Sonic: [becomes conscious and steps out of the cage] Doughnut Lord?
Tom: You can talk? You're not here to abduct me, are you?
Sonic: You abducted me!
Tom: Okay, that's a fair point.
---
Tom: [moviequotesandmore.com] What are you? Why are you hiding out in my garage?
Sonic: I needed somewhere safe, and you're the only person I could think of, Doughnut Lord.
Tom: Why do you keep calling me Doughnut Lord?
Sonic: Because you talk to doughnuts, and then eat them if they get out of the line.
Tom: Again, fair.
---
Trailer: