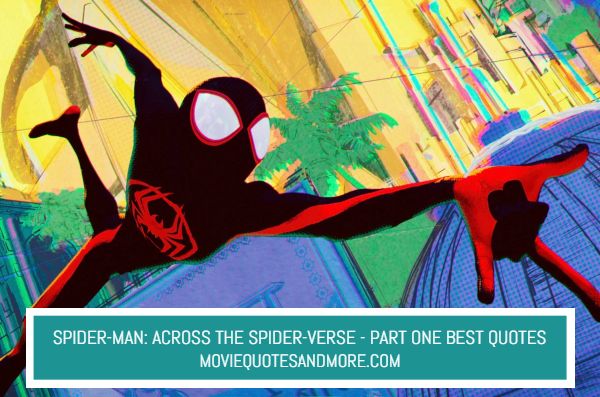 Copyright Notice: It's easy to see when our selected quotes have been copied and pasted, as you're also copying our format, mistakes, and movie scene descriptions. If you decide to copy from us please be kind and either link back, or refer back to our site. Please check out our copyright policies here. Thanks!
Starring: Shameik Moore, Hailee Steinfeld, Oscar Isaac, Issa Rae, Jake Johnson
Story:
Animated superhero action adventure sequel directed by Joaquim Dos Santos, Kemp Powers, and Justin K. Thompson. Spider-Man: Across the Spider-Verse (2023) set in a shared multiverse of alternate universes called the "Spider-Verse" where Miles Morales (Shameik Moore) goes across the Multiverse to join forces with Gwen Stacy (Hailee Steinfeld) and a new team of Spider-People to face off with a villain more powerful than anything they have ever encountered.
We'll add the best quotes once the movie is released and we've had a chance to watch it, but for now, here's a small selection.
Quotes:
Miles Morales: I can hear you being quiet, Mom.
Rio Morales: I hope I didn't ice your game, man.
Miles Morales: No one my age says those words in that order.
Rio Morales: It's just hard to see my little man not be my little boy all the time.
Miles Morales: Yeah.
---
Rio Morales: [to Miles] For years I've been taking care of this little boy. Making sure he's loved, that he feels like he belongs wherever he wants to be. He wants to go out into the world and do great big things. And what I worry about most, is they won't look out for you like us.
---
Rio Morales: Wherever you go form here, you have to promise to take care of that little boy for me. Make sure he never forgets where he came from. And he never doubts that he's loved. And he never lets anyone tell him that he doesn't belong there. You got to promise, Miles.
Miles Morales: I promise.
---
Gwen Stacy: Miles! You got a minute?
Miles Morales: Woh! Gwen, how did you get… How have you been?
Gwen Stacy: It's a long story.
---
Gwen Stacy: Is this the room you grew up in?
Miles Morales: It is. But my dorm room is very adorable.
Gwen Stacy: [Miles quickly tries to get rid of his toys] Right. No, of course.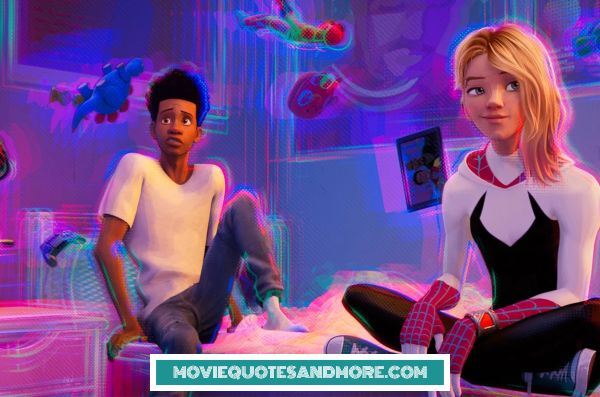 Gwen Stacy: Hey, are these your drawing?
Miles Morales: What? No. No.
Gwen Stacy: It's good.
Gwen Stacy: [sees a drawing of her] I missed you too.
---
Miles Morales: Okay. So, what are you doing here? I mean, I thought I'd never see you again.
Gwen Stacy: Want to get out of here?
Miles Morales: I'm grounded.
Gwen Stacy: Bummer. Is Spider-Man grounded?
Miles Morales: I mean, I…
[shrugs his shoulder]
---
Miguel O'Hara: Who do you think you are, really?
---
Gwen Stacy: We are supposed to be the good guys.
Miguel O'Hara: We are.
Trailer: