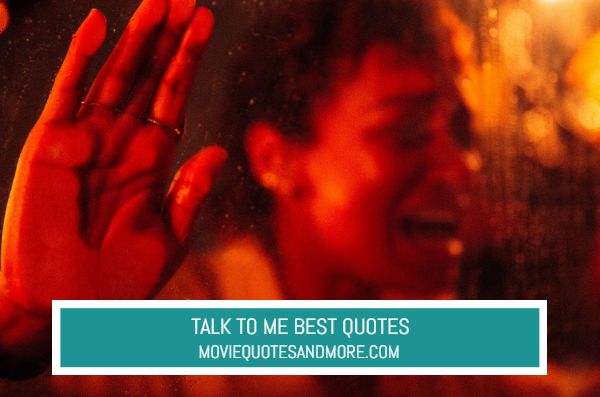 Starring: Sophia Wilde, Joe Bird, Alexandra Jensen, Otis Dhanji, Miranda Otto, Marcus Johnson, Alexandria Steffensen, Zoe Terakes, Chris Alosio
OUR RATING: ★★★½
Story:
A24 supernatural horror directed by Danny and Michael Philippou. Talk to Me (2023) follows a group of friends who after discovering how to conjure spirits using an embalmed hand, they become hooked on the new thrill, until one of them goes too far and opens the door to the spirit world, unleashing terrifying supernatural forces.
Where to Watch:
Best Quotes
---
Duckett: Pop said you're going to hurt a lot of people.
Cole: Pop's dead, Duckett.
Duckett: You're not him.
Cole: What are you talking about?
[Duckett then stabs Cole and stabs himself in the face]
---
Jade: Love it when you rock up uninvited.
Mia: Love it when you forget to pick up Riley.
---
Mia: Thanks for ignoring my calls, by the way.
Jade: I haven't been ignoring your calls. I've been busy.
Mia: Yeah, busy ignoring me.
---
Mia: Have you seen the group chat?
Jade: You mean the one I invited you to?
Mia: [referring to the séance] It's Hayley's video. They're doing it again tonight.
Jade: No, Mia.
Mia: I want to see if it's real!
---
Mia: I'm a bad person, Sue. Can you fix me?
Sue: You're not broken, Mia.
---
Jade: You going to bed?
Sue: You sneaking out?
Jade: Why do you always think I'm sneaking out or I'm sleeping around?
Sue: Because you only ask if I'm going to bed when you're sneaking out. Is it to see Daniel?
Jade: You know, even if it was, he's ultra-Christian. He doesn't do anything ever.
Sue: He's still got a d**k, Jade.
---
Jade: It's a thousand percent a trick.
Mia: How would Hayley fake that? Why would they?
Jade: Why would they? They're an attention whore. They're trying to get everyone to go to their house and talk about them, and you've fallen for it.
---
Hayley: [referring to Mia] She's so clingy, man. It's f***ing depressing. Oh. Now she's flirting with your boy.
Jade: They're friends, Hayley.
Hayley: You keep telling yourself that.
---
Hayley: Alright, let's do this!
Jade: Yeah, let's fake another video.
---
Hayley: As soon as she lets it in, it cannot go for more than ninety seconds. Am I clear?
Mia: What happens after ninety seconds?
Hayley: They'll want to stay.
Joss: And if you die while they're in you, well, they'll have you forever.
Mia: So lame.
Joss: Hey, I'm just relaying what I've been told, okay?
---
Hayley: [referring to the embalmed hand] Light the candle to open the door. Blow it out to close it. Okay, Mia. Put your hand on it. No, like hold it. Now say, "Talk to me."
Mia: Talk to me.
---
Mia: [after she sees the spirit of an old man] Who the f*** was that? Who was that?
Hayley: I don't know, man. It's different every time.
---
Hayley: [referring to the spirit] You don't have to look at it! Just say it.
Mia: I can't!
Hayley: Say it! "I let you in. I let you in."
Mia: I let you in.
---
Mia: [to Riley, possessed] They like you.
Daniel: What?
---
Mia: [to Riley, possessed] He's behind you now. He'll split you, pretty boy. He'll split you!
---
Mia: Did the hand thing scare you?
Riley: A bit.
Mia: You going to have nightmares, Riley?
Riley: I don't get nightmares.
Mia: I do.
Riley: Like what?
Mia: I have this reoccurring nightmare where I'm looking in the mirror and my reflection is gone. Like I don't exist.
---
Riley: What did the hand feel like?
Mia: It felt amazing. I felt like I was glowing. I could hear and see and feel everything. But I was in the passenger seat. It felt incredible.
---
Riley: [referring to Rhea's death] Jade said you got depression after.
Mia: I was just feeling alone.
Riley: No, you can't ever be alone because you'll always have me and Jade.
Mia: Yeah. It's okay. I don't feel alone anymore.
---
Sue: The party tonight. What time is it?
Riley: There's no party, Mum.
Sue: You are not drinking tonight. On God, I will punch you in the face.
Riley: Are you drunk?
Sue: James.
James: If there's a party, I'm definitely drinking at it.
Sue: Is that Cookie or you, James? Will you crack a window?
---
Joss: Apparently, it was the hand of someone who could connect with the dead, right, so everyone around him thought, let's just cut his hand off. White people s**t, man. I tell you.
Hayley: I heard it was the hand of a Satanist. The other hand's just out there somewhere.
Joss: Out where?
---
Joss: Just hold the hand, say "Talk to me", and ask the spirit your f***ing questions, alright?
---
Daniel: [to Jade, possessed] He hates it when you touch him. You make him soft.
Hayley: Yoh, this spirit's a c***.
---
Mia: [to Jade] You don't have to be a b**ch about all things Riley.
Riley: Yeah, Jade. You're just so busy trying to suck Daniel's d**k, you don't give a s**t about anybody else.
---
Jade: Why do you want to do it so much? To impress James? To come into my room crying that you're scared like last time? Did you tell your little friend that?
Riley: I hate you.
Jade: Like you're my favorite person in the world.
---
Riley: [possessed] I'm so sorry. I didn't mean to hurt you. I'd never want to hurt you. I miss you so, so much, Mi. I don't want you to hate me.
Mia: Mum?
---
Max: I wish you'd just be honest with me.
Mia: Right, because you've been so honest with me.
Max: What's that supposed to mean?
Mia: It means there's something you haven't told me about Mum. Isn't there?
---
Sue: [after Riley is in hospital and in critical condition] Look at his face. What did my son ever do to you?
Mia: I didn't hurt him.
---
Mia: I can't believe I spoke to her.
Daniel: I don't think that was your mum, Mia.
Mia: No, it was at first. She used to call me "Mi" all the time. I mean, how would the spirits know that?
Daniel: I feel like they read what we think. You know? I mean, they were in us. They could know everything about us.
Mia: Or maybe, Mum was there because she was trying to reach out.
---
Mia: Remember when we held hands?
Daniel: Yeah.
Mia: I could feel your heart beating through your fingertips.
Daniel: Yeah, you paid me out because your hands were bigger than mine.
Mia: And they probably still are.
Daniel: No way.
Mia: It is. You have the tiniest hands.
Daniel: Yeah, I didn't do puberty right.
---
Mia: Oh, my God. They followed us. Whoever we contacted, they followed us.
---
Mia: Please, please, Mum. Talk to me. Mum. Did you kill yourself?
Rhea: No. Not on purpose, Mi.
Mia: Is that the truth?
Rhea: I'd never want to leave you. Ever. I'm here. Always.
---
Jade: [referring to Riley] Every time he comes to, he tries to kill himself.
---
Mia: Have any of you guys still been seeing stuff?
Hayley: What the f*** you mean, "seeing stuff"?
---
Hayley: Did you see something?
Daniel: Not exactly.
Joss: What's that supposed to mean, Daniel?
Daniel: I woke up and Mia was, I don't know, sucking my feet.
Jade: What the f***?
---
Joss: [to Mia] Look, none of us have been seeing s**t, alright? And we all did it. We were all there. So, why would you be seeing your mum? You didn't even let her in.
---