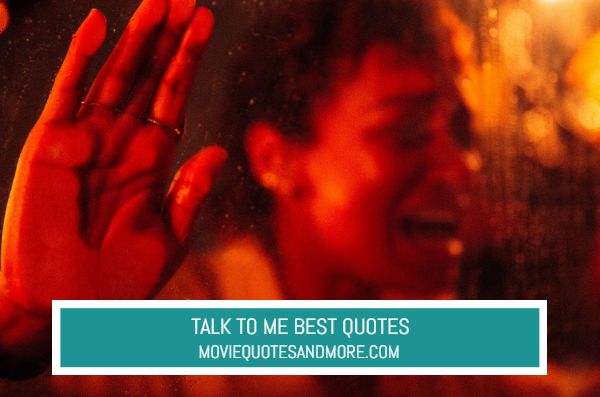 Copyright Notice: It's easy to see when our selected quotes have been copied and pasted, as you're also copying our format, mistakes, and movie scene descriptions. If you decide to copy from us please be kind and either link back, or refer back to our site. Please check out our copyright policies here. Thanks!
Starring: Sophia Wilde, Joe Bird, Alexandra Jensen, Otis Dhanji, Miranda Otto, Marcus Johnson, Alexandria Steffensen, Zoe Terakes, Chris Alosio
Story:
A24 supernatural horror directed by Danny and Michael Philippou. Talk to Me (2023) follows a group of friends who after discovering how to conjure spirits using an embalmed hand, they become hooked on the new thrill, until one of them goes too far and opens the door to the spirit world, unleashing terrifying supernatural forces.
We'll add the best quotes once the movie is released and we've had a chance to watch it, but for now, here's a small selection.
Quotes:
Jade: You busy tonight?
Hayley: You want a turn, eh?
Jade: My mom leaves at nine, so.
Hayley: See you at ten.
---
Mia: [referring to the embalmed hand] Where did you get it from anyway?
Joss: Apparently it was the hand of someone who could connect with the dead.
Hayley: I heard it was the hand of a satanist. And the other hand is just out there.
Joss: White people s***, man. I tell you.
---
Hayley: Alright, let's do this! You know the drill. Say, "Talk to me."
Daniel: Talk to me.
Jade: Hayley, f***ing stop it! He's choking!
Hayley: Eighty three seconds! Get it off him!
---
Daniel: Delete it. Delete it, come on!
---
Mia: [referring to the séance] Have you seen the group chat? They're doing it again tonight.
Jade: No.
Mia: Please? It's my mom's remembrance day.
Jade: I just want to forget about it.
---
Group: Do it! Do it! Do it! Do it!
Hayley: Who's up?
Mia: I'll do it.
---
Hayley: Cannot go for more than ninety seconds. Am I clear?
Mia: What happens after ninety seconds?
Hayley: They'll want to stay.
---
Hayley: [referring to the embalmed hand] Light the candle to open the door. Blow it out to close it. Put your hand on it. Now say, "Talk to me."
---
Mia: [after touching the embalmed hand] Talk to me.
---
Mia: Mom.
Mia's Mother: I'm here.
---
Riley: What did the hand feel like?
Mia: It felt amazing. I could see and feel everything on the other side. I could feel my mom. She was trying to reach out.
---
Mia: Still been seeing stuff?
Hayley: What do you mean seeing stuff?
---
Mia: What if we opened the door, but we didn't shut it?
---
Mia: The spirits. They followed us. We have to do something!
Jade: You want to do it again?
---
Mia: Oh, my God. They've followed us!
---
Sue: What was it? What happened?
Jade: I don't know!
---
Spirit: I let you in.
---
Mia: They're not going to stop. They're never going to stop.
---
Mia: [possessed] They like you.
---
Mia: Run! Run! Run! Run!
Trailer: