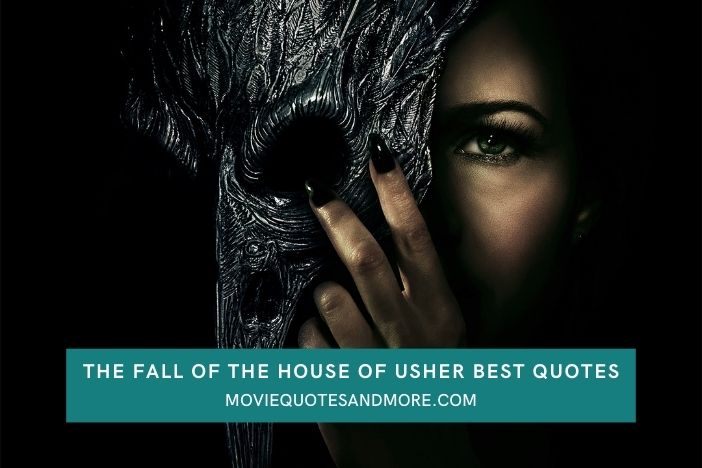 Our list of the best quotes from Netflix gothic horror drama television show created by Mike Flanagan, loosely based on works by Edgar Allan Poe. The Fall of the House of Usher centers on ruthless siblings Roderick and Madeline Usher (Bruce Greenwood and Mary McDonnell), who have built Fortunato Pharmaceuticals into an empire of wealth, privilege and power. But past secrets come to light when the heirs to the Usher dynasty start dying at the hands of a mysterious woman from their youth.
We'll add the best quotes once the series is released and we've had a chance to watch it, but for now here's a small selection.
Where to Watch:
Quotes:
Roderick Usher: It's time. It's time. It's time.
---
C. Auguste Dupin: Your Honor, no matter how much evidence stacked against them, the Usher crime family stands stronger and darker than ever before.
---
Madeline Usher: Mr. Pym has some important paperwork for each of you.
Camille L'Espanaye: Paperwork from the Pym Reaper, always a blast.
Napoleon Usher: Wait. Is this also cake?
Madeline Usher: This is a robust, new non-disclosure agreement, and it is consequential.
---
Camille L'Espanaye: Forfeiture of inheritance? Waiving of civil suits. You guys, we really should get together more often, it's just a balm for the soul.
---
Tamerlane Usher: Consequence only applies if it's proven you violated the agreements. So it seems to me no one has anything to worry about. Unless they have something to worry about.
Madeline Usher: Exactly. And your father and I appreciate this display of confidence, loyalty and family. Now sign it.
---
William 'Bill-T' Wilson: It's been a minute since I've gotten to feel like a member of the family. Al, have you gotten to sign an original Pym yet? It's a rite of passage. Just wait until you see the prenup.
Camille L'Espanaye: Oh, yes. Speaking of prenups, how are things, Juno?
Juno Usher: It's going great.
---
Dr. Alessandra Ruiz: Yeah, I prefer not to sign anything without my guy looking at it first. Or not.
Victorine LaFourcade: While we're on the subject, and hate to be the one to point this out, but if there were ever any one of us collecting, or even bartering a family secret, I think we all know who that is.
Frederick Usher: Do you want to watch me sign it? I'll sign it right now.
---
Tamerlane Usher: How do you spell "Froderick"?
Madeline Usher: Alright. Get the jokes out now because this isn't funny. Fortunato is the reason you exist. It's the reason you can have your little knock-offs, your heart implants, your debutante balls.
Napoleon Usher: Debutante balls? Is that what you think I do?
---
Madeline Usher: The company is the family, and we expect you to defend it with your life. And if anyone, anyone comes after us, we will exhaust our arsenal until the threat's neutralized.
Frederick Usher: By neutralized, do you mean sued into oblivion, taken out of the Board, out of the will, on the streets.
Madeline Usher: Neutralized. Like dead.
---
Verna: Roderick Usher, your family is a collection of stunted hearts whose time has come.
---
Prospero Usher: Who are you? I know everybody here. I chose this guest list very carefully, and I have no idea who you are.
Verna: You can take off your mask, Prospero.
Prospero Usher: You know my name.
Verna: I know everyone here. It's my kind of party. It's yours too, isn't it?
Prospero Usher: Do you like it?
Verna: I do. The music. The lights. The beautiful flesh. So pretty and soft. But the smells of it. All that sweat, the perfumes, the lotions, the musk. Sex, yes. But with a dash of Rome.
---
Verna: Tell me, and don't lie. Is it everything you wanted it to be?
Prospero Usher: Not yet. Almost.
Verna: Nearly realized is the sweetest. It's better, I promise, in the moment just before than in the moment after. That is the truth of this world. But you did it. And it's everything you imagined. And there's still time.
Prospero Usher: To what?
Verna: To stop it.
---
Verna: Things like this, all things, in fact, have consequences.
Prospero Usher: Not this. I mean, that's the whole point. You didn't read the invite?
Verna: There are always consequences. And tonight is consequential.
---
Tamerlane Usher: I'm going to head out. I've got an appointment with your dad.
---
Roderick Usher: Your brother's dead.
---
Tamerlane Usher: This is tragic, but a few "my heart will go on" tweets will pat it out.
---
Arthur Pym: This was no accident. You have been targeted. This woman knows everything.
---
C. Auguste Dupin: It's time, Roderick What did you do?
Roderick Usher: I'm afraid you're ringside for my reckoning, old friend.
---
Napoleon Usher: I don't even own anything funeral-black. Wait. That's not true. It's just f***ing satin. Satin is silk for poor people, and no one should wear it to a funeral unless they died in it.
---
Lenore Usher: Are we safe?
---
Madeline Usher: If we don't stop her, you won't have a family left.
---
Verna: Frankly, I think you've forgotten what I am.
---
Roderick Usher: Nevermore. Nevermore. Nevermore. Nevermore.