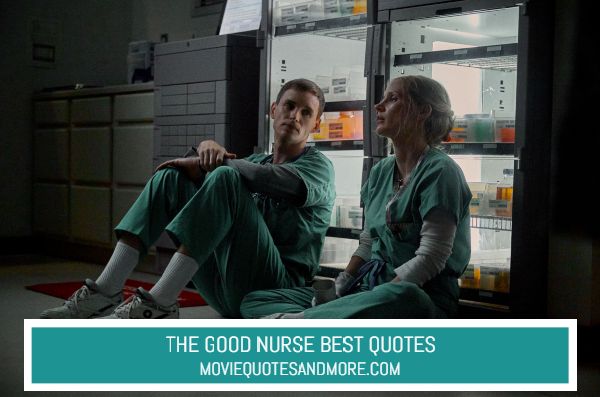 Copyright Notice: It's easy to see when our selected quotes have been copied and pasted, as you're also copying our format, mistakes, and movie scene descriptions. If you decide to copy from us please be kind and either link back, or refer back to our site. Please check out our copyright policies here. Thanks!
Starring: Jessica Chastain, Eddie Redmayne, Nnamdi Asomugha, Noah Emmerich, Kim Dickens
Story:
Netflix crime drama directed by Tobias Lindholm. Based on true events, The Good Nurse (2022) follows Amy Loughren (Jessica Chastain), a nurse and single mother struggling with a life-threatening heart condition, who is stretched to her physical and emotional limits by the hard and demanding night shifts at the ICU. Then help arrives when Charlie Cullen (Eddie Redmayne), a thoughtful and empathetic fellow nurse, starts at her unit. But after a series of mysterious patient deaths sets off an investigation that points to Charlie as the prime suspect, Amy is forced to risk her life and the safety of her children to uncover the truth.
We'll add the best quotes once the movie is released and we've had a chance to watch it, but for now, here's a small selection.
Quotes:
Charlie Cullen: What's going on?
Amy Loughren: Just, you know, work's been pretty awful without you there. You and I were partners.
Charlie Cullen: Yeah. I don't want to talk about work.
Amy Loughren: Is it because what they're saying is true?
---
Charlie Cullen: So, how are the girls?
Amy Loughren: They're really good, but I'm working a lot.
---
Woman: Nurse Loughren, this is Officer Braun.
Tim Braun: Do you remember Ana Martínez?
Amy Loughren: Yeah. Her death, it was sudden.
Danny Baldwin: [referring to the file] Mind taking a look at this?
Amy Loughren: The insulin in her system, it's a double medication error, which is really rare.
---
Danny Baldwin: [to Amy] We understand you work with a Charlie Cullen. Could he be involved in this?
---
Danny Baldwin: He's been at nine hospitals. Nine.
Amy Loughren: What do you mean? No. The hospital would have done something.
Tim Braun: You would think so.
Amy Loughren: Yeah.
---
Amy Loughren: Do you remember working with someone named Charlie Cullen?
Woman: Yeah. There was a rumor about him. They found insulin in a dead guy's saline bag.
---
Amy Loughren: Hey, girls.
Charlie Cullen: Come, sit.
Amy's Daughter: Why are you being weird, Mom?
---
Danny Baldwin: [referring to Charlie] He's been killing people without ever touching them. He's going to get a new job, and it's all going to continue.
---
Amy Loughren: I hope you guys can hear me. He's walking in right now.
Trailer: