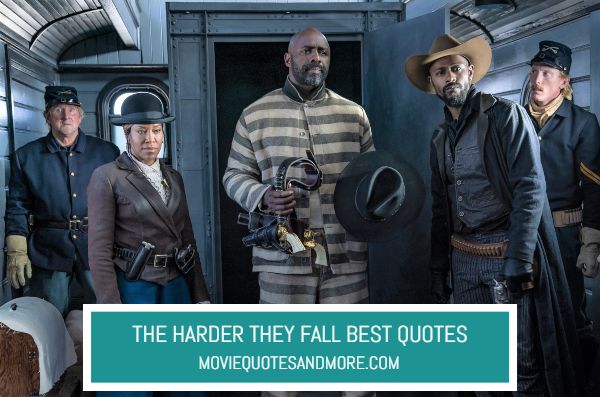 Copyright Notice: It's easy to see when our selected quotes have been copied and pasted, as you're also copying our format, mistakes, and movie scene descriptions. If you decide to copy from us please be kind and either link back, or refer back to our site. Please check out our copyright policies here. Thanks!
Starring: Jonathan Majors, Idris Elba, Zazie Beetz, LaKeith Stanfield, Delroy Lindo, Regina King, Danielle Deadwyler, Edi Gathegi, RJ Cyler
OUR RATING: ★★★☆☆
Story:
Netflix western drama directed and co-written by Jeymes Samuel. The Harder They Fall (2021) centers on outlaw Nat Love (Jonathan Majors), who after discovering that his enemy Rufus Buck (Idris Elba) is being released from prison, rounds up his gang to track Rufus down and seek revenge. Those riding with him include his former love Mary Fields (Zazie Beetz), his right and left hand men, hot-tempered Bill Pickett (Edi Gathegi), and fast drawing Jim Beckwourth (RJ Cyler), and a surprising adversary-turned-ally. Rufus has his own fearsome crew, including Trudy Smith (Regina King), and Cherokee Bill (LaKeith Stanfield), and they are not a group that knows how to lose.
Our Favorite Quote:
'A rock and a hard place is what we call Monday.' - Trudy Smith (The Harder They Fall) Click To Tweet
Best Quotes
---
Nat Love: What possesses a man to paint a scorpion on his hand?
Jesus Cortez: Excuse me?
Nat Love: A snake, I understand that. The Garden of Eden, the Bible, etcetera. But a scorpion? Well, that puzzles me.
Jesus Cortez: And who are you?
Nat Love: Just a man. Here to kill the Scorpion.
---
Nat Love: [after he kills Cortez] This is a wanted man. Turn his body in, and you'll get five thousand dollars for your church.
Father Esparza: Why aren't you taking him in yourself?
Nat Love: I'm worth ten.
---
Monroe Grimes: Be patient!
Jim Beckworth: I hear patience is a virtue. But I ain't never been able to wait to see if the m**herf***er true or not.
---
Clyde Grimes: Jim Beckwourth.
Jim Beckworth: Brothers Grime.
Clyde Grimes: It's Grimes with an S, you egotistical piece of s**t.
---
Jim Beckworth: But we're not going to die. Because I'm lightning with the blam-blams. Admit it.
Bill Pickett: You know, you might could be, but I hearsay there's a quick draw more lightning than you, go by the name of Cherokee Bill.
Jim Beckworth: Cherokee Bill. You hearsay. You don't see-say. So I say, f*** Cherokee Bill.
---
Mary Fields: I said leave.
Nat Love: What was that kiss for then?
Mary Fields: To remind you of what it was.
Mary Fields: [punches Nat in the face] That's to remind you of what it is.
---
Mary Fields: The only thing I need to hear coming out your mouth is, "Goodbye, Mary."
Nat Love: The one thing you'll never hear me say again.
Mary Fields: Till the next time you hear tell of the whereabouts of some man that done you dirt.
Nat Love: Ain't none of them left.
---
Nat Love: Mary, the only thing that mean anything to me in this world now is you.
---
Mary Fields: [to Nat, referring to Rufus] As long as that man draw breath, your spirit is going to be cursed and wild as it ever was.
---
Mary Fields: I made things. I built things. And I ain't going to risk all that just because you decide to come trotting back.
Nat Love: Trotting?
Mary Fields: Yeah.
---
Nat Love: You got the worst timing in the history of timing.
Bill Pickett: Oh, y'all was making sex? I apologize.
---
Monroe Grimes: Half that take was his. And you fools took his money.
Nat Love: You think Rufus Buck was going to let you keep half that money. And you calling me a fool?
Monroe Grimes: I guess I am.
---
Train Driver: What the hell are you doing? That ain't no way to board a train, you damn stupid ni…
Cherokee Bill: [Trudy shoots the conductor] You know, he might could've said nincompoop.
Trudy Smith: We ain't no nincompoop. If they say something that even start with N, they're going to meet the same fate.
---
Cherokee Bill: My name is Cherokee Bill. Now let it be known that I don't particularly enjoy violence. That being said, you are currently in the company of extremely violent individuals.
---
Big Man On Train: Get off this train now, you motherless scum.
Cherokee Bill: You must be the hero. Great Spirit, why is there always one? You're rude. I might actually enjoy inflicting violence on you. But who knows? Maybe you'll win. Let's see.
---
Cuffee: Oh, no need to show me that star. I know who you is. In here though, I be the sheriff, and that make Miss Mary the marshal. And the marshal say, "Don't nobody come in here gunned up, or they might could get gunned down."
Bass Reeves: My badge begs to differ.
---
Nat Love: So how you plan on taking me in, Marshal? Staring me to death?
Bass Reeves: How about just death?
---
Nat Love: You know I don't rob banks, Marshal.
Bass Reeves: But you rob them that do, which is all the same to me.
'Loyalty is a virtue. Till it ain't.' - Trudy Smith (The Harder They Fall)
Click To Tweet
Nat Love: I was in Texas at the time of that robbery.
Bass Reeves: How you know when it took place?
Nat Love: Whenever any bank robbery took place, I was in Texas. Unless, of course, the robbery took place in Texas.
---
Nat Love: Now, why you sitting here monologuing, drinking up my whiskey, when you should be out rounding up your little deputies, Marshal?
Bass Reeves: Because he been pardoned, Nat. Rufus Buck been absolved of his countless depredations. But seeing as I've been scouring the terrain looking for bank robbers and such, that particular piece of news failed to reach me.
---
Wiley Escoe: Rufus Buck. Look at you. Relic of yesteryear, with nothing. And you think you can roll into my town and take what belong to me? Who the f*** you think I am, huh? Ain't nobody scared of you and ain't nobody running. I'm a sinister m**herf***er too. One click of my finger and you disappear. So I suggest you leave, before I finish my steak.
[we then see he's practicing to himself]
---
Rufus Buck: [after he's beat Wiley] Now, I ain't going to kill you, Wiley. You and I were friends once. But know this. Redwood will never be yours, never. Never. Matter of fact, you ain't welcome here no more. Now, I want you to vacate immediately, or die where you lay.
---
Bass Reeves: Now you teaming up with a marshal to bring him in.
Nat Love: I ain't bringing him in. I'm bringing him down. And we ain't teaming up, old man. Your life's expendable, Marshal. My gang's ain't. S**t, since we're out here, I ought to tell you, I was fixing to kill you, when you and your fellas brought in Rufus.
Bass Reeves: Well, a lot of men be fixing, son. They always seem to die before they get the job done. And just for the record, I took Rufus in alone.
---
Nat Love: Ain't no coming back from this. Now get out of here. All of you. This ain't your fight.
Mary Fields: You take on the Devil himself, you're going to need more than just you and the marshal.
Bass Reeves: I seen the Devil, and Rufus Buck ain't him. Devil's white.
---
Jim Beckworth: Like they say in the Book of Clarence, "No man out-speed me."
Bill Pickett: Out-speed ain't a word, and Clarence ain't no book. I'm kind of hoping Cherokee put a bullet in your a** just to shut you up.
---
Mary Fields: What y'all waiting around for? You think destiny is coming to you?
---
Trudy Smith: Loyalty is a virtue, Rufus. Till it ain't.
Rufus Buck: You loyal to me?
Trudy Smith: See these folk here? Either they can't see it, or they don't want to. But I believe in what you're doing. This place can be the promised land for us. And as long as that so, ain't nothing I won't do to see it through.
---
Trailer: