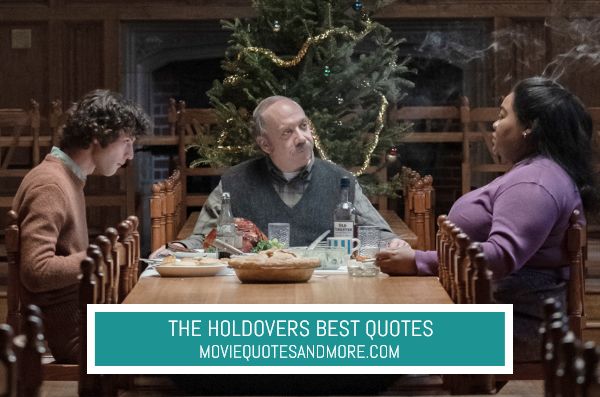 Copyright Notice: It's easy to see when our selected quotes have been copied and pasted, as you're also copying our format, mistakes, and movie scene descriptions. If you decide to copy from us please be kind and either link back, or refer back to our site. Please check out our copyright policies here. Thanks!
Starring: Paul Giamatti, Dominic Sessa, Da'Vine Joy Randolph
Story:
Comedy drama directed by Alexander Payne. The Holdovers (2023) follows Paul Hunham (Paul Giamatti), a curmudgeonly teacher at a New England prep school who is forced to remain on campus during Christmas break to supervise the handful of students with nowhere to go. Eventually he forms an unlikely bond with one of them, Angus (Dominic Sessa), a damaged, brainy troublemaker, and with the school's head cook, Mary (Da'Vine Joy Randolph), who has just lost a son in Vietnam.
We'll add the best quotes once the movie is released and we've had a chance to watch it, but for now, here's a small selection.
Quotes:
Teddy Kountze: Sir, I don't understand.
Paul Hunham: That's glaringly apparent.
Teddy Kountze: I can't fail this class.
Paul Hunham: Oh, don't sell yourself short, Mr. Kountze, I truly believe that you can.
---
Mary: Mr. Hunham.
Paul Hunham: Hello, Mary.
Mary: I heard you got stuck with babysitting duty this year. How did you manage that?
---
Jason Smith: [referring to Hunham] You know, he used to be a student, right?
Angus: Yeah. That's why he knows how to inflict maximum pain on us.
---
Angus: I thought all the Nazis were hiding in Argentina.
Paul Hunham: Stifle it, Tully.
---
Paul Hunham: You just earned yourself a detention, sir.
Angus: Being with you is already one big detention!
Paul Hunham: Son of a b**ch! That's another detention!
---
Paul Hunham: [to Angus] You're going to get me fired.
---
Paul Hunham: [to Angus] This is your Rubicon. Do not cross the Rubicon.
---
Paul Hunham: Do you think I want to be babysitting you? No. I was praying your mother would pick up the phone, or your father would arrive in a helicopter, or a flying saucer.
Angus: My father's dead.
---
Mary: [to Hunham] You don't tell a boy that's been left behind at Christmas that nobody wants him. What's wrong with you?
---
Angus: [to Hunham] There's nobody here, okay? You stay out of my way, and I'll stay out of yours.
---
Angus: [to Hunham] Now most of the kids dislike you, pretty much hate you, teachers too. You know that, right?
---
Paul Hunham: [to Angus] I find the world a bitter and complicated place, and it seems to feel the same way about me. I think you and I have this in common.
---
Angus: I don't think I've ever had a real family Christmas like this before. Thank you, Mary.
Mary: You're welcome.
---
Paul Hunham: History is not simply the study of the past, it is an explanation of the present.
Angus: See, when you say it that way, and throw in some pornography, it's a lot easier to understand.
---
Elise: Are you trying to look down my shirt?
Angus: No. Yes.
---
Paul Hunham: I'd like to propose a toast to my two unlikely companions.
Trailer: