By Stephanie Sabala (Rochester, NY)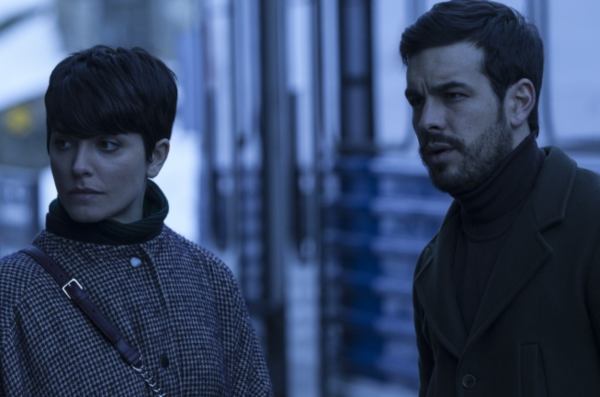 Contratiempo (2016) is a Spanish suspense film that will play with your mind multiple times. This is Oriol Paulo's follow up to the 2012 El Cuerpo (The Body). Paulo always seeks to shift the truth and justice making it more interesting to watch. This film is one of those cases that through the movie the truth is changing and confuses you to give you a final you never expected.
The film begins in a luxury apartment in the beautiful city of Terrassa in Catalonia. A blond woman named Virginia Goodman arrives and knocks on the door to Adrián Doria's apartment. She informs him that his lawyer Felix sent her to talk with him. He dresses up while audio of a television news story reports on the funeral of a photographer named Laura Vidal, allegedly killed by her lover, Adrián. Adrián had just received his nomination for entrepreneur of the year by the European awards. He tells the lady that he was expecting her later. Virginia replies that something came up and she couldn't reach Felix. Felix is on a trip outside the country after receiving a clue could change everything in his case.
The judge found out a new witness at last minute who could turn his case around. She tells him that they just have three hours to discuss some gaps in the details of his declaration. Virginia says that the details can help convince the public that he is innocent and that she had never lost a case in front of any judge. When she asks what he and the dead woman were doing in a hotel, Adrián tells her that he had dated Laura for a few months and someone saw them. That person blackmailed them demanding 100,000 Euros, a price he was willing to pay because he didn't want to divorce his wife, Sonia.
While discussing the case of the death of Laura,  Virginia accuses Adrián of hiding details from her. She shows him a newspaper with a picture of a young man named Daniel Garrido, who disappeared and has not been from since. She claims that this case is related and that he paid money to make it disappear and not affect his career. Adrián proceeds to tell the story of Garrido's case and how it relates to Laura's case. Laura and Adrián were involved in a car accident when a deer crossed and they crashed into another car. That car had only one person in it, Daniel Garrido. Adrián keeps explaining that he took care of the car and body, while Laura waited for some help. A driver approached Laura and said he was a mechanic who could fix the car. His name was Tomas Garrido.
The director tells the story from different points of views, changing the story again and again. In the film,  Virginia is the one who changes the story. She changes the different theories of the case to challenge Adrián to focus on the details. Every time Adrián changes his story, we see new elements causing us to start connecting the pieces. You believe you have all the right pieces together and that you know the end of the movie, but no, everything changes until the last minute of the film.
After discussing all the theories, Virginia presents Adrián with different proofs that he is guilty of killing Daniel Garrido. She claims that when this case escalated, Laura wanted to tell the truth and he killed her. This theory made him angry, shouting out the truth of what really happened. Virginia could get the truth from him because she presented fake things to play with his mind. She claimed that Tomas Garrido (Daniel's father) could be the one who killed Laura to revenge his son's death. In this moment of the film, we can see an apartment across from Adrián's, and staring through the window is Tomas Garrido. Virginia said that Tomas looked for an apartment close to him because he stopped believing in the police when it comes to the money and power he has.
When Adrián shouted the truth, Virginia left. We see her running because Adrian was about to realize she wasn't the person she claimed to be. At that moment, a pen he had on his shirt exploded. The entire conversation was recorded capturing his confession. But who did it? You will have to watch the movie and let it play with your mind.
Rating: 5/5