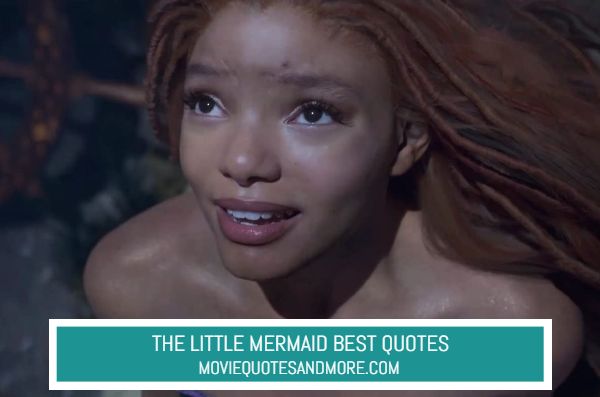 Copyright Notice: It's easy to see when our selected quotes have been copied and pasted, as you're also copying our format, mistakes, and movie scene descriptions. If you decide to copy from us please be kind and either link back, or refer back to our site. Please check out our copyright policies here. Thanks!
Starring: Halle Bailey, Jonah Hauer-King, Javier Bardem, Melissa McCarthy, Daveed Diggs, Jacob Tremblay, Awkwafina, Art Malik, Noma Dumezweni
OUR RATING: ★★★☆☆
Story:
Disney live-action musical fantasy adventure reimagining directed by Rob Marshall. The Little Mermaid (2023) centers on Ariel (Halle Bailey), a beautiful and spirited young mermaid with a thirst for adventure. The youngest of King Triton's (Javier Bardem) daughters, and the most defiant, Ariel longs to find out more about the world beyond the sea, and while visiting the surface, falls for the dashing Prince Eric (Jonah Hauer-King). While mermaids are forbidden to interact with humans, Ariel must follow her heart. She makes a deal with the evil sea witch, Ursula (Melissa McCarthy), which gives her a chance to experience life on land, but ultimately places her life, and her father's crown, in jeopardy.
Best Quotes
---
Hawkins: Tonight's the Coral Moon. They say this is when the Sea King calls his mermaid daughters together to lure men to their deaths.
Eric: Is that what they say?
Hawkins: Aye. Not even the strongest can resist their spell.
Eric: It's just an old lore.
---
Eric: You ought to stop worrying so much about me, Grimsby.
Sir Grimsby: Call me selfish, but I do not want to tell the Queen that her son fell overboard on my watch. And on his birthday, of all days.
---
King Triton: Where is Ariel? Sebastian? You were supposed to see to it that Ariel was here.
Sebastian: I tried, Your Majesty. But that child, she is impossible. I reminded her about the gathering just this morning. What more can one crustacean do?
King Triton: You can go find her.
Sebastian: Yes, Your Majesty. Yes. Right away.
---
Sebastian: How hard can it be to find a mermaid, after all? If I'm lucky, I'll only have to search one ocean.
---
Ariel: Getting cold fins?
Flounder: Who, me? No way.
Ariel: Good. Then you can stay out here and watch for sharks.
Flounder: Alright. Good. What?
---
Ariel: [referring to the fork] What is it?
Scuttle: It's a dinglehopper.
Ariel: A dinglehopper.
Scuttle: Yeah. Yeah. Humans use these babies to style their hair. You just give it a little twirl, a little yank, you might get some pieces with it, and you're left with an artistically pleasing conflagration of hair that humans go nuts for.
---
Scuttle: Your father still won't let you go to the surface, huh?
Ariel: No, it's forbidden. He thinks all humans are barbarians.
Scuttle: Oh, they're not so bad. Unless you're a coconut. They hate coconuts. I swear, they get a hold of one, they smash it to pieces, just like that. It's weird.
---
Sebastian: Ariel, what are you doing up there? Wasting your time with this know-nothing bird that can't tell swimming from flying?
---
Ursula: I should be the one throwing the parties, not waiting on an invitation. Oh, the feasts we had when I lived in the palace! And now look at me, the family pariah. Wasting away to practically nothing. Banished and exiled, driven halfway to madness in this dim little crevice for fifteen long years. While Daddy and his spoiled little mer-brats celebrate the Coral Moon.
'Listen to me. The human world is a mess. Life under the sea is better than anything they got going on up there.' - Sebastian (The Little Mermaid)
Click To Tweet
King Triton: This obsession with humans has to stop.
Ariel: I just want to know more about them.
King Triton: You know all you need to know.
Ariel: I barely know anything.
---
Sebastian: Children, you give them an inch, they swim all over you.
King Triton: Was I too hard on her?
Sebastian: Definitely not. It's like I always say, "Children got to live by their parent's rules."
---
Sebastian: How do I get myself into these situations? I'm an educated crustacean. I got options. I don't need this. I should be advising the King, not chasing after some headstrong teenager.
---
Ariel: I don't see how a world that makes such wonderful things could be so bad.
---
Ariel: [singing] I want to be where the people are. I want to see, want to see them dancing. Walking around on those… What do you call them? Oh! Feet. Flipping your fins, you don't get too far. Legs are required for jumping, dancing. Strolling along down a… What's that word again? Street. Up where they walk. Up where they run. Up where they stay all day in the sun. Wandering free. Wish I could be part of that world.
'Most people around here use too many words and have nothing to say.' - Eric (The Little Mermaid)
Click To Tweet
Sir Grimsby: And now that you have come of age, your responsibilities are at home. Your father would have expected that.
Eric: Yes, trapped inside that castle in isolation and fear. I can't do it.
Sir Grimsby: I believe a little fear may be advisable, sire.
---
Eric: I want to be a different kind of leader. That's the whole reason we're on this voyage, don't you see? We have to stay open to what's out here. That's the only way our island can grow.
Sir Grimsby: Eric, think what you risk.
Eric: I can't explain it, Grims. It's in my blood. Even now, I feel there's something out here calling to me.
---
Sebastian: [referring to Ariel rescuing Eric] Hey. You listen to me, bird. The King can never hear of this. We are going to forget this ever happened.
Scuttle: Ow!
Sebastian: Are you listening to me?
Scuttle: Yes.
Sebastian: You won't tell him. I won't tell him. And I will stay in one piece. You got it?
Scuttle: Got it! Sorry, what did you say again?
Sebastian: I'm a dead crab.
---
Ariel: [singing] I don't know when. I don't know how. But I know something's starting right now. Watch and you'll see, someday I'll be part of your world.
'Don't be held back by what you think should be. Think only of what is.' - Sir Grimsby (The Little Mermaid)
Click To Tweet
Ursula: [referring to Ariel] No, it's too easy. She's already in love with the human world, and now she found her soulmate. Oh, wait until Daddy finds out. He's going to hit the surface. That little girl's going to run straight into my tentacles.
---
Ariel: [referring to the statue] Look at the longing in his eyes.
Sebastian: What you know about longing?
---
Sebastian: You have to let go of this obsession with humans.
Ariel: I'm not obsessed.
Sebastian: I may be crusty, but I'm not blind.
---
Ariel: We don't have to be afraid of them, I know that now.
---
Sebastian: [singing] The seaweed is always greener in somebody else's lake. You dream about going up there, but that is a big mistake. Just look at the world around you right here on the ocean floor. Such wonderful things surround you. What more is you looking for? Under the sea. Under the sea. Darling, it's better down where it's wetter. Take it from me. Up on the shore they work all day. Out in the sun they slave away. While we devoting full time to floating under the sea.
'You shouldn't have had to give up your voice to be heard.' - King Triton (The Little Mermaid)
Click To Tweet
Sebastian: Somebody got to nail that girl's fins to the floor.
---
The Queen: Do not think you're using this girl as an excuse to run off again, risking your life on some trade ship for the sheer adventure.
Eric: "Sheer adventure"? I'm trying to reach out to other cultures, so we don't get left behind.
---
Ariel: I just mean, we're not all the same, so why should humans be?
---
King Triton: [referring to humans] They are the most dangerous species of all. Spoiling our waters, destroying the reefs, having no respect for the balance of the oceans.
---
Sebastian: Breathe, Sebastian. Remember, guilty is as guilty acts. Don't overreact. Remain calm.
---
King Triton: Is my little one in love?
Sebastian: Oh, I tried to stop her, sir! I tried to stop her from going to the surface! I told her to stay away from humans! When I saw her with that statue, I…
King Triton: Humans?
Sebastian: Humans? Who said anything about humans?
---
King Triton: You broke the rules? You went to the above world.
Ariel: There was a shipwreck. A man was drowning. I had to save him.
King Triton: You should have let him drown. They're savages.
Ariel: You don't know that.
---
Ariel: [referring to Eric] If you would have just heard him, Father. He's compassionate, and kind, and…
King Triton: He's a human! You're a mermaid!
Ariel: Yes. But that doesn't make us enemies.
---
King Triton: Promise me you will never look for him again.
Ariel: I can't.
King Triton: Promise me, Ariel!
Ariel: I can't lie to you. I won't.
---
Ariel: Who are you?
Ursula: Oh. You must not remember me. I'm your Auntie Ursula.
Ariel: The Sea Witch?
Ursula: The what?
---
Sebastian: Where is she going with those slippery good-for-nothing's?
---
Ariel: You don't seem at all like Father described you.
Ursula: Is that right? We never did get along. Squidling rivalry.
---
Trailer: