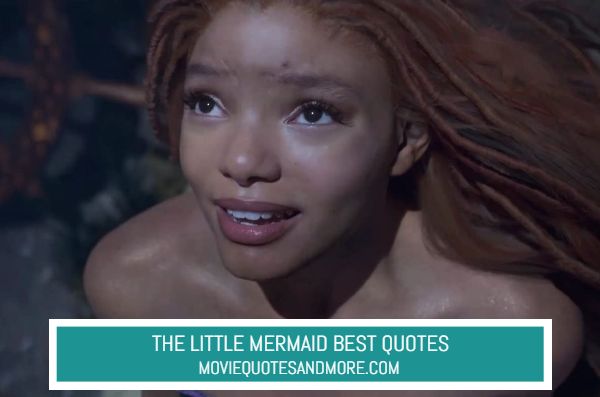 Copyright Notice: It's easy to see when our selected quotes have been copied and pasted, as you're also copying our format, mistakes, and movie scene descriptions. If you decide to copy from us please be kind and either link back, or refer back to our site. Please check out our copyright policies here. Thanks!
Starring: Halle Bailey, Jonah Hauer-King, Javier Bardem, Melissa McCarthy, Daveed Diggs, Jacob Tremblay, Awkwafina, Art Malik, Noma Dumezweni
Story:
Disney live-action musical fantasy adventure reimagining directed by Rob Marshall. The Little Mermaid (2023) centers on Ariel (Halle Bailey), a beautiful and spirited young mermaid with a thirst for adventure. The youngest of King Triton's (Javier Bardem) daughters, and the most defiant, Ariel longs to find out more about the world beyond the sea, and while visiting the surface, falls for the dashing Prince Eric (Jonah Hauer-King). While mermaids are forbidden to interact with humans, Ariel must follow her heart. She makes a deal with the evil sea witch, Ursula (Melissa McCarthy), which gives her a chance to experience life on land, but ultimately places her life, and her father's crown, in jeopardy.
We'll add the best quotes once the movie is released and we've had a chance to watch it, but for now, here's a small selection.
Quotes:
Ariel: [singing] Out of the sea, wish I could be part of that world.
---
Prince Eric: All hands on deck! Abandon ship!
---
King Triton: You broke the rules. You went to the above world.
Ariel: A man was drowning. I had to save him.
King Triton: This obsession with humans has to stop!
Ariel: I just want to know more about them.
---
Flounder: Ariel, don't!
---
Ursula: Poor child. I can help you. You can't live in that world unless you become a human yourself.
Ariel: Is that even possible?
Ursula: It's what I live for.
---
Scuttle: [to Ariel] Something about you seems different. I can't quite figure it out.
Sebastian: She got legs, you idiot!
---
King Triton: He's a human! You're a mermaid.
Ariel: That doesn't make us enemies.
---
Ariel: [singing] I don't know when. I don't know how. But I know something's starting right now. Watch and you'll see, some day I'll be part of your world.
Trailer: