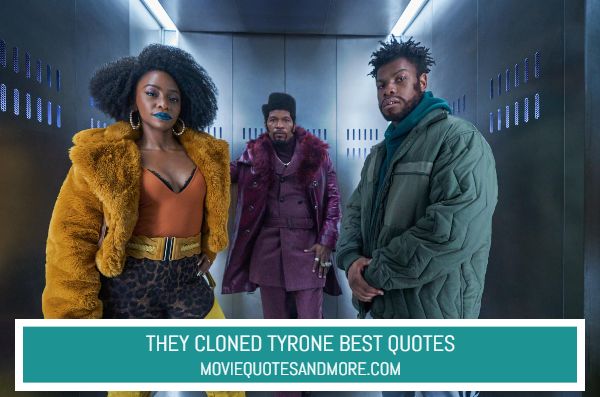 Copyright Notice: It's easy to see when our selected quotes have been copied and pasted, as you're also copying our format, mistakes, and movie scene descriptions. If you decide to copy from us please be kind and either link back, or refer back to our site. Please check out our copyright policies here. Thanks!
Starring: John Boyega, Teyonah Parris, Jamie Foxx, J. Alphonse Nicholson, Robert Tinsley, Joshua Mikel, Tamberla Perry
Story:
Netflix sci-fi mystery comedy directed and co-written by Juel Taylor. In They Cloned Tyrone (2023) a series of eerie events thrusts an unlikely trio, Fontaine (John Boyega), Yo-Yo (Teyonah Parris), and Slick Charles (Jamie Foxx), onto the trail of a nefarious government conspiracy.
We'll add the best quotes once the movie is released and we've had a chance to watch it, but for now, here's a small selection.
Quotes:
Slick Charles: [singing] I'm going down to the underground. Hope n****s don't drown and get f***ed up.
Yo-Yo: [singing] Right now let a m**herf***er try me. He going to die beside me. I don't know why. Why. Why.
---
Slick Charles: [as they enter the lab] What kind of s**t is this?
Yo-Yo: I don't know.
Slick Charles: Don't your a** touch s**t.
---
Man: You don't want to do this, man.
Fontaine: You better talk.
Man: No. I'm just trying to collect an hourly paycheck. You know?
Fontaine: Who are you?
Man: We're everywhere.
Fontaine: N****, who the f*** is "we"?
---
Yo-Yo: Somebody is conducting experiments on us.
---
Slick Charles: This is major league. It's Uncle-m**herf***ing-Sam.
---
Yo-Yo: We got to blow the lid off this s**t.
---
Slick Charles: We ain't no goddamn detectives.
---
Slick Charles: If we're going to buy into the insanity, let a pimp freshen up.
---
WoMan: Hey, Yo-Yo! Is that you, girl?
Yo-Yo: S**t.
WoMan: Oh, s**t! That is you!
---
Slick Charles: Let's take care of this s**t right now.
---
Fontaine: I don't know what that was, but that wasn't me.
Trailer: