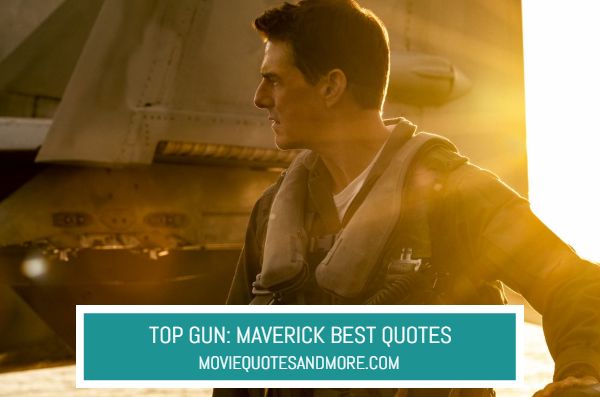 Copyright Notice: It's easy to see when our selected quotes have been copied and pasted, as you're also copying our format, mistakes, and movie scene descriptions. If you decide to copy from us please be kind and either link back, or refer back to our site. Please check out our copyright policies here. Thanks!
Starring: Tom Cruise, Miles Teller, Val Kilmer, Jennifer Connelly, Glen Powell, Jon Hamm, Ed Harris, Lewis Pullman
Story:
Action drama sequel directed by Joseph Kosinski. Set in a world of drone technology and fifth generation fighters along with exploring the end of the era of dogfighting, Top Gun: Maverick (2022) follows Captain Peter "Maverick" Mitchell (Tom Cruise) as the new flight instructor of Top Gun, in which he guides Bradley (Miles Teller), Goose's son, who seeks to become an aviator much as his father was.
We'll add the best quotes once the movie is released and we've had a chance to watch it, but for now here's a small selection.
Quotes:
Rear Admiral: Thirty plus years of service. Combat medals. Citations. Only man to shoot down three enemy planes in the last forty years. Yet, you can't get a promotion, you won't retire, and despite your best efforts, you refuse to die. You should be at least a two star admiral by now. Yet, here you are, captain. Why is that?
Maverick: It's one of life's mysteries, sir.
---
Rear Admiral: The end is inevitable, Maverick. Your kind is headed for extinction.
Maverick: Maybe so, sir. But not today.
---
Cyclone: Your reputation precedes you.
Maverick: I have to admit, I wasn't expecting an invitation back.
Warlock: They're called orders, Maverick.
---
Cyclone: Captain Pete 'Maverick' Mitchell. Let me be perfectly blunt. You are not my first choice. You are here at the request of Admiral Kazansky, AKA, Iceman. He seems to think that you have something left to offer the Navy. What that is, I can't imagine.
Maverick: With all due respect, sir, I'm not a teacher. I just want to manage expectations.
---
Hangman: What do we have here? And here, I thought we were special.
Phoenix: Fellas, this here is Bagman.
Hangman: Hangman.
Phoenix: Whatever.
---
Coyote: Who are your friends?
Payback: Payback.
Fanboy: Fanboy.
---
Phoenix: What do they call you?
Bob: Bob.
Payback: No, your call sign.
Bob: Bob.
Coyote: Literally?
---
Phoenix: [to Bob] You're to my new backseater?
---
Fanboy: What the hell kind of mission is this?
Phoenix: Everyone here is the best there is. Who the hell are they going to get to teach us?
---
Hangman: Who's going to be team leader? Which one of you all has what it takes to follow me?
---
Warlock: Your instructor is one of the finest pilots this program has ever produced. His exploits are legendary. What he has to teach you, may very well mean the difference between life and death.
Maverick: Today we'll start with what you only think you know.
---
Maverick: I'm going to train you to take your aircraft to the breaking point.
---
Maverick: Push beyond your limits. Show me what you're made of.
---
Maverick: Good morning, aviators. This is your captain speaking. Today's exercise is dogfighting.
Payback: Two versus one? He's got to be kidding.
Payback: [just then Maverick flies through them] What the hell?!
---
Maverick: [to himself] Easy, Maverick. Let's try not to get fired on the first day.
---
Coleman: And we're off.
---
Maverick: Here we go. In three. Two. One.
---
Maverick: I intend to push your limits. Show me what you're made of.
Phoenix: Nice.
---
Penny Benjamin: Who did you pi** off this time?
Maverick: Another admiral.
---
Bradley 'Rooster' Bradshaw: Where's he going?
Phoenix: That's why we call him Hangman. He'll always hang you out to dry.
---
Hangman: [referring to Maverick] We're going into combat on a level no living pilot's ever seen. Not even him.
---
Maverick: You think up there, you're dead. Believe me.
---
Bradley 'Rooster' Bradshaw: My dad believed in you. I'm not going to make the same mistake.
---
Warlock: You know what happens to you if you go through with this. I have everything I need to have you court-martialed and dishonorably discharged.
---
Maverick: Someone's not coming back from this.
---
Penny Benjamin: [to Maverick] Those are your pilots. If anything happens to them, you will never forgive yourself.
---
Warlock: No turning back now.
---
Maverick: Having any fun yet?
---
Hangman: This guy needs an ego check.
---
Hangman: Let's go. Let's see what you got. Hangman's coming.
---
Warlock: You put your team in danger.
Hangman: They couldn't keep up.
---
Payback: Whoever gets shot down has to do two hundred push-ups.
Fanboy: Damn! They don't call it an exercise for nothing, sir.
---
Maverick: [to Rooster] Forget the book. Trust your instincts!
Trailer: