Starring: Anna Kendrick, Justin Timberlake, Daveed Diggs, Christopher Mintz-Plasse, Kenan Thompson, Kunal Nayyar, Zosia Mamet, Eric André, Andrew Rannells, Amy Schume, Kid Cudi, RuPaul, Ron Funche, Camila Cabello, Troye Sivan
OUR RATING: ★★★☆☆
Story:
Animated musical comedy sequel directed by Walt Dohrn and Tim Heitz. In Trolls Band Together (2023) Poppy (Anna Kendrick) and Branch (Justin Timberlake) are now officially, finally, a couple. As they grow closer, Poppy discovers that Branch has a secret past. He was once part of her favorite boyband phenomenon, BroZone, with his four brothers, Floyd (Troye Sivan), John Dory (Eric André), Spruce (Daveed Diggs), and Clay (Kid Cudi). BroZone disbanded when Branch was still a baby, as did the family, and Branch hasn't seen his brothers since. But when Floyd is kidnapped for his musical talents by a pair of nefarious pop-star villains, Velvet (Amy Schumer) and Veneer (Andrew Rannells), Branch and Poppy embark on a harrowing and emotional journey to reunite the other brothers and rescue Floyd from a fate even worse than pop-culture obscurity.
Where to Watch:
Best Quotes
---
John Dory: Alright, guys. We're going to open with "Girl, Baby, Baby" and close with "Baby, Baby, Girl". Wait, no. That doesn't sound right. Ooh! I got it. Open with "Baby, Baby, Girl", close with "Baby, Baby, Girl, Woman".
---
John Dory: God, I want to boil an egg on those abs.
Clay: John Dory, do I really have to keep wearing these things?
John Dory: Yes, you do, Clay. They're funderdrawers. It's underwear, but seventy-six percent more fun.
---
Floyd: Hey, Branch. How you feeling?
Baby Branch: I feel like I'm going to barf, and pass out, and…
Floyd: Pee your pants all at once?
Baby Branch: How did you know?
---
Floyd: You got the pre-show jitters. Completely normal. Everyone gets them. You want to know what I do when I get them?
Baby Branch: Barf, pass out and pee your pants?
Floyd: I remember that I'm with my brothers, and that when we come together, there is nothing that we can't do.
---
John Dory: If we can't hit the perfect family harmony, we aren't perfect. And if we aren't perfect, we're nothing. Just follow my lead, and the harmony will happen.
---
Concert Announcer: Ladies and gentlemen, here they are! The Heartthrob! The Fun Boy. The Sensitive One. The Leader. And The Baby! Give it up for BroZone!
---
John Dory: [after their concert performance is ruined] See what happens when you don't follow my lead?
Spruce: Dude, that is exactly what happens when we follow your lead.
---
Spruce: You know what? I'm done playing the heartthrob. My exquisitely chiselled, rock-hard abs and I quit.
Clay: I quit too, and you can keep these. I'm more than just the fun one. I'm in a sad book club. Did you know that? A sad book club. I'm going to find trolls who take me seriously.
---
John Dory: I don't need this. I'm out. I'm done. I'm sorry. I'm going to go hike the Neverglade Trail by myself. Bro-lone. Yeah, that's right. Bro-bro going solo. YOLO. Goodbye forever.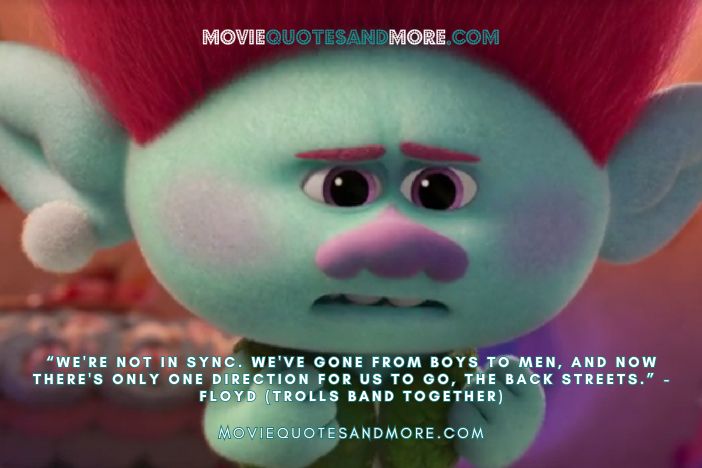 'We're not in sync. We've gone from boys to men, and now there's only one direction for us to go, the back streets.' - Floyd (Trolls Band Together) Click To Tweet
Floyd: Right now I have to follow my heart. It's telling me that it's time to start a solo career.
Baby Branch: But what am I going to do?
Floyd: Branch, you are going to do the most important thing of all. You're going to take care of Grandma.
---
Poppy: Branch.
Branch: What? Oh, hey.
Poppy: Are you alright? You're smiling and crying at the same time. It kind of looks like it's hurting your face.
Branch: It does hurt my face.
---
Branch: Oh, hey. Look at the time. We're going to be late to the royal wedding. Let's go get married.
Poppy: Branch!
Branch: What? I mean, let's get Bridget and Gristle married.
Poppy: Yeah. Oh. Because it would be weird if we got married.
Branch: Yeah. So weird. Duh.
Poppy: Wow. The weirdest. It's like weird that we're still talking about how weird it was. It's like fifteen seconds later.
Branch: Yeah. Blech.
Poppy: Blech.
---
Prince D: Yoh. Looking sick, King G.
Cloud Guy: You could say that again.
[vomits glitter]
---
Guy Diamond: Look at you, Tiny Diamond. You make the cutest little flower boy.
Tiny Diamond: Oh, come on, Daddy. I'm not a baby anymore! I'm the cutest little flower man!
Guy Diamond: But, Tiny, you're only a month old.
---
Poppy: I love you like a sister. Probably. I don't have a sister, so I wouldn't know. Which is fine. It's something I'm coming to terms with. Slowly.
Bridget: Poppy? Can we maybe unpack the sister thing after the vows?
---
Miss Maxine: Dearly beloved, we are gathered here today to celebrate the sweet, sweet love of Bridget, hey, girl, and Mr. Yummy-Tummy himself, King Gristle. Now, falling in love is easy. We've all done it. I've done it a hundred times. Thousands, even, if you count that semester I spent abroad.
---
John Dory: Stop the wedding!
King Gristle: Bridget, do you know this guy?
Bridget: I can't remember all my suitors, Grissy.
'If this diaper was any smaller, I could taste it.' - Branch (Trolls Band Together)
Click To Tweet
John Dory: Baby Branch!
Branch: You're making a mistake, stranger-that-looks-similar-to-me. There's no Branch here.
John Dory: Look at you. You got so big. You're not a branch anymore. You're more like a trunk. Junk in the trunk.
---
John Dory: I'm Branch's brother.
Poppy: What?
Tiny Diamond: Ooh, drama! Corn me, Dinkles.
Branch: Correction. Used to be my brother. Not anymore.
---
Poppy: Hey, remember earlier when I said you should open up to me and be real? You could've started by telling me you had a secret brother!
Branch: Former brother.
Poppy: That's not how DNA works!
---
Poppy: Oh, my gosh. I was being so rude. I've never met anyone from Branch's family before. I'm Poppy, Branch's girlfriend. Should we hug, fist-bump, smile and wave for now and see where the night takes us?
John Dory: All of the above.
---
Poppy: Okay, well, you're not the heartthrob.
John Dory: Well, that's your opinion.
Poppy: The fun one? No, you're kind of uptight.
John Dory: Uptight?
Poppy: Not the sensitive one either.
John Dory: Okay. A lot of assumptions for someone you just met thirty seconds ago.
Poppy: Oh. Oh! I've got it. You're John Dory.
John Dory: The leader.
Poppy: The old one!
---
Branch: He realized I was still alive. Twenty years too late!
Poppy: Hi. Sorry. He gets hangry if he skips breakfast.
Branch: I had breakfast. It was avocado toast with two poached eggs, some cayenne for a little kick. And you know what? It was delightful.
'Our story's complicated. Who cares if it's not perfect? As long as we're together.' - Poppy (Trolls Band Together)
Click To Tweet
Branch: I bet you he's only here because he needs something.
Poppy: That's not true. He's your brother.
John Dory: Branch, I'm going to be straight with you. I need something.
Branch: And there it is.
---
Floyd: The bottle is made of diamond. And there's only one thing that's powerful enough to shatter diamond.
John Dory: Right. A diamond-shattering diamond hammer. Where can we get one of those?
Floyd: No, John. It's the perfect family harmony.
---
Poppy: This is your second chance with your brothers, Branch.
---
Poppy: BroZone 2.0. BroZone reunion. BroZone, here we bro again. BroZone where did they bro? I don't know. We're going to find them!
---
Velvet: So, what do you want to know? I'm an open book.
Veneer: Wide-open. We're gaping novels.
'We don't have to be perfect to be in harmony. We just have to be as we are. Together.' - Branch (Trolls Band Together)
Click To Tweet
Velvet: Well, time for a spritz.
Floyd: No. Please! I barely have any talent left to give. I mean, maybe like a desperate Christmas album, or a one-off national anthem performance. But that is it!
---
Velvet: Veneer, what's with your vibe and your face? Why do you have resting-moody-vibe face?
---
Poppy: Tiny! What are you doing here?
Tiny Diamond: Well, Aunt Poppy, for your information, I am no longer a baby. I am a big boy now. And I'm on a man-sized rite of passage to learn lessons of life, courage, and maybe love.
---
John Dory: Should we be letting a baby drive?
Tiny Diamond: Not to worry, fellow grown-up. I have procured my learner's permit.
Poppy: [looking at Tiny's permit] Who is Adulty McManface?
Tiny Diamond: The better question is, are you a narc?
Poppy: What? No. No. Why? Are you?
---
Poppy: Check out your old outfits. Puffy jackets. Puka shell necklaces. Denim tuxedos? Branch, did you have frosted tips?
Branch: Yeah. It was an era.
John Dory: Don't forget his perm.
Poppy: No way! Pictures or it didn't happen.
---
John Dory: But we had to pull the plug when he tried to frost his perm.
Branch: It was an era!
John Dory: Tragic.
---
Poppy: Who wrote, "Girl, I Love Your Love, Girl, You Break My Heart, Girl, I Still Love You, But I Seriously Think We Should Have A Talk About Our Relationship, Girl"?
John Dory: That was Branch.
Poppy: Shut up! That was my favorite BroZone song, like, ever.
John Dory: JK! Also me. Branch has never written a song.
Branch: I was a baby. What did you want me to write about, diaper rash?
---