Tropic Thunder Trivia
(Total Trivia Entries: 74)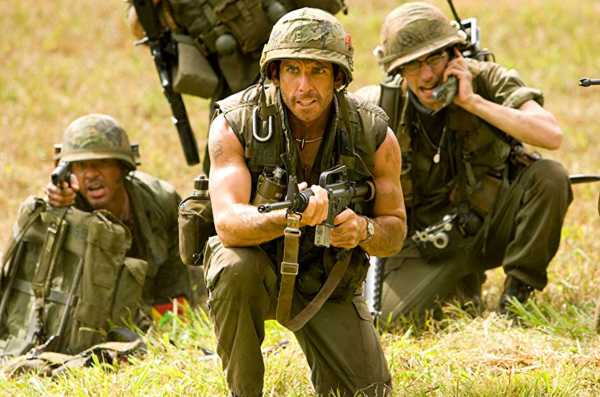 "The Story Behind the Story."
Like his character, Kirk Lazarus, Robert Downey Jr. is a method actor and stayed in character even while cameras weren't rolling. To find out more trivia keep on reading.
Casting                        Screenplay & Production
---
Ben Stiller had originally planned Keanu Reeves to play Speedman with Stiller playing Rick Peck.
---
According to Ben Stiller, Tugg Speedman is partially based on a young Sylvester Stallone.
---
Co-writer Etan Cohen created the role of Kirk Lazarus as a way of lampooning the great lengths that some method actors go to depict a role.
---
Apparently Robert Downey Jr. was approached by Ben Stiller about the part of Kirk Lazarus while on vacation in Hawaii.
---
Robert Downey Jr. was very reluctant to take the role of Kirk Lazarus because he felt wearing the make-up to look African-American was offensive. But Downey later accepted the role because he liked the script and wanted to work with Ben Stiller and Jack Black.
---
Downey said on CBS' The Early Show' that his first reaction was, "This is the stupidest idea I've ever heard!" and that Stiller responded, "Yeah I know—isn't it great?" In another interview, Downey said that he accepted the part but, having no idea where or even how to start building the character of Osiris, eventually settled on a jive-esque speech pattern and a gruff, ragged bass voice; he then auditioned Lazarus' voice over the phone to Stiller, who approved the characterization immediately.
---
Downey revealed that Kirk Lazarus is based on a combination of Russell Crowe, Daniel Day-Lewis and Colin Farrell.
---
The character of Kirk Lazarus was originally written as Irish. It was changed to Australian, when Robert Downey Jr. stated it would be easier for him to improvise in an Australian accent, something he'd previously done with his character, Wayne Gale, in Natural Born Killers (1994) where he played a similar outlandish Australian character.
---
Downey acknowledged the potential controversy over his role: "At the end of the day, it's always about how well you commit to the character. If I didn't feel it was morally sound, or that it would be easily misinterpreted that I'm just C. Thomas Howell [in Soul Man (1986)], I would've stayed home."
---
Downey is a method actor and usually stays in character between takes and even off the film set. Downey stayed in character as Sgt. Osiris (and, by extension, Lazarus) even while cameras weren't rolling. This practice was also written into the script for his character Kirk Lazarus to perform.
---
Brandon T. Jackson, who portrays Alpa Chino in Tropic Thunder, stated: "When I first read the script, I was like: What? Black face? But when I saw him act he, like, became a black man. It was just good acting. It was weird on the set because he would keep going with the character. He's a method actor."
---
Ben Stiller commented on Downey's portrayal of a white actor playing a black man: "When people see the movie, in the context of the film, he's playing a method actor who's gone to great lengths to play an African American. The movie is skewering actors and how they take themselves so seriously."
---
Stiller previewed Tropic Thunder before several African American journalists and the National Association for the Advancement of Colored People, who reacted positively to the Robert Downey Jr.'s character.
---
Downey required between one and a half to two hours of make-up application to portray the black character. According to Downey, "One makeup artist would start on one side of my face and a second makeup artist would start on the other side, and then they'd meet in the middle."
---
In Tropic Thunder, Kirk Lazarus says the line "I don't drop character 'til I've done the DVD commentary." When recording the audio commentary for the unrated DVD and Blu-ray, Robert Downey Jr. actually spends the entire commentary in the character that appears on the screen as the movie progresses.
---
Jeff "Fats" Portnoy was written with Jack Black in mind and is partially based on Chris Farley.
---
According to Ben Stiller, in an interview with Playboy, Jack Black filmed most of Tropic Thunder with bruised ribs.
---
Apparently Mos Def was originally offered the role of Alpa Chino, but he turned it down.
---
Tom Cruise was initially set to cameo as Stiller's character, Tugg Speedman's agent, Rick Peck. Instead, Cruise suggested adding a studio head character, and the idea was incorporated into the script. Stiller and Cruise worked together to create the new character, Les Grossman, as a middle-aged businessman.
---
Ben Stiller has cited that nearly all aspects of the Les Grossman character were developed by Tom Cruise, including the dancing and the look of the makeup. Stiller said that in addition to the more obvious makeup effects applied to Cruise's face and head, and the extra hair on his chest and arms, Cruise also decided to play the character wearing oversized prosthetic hands.
---
Many have speculated that Tom Cruise based his performance as a vulgar movie mogul on Sumner Redstone, with whom Cruise had a public falling out after Redstone had Paramount's terminate their development deal with Cruise. While this may or may not be true, his physical appearance is more than likely based on Tropic Thunder producer Stuart Cornfeld.
---
Ben Stiller intended to keep Cruise's role a secret until the film's release. In addition, Paramount Pictures refused to release promotional pictures of Cruise's character to the media.
---
In November 2007, images of Tom Cruise wearing a bald headpiece and a fat suit appeared on Inside Edition, as well as on the Internet. Cruise's attorneys threatened a lawsuit if photos showing Cruise in costume were published. They approached various sites that were hosting the image and quickly had it removed. A representative for Cruise stated: "Mr. Cruise's appearance was supposed to be a surprise for his fans worldwide. Paparazzi have ruined what should have been a fun discovery for moviegoers. "The photography agency INF, who first debuted the image, responded with a statement: "While these pictures were taken without breaking any criminal or civil laws, we've decided to pull them from circulation effective immediately."
---
After Cruise vacated the role of Rick Peck, Owen Wilson was cast to play the part. Following his attempted suicide in August 2007, Wilson dropped out of playing in Tropic Thunder and Stiller gave the role to Matthew McConaughey.
---
Tom Cruise co-stars as a vulgar movie producer, Les Grossman, in this movie. Ben Stiller played Cruise in a sketch on Saturday Night Live in which Cruise played "Celebrity Jeopardy" and also played Cruise's idiotic stunt double "Tom Croose" in a sketch at the 2000 MTV movie awards.
---
While filming, Jay Baruchel, who plays Kevin Sandusky, and Brandon T. Jackson, who plays Alpa Chino, had to be trained on how to use a gun. Jack Black used an M-60, also known as "The Pig." According to his co-stars, he seemed very experienced, despite never having used a gun before.
---
The actors and actresses that make cameo appearances in Tropic Thunder include Tobey Maguire, Jennifer Love Hewitt, Lance Bass, Jon Voight and Jason Bateman.
---
Serving as a last-minute replacement, Tobey Maguire was only available to be on set for two hours to film his scenes in Satan's Alley. Downey said he was amazed Maguire would agree to appear in Tropic Thunder and felt like they were creating a karmic pay-off for their scenes together in the 2000 film Wonder Boys, where Downey's gay character has a one-night-stand with Maguire's character.
---
Christine Taylor, Ben Stiller's wife appears as Simple Jack's mother in the 'Simple Jack' trailer. She also appears at the awards ceremony sitting a few chairs in from the aisle, seen for an instant as the camera follows Tugg down the aisle.
---
Co-writer Justin Theroux, makes a cameo appearance as the gunner on one of the Hueys in the beginning of the film, and the Zoolander DJ at the 'One Week Down' party in the director's cut version of this movie.
---
The poster for "The Fatties" behind Jeff Portnoy (Jack Black) in the trailer features the names of a few of the film's actual crew members: costume designer Marlene Stewart, editor Greg Hayden, director of photography John Toll, and screenwriter Justin Theroux. In addition, the poster contains the DreamWorks Pictures logo, the Dolby Stereo logo, and a fictional composite of several MPAA ratings (reading "PG – Parental Guidance – under 11 requires accompanying parent or guardian").
---
Screenplay & Production                        Casting
---
Ben Stiller first came up with the idea for Tropic Thunder while working on Empire of the Sun (1987), in which he played a small part.
---
In one of the special features on the Tropic Thunder director's cut DVD, Ben Stiller said he has been developing ideas for this movie for about 8-10 years. Both Stiller and script co-writer, Justin Theroux have revealed that the initial script concept was that the movie was going to be about actors going to a "fake boot camp" for a couple of weeks and coming back with Post Traumatic Stress Disorder.
---
Stiller has said in interviews that when he started out in Hollywood, he had a lot of colleagues going into war movies at the time, such as Platoon (1986) and Hamburger Hill (1987), and they would attend a "fake boot camp" in order to prepare for their roles and after taking part in these fake boot camps they considered themselves "self-important" and go on about the intense "boot camp" preparation and simulation of war these projects involved and how it made them feel like real soldiers. Stiller found this ridiculous because he thought that being an actor in a war film was nothing like being a real soldier in a real war. This was an early inspiration on what would become "Tropic Thunder".
---
Tropic Thunder's final script was developed to satirize Vietnam War films such as Platoon (1986), Full Metal Jacket (1987), Hamburger Hill (1987), and The Deer Hunter (1978).
---
Ben Stiller reaction to the film being called a spoof; "… I feel the tone of the movie is its own thing. I think there are elements of satire, but I don't think it should be categorized just as that. There are elements of parody in it, but obviously I don't think it's just that. I feel like hopefully it's its own thing, which has a lot of familiar stuff that we are playing off of."
---
Co-writer Justin Theroux, has cited that the Tropic Thunder script was easier to write as viewers have an increased awareness of the inner workings of Hollywood due to celebrity websites and Hollywood news sources.
---
Dialogue for unscripted portions of the storyboard was developed on set by the actors or was improvised.
---
The title of the movie is a play on "Tropic Lightning", the nickname of the 25th Infantry Division which has seen action in WWII, Korea, Vietnam, Southwest Asia and Iraq (among others). The Division is notable for being the subject of The Thin Red Line (1998) (based on James Jones's novel) and Platoon (1986). Famous members include Oliver Stone (who wrote and directed "Platoon"), rapper Ice-T and Alaskan Governor Sarah Palin's eldest son.
---
Although Southern California and Mexico were considered for the main unit filming, the Hawaiian island of Kauai (where Stiller has a home) was selected for the majority of the shooting. Kauai was chosen over Mexico because a tax credit for in-state spending was negotiated with the Kauai Film Commission. The island was also selected for its similarity to Vietnam, based on its dense foliage, variety of terrains, and weather.
 
Source:
https://www.imdb.com/title/tt0942385/trivia
https://en.wikipedia.org/wiki/Tropic_Thunder
---
Total Trivia Entries: 74