Copyright Notice: It's easy to see when our selected quotes have been copied and pasted, as you're also copying our format, mistakes, and movie scene descriptions. If you decide to copy from us please be kind and either link back, or refer back to our site. Please check out our copyright policies here. Thanks!
Starring: Rosalie Chiang, Sandra Oh, Orion Lee, Wai Ching Ho, Ava Morse, Maitreyi Ramakrishnan, Hyein Park, Tristan Allerick, Addie Chandler
OUR RATING: ★★★½
Story:
Disney Pixar's animated coming of age comedy directed by Domee Shi. Turning Red (2022) centers on thirteen-year-old Mei Lee (Rosalie Chiang), who is torn between staying her mother's, Ming (Sandra Oh), dutiful daughter and the chaos of adolescence. Also, whenever she gets too excited, "poofs" into a giant red panda, which for a teenager is practically always.
Our Favorite Quotes:
'People have all kinds of sides to them. And some sides are messy. The point isn't to push the bad stuff away. It's to make room for it, live with it.' - Jin (Turning Red)
Click To Tweet
Best Quotes
---
Meilin: The number one rule in my family? Honor your parents. They're the supreme beings who gave you life who sweated and sacrificed so much to put a roof over your head, food on your plate, an epic amount of food. The least you can do in return is every single thing they ask. Of course some people are like, "Be careful. Honoring your parents sounds great, but if you take it too far, well, you might forget to honor yourself." Luckily, I don't have that problem.
---
Meilin: I'm Meilin Lee. And ever since I turned thirteen, I've been doing my own thing. Making my own moves, twenty-four-seven, three-sixty-five. I wear what I want, say what I want, and I will not hesitate to do a spontaneous cartwheel if I feel so moved.
---
Meilin: Not to brag, but being thirteed means I'm officially a grown-up. At least according to the Toronto Transit Commission.
---
Meilin: Besties assemble! Miriam! Priya! Abby!
Abby: Yeah. What's up, Mei?
Meilin: Ready to change the world?
Miriam: So ready.
Priya: I was born to do this.
Meilin: Let's burn this place to the ground!
---
Meilin: I know, it's a lot, but this is grade eight. I don't got time to mess around. I guess you could call me…
Mr. Kieslowski: A very enterprising, mildly annoying young lady.
Girl: A major weirdo.
Tyler: An overachieving dork-narc.
Meilin: I accept and embrace all labels.
---
Abby: [referring to Devon] My mom cuts his hair at the salon, and I felt it. It's very soft.
Priya: Woh. Can I have some?
Miriam: Yeah, Abby, hook a sister up.
Meilin: Ugh! He looks like a hobo.
Abby: A hot hobo!
---
Meilin: May I remind you what real men look like?
Priya, Miriam, Abby: 4-Town!
---
Priya: [to Meilin] Yeah, but tickets to 4-Town are like a bajillion dollars, and Devon's right here.
Abby: And free!
---
Meilin: [as she's rushing to get home] I know what it looks like. I am my own person. But that doesn't mean doing whatever I want. Like most adults, I have responsibilities.
---
Meilin: [referring to her mother, Ming] It's not all about me, you know? I do make my own moves, it's just that some of my moves are also hers.
---
Ming: How was school today?
Meilin: Killed it per usual. Check it out.
Ming: Oh. That's my little scholar. Today, honor student, tomorrow, UN Secretary General. The ancestors would be so proud.
---
Ming: Who are these hip-hoppers? And why are they called "4-Town" if there are five of them?
---
Ming: I should report you to the police. How old are you? Thirty?
Devon: I'm seventeen.
Ming: Oh, see. See? This is what happens when you don't wear sunblock, and do drugs all day! She's just a sweet, innocent child. How dare you take advantage of her!
Meilin: [as Ming shows him Meilin's sketches of Devon] Mom! No!
'We've all got an inner beast. We've all got a messy, loud, weird part of ourselves hidden away. And a lot of us never let it out.' - Meilin (Turning Red)
Click To Tweet
Meilin: [to herself, referring to her sketches of Devon] You sicko! What were you thinking? Why would you draw those things? Those horrible, awful, sexy things? It's fine. You'll move to another city, change your identity.
---
Ming: [after Meilin wakes to find herself turned into a large red panda] Mei-Mei, what's going on, honey? Are you sick? Is it a fever? A stomach ache? Chills? Constipation?
Panda Meilin: No!
Ming: Wait. Is it that? Did the red peony bloom?
Panda Meilin: No! Maybe?
Ming: But it's too soon. Don't worry, Mei-Mei. I'll get everything you need. Mommy's here.
---
Panda Meilin: I'm a gross red monster!
---
Ming: Mei-Mei, I know this is upsetting, but we are going to get through this together. I have ibuprofen, vitamin B, a hot water bottle, and pads. Regular, overnight, scented, unscented, thin, ultrathin, ultrathin with wings.
---
Ming: Mei-Mei. Perhaps we should talk about why this is happening.
Panda Meilin: No! I mean, no. It's okay.
Ming: You are a woman now. And your body is starting to change. It's nothing to be embarrassed about.
Panda Meilin: Mom, please!
Ming: You are now a beautiful, strong flower. Who must protect your delicate petals and clean them regularly.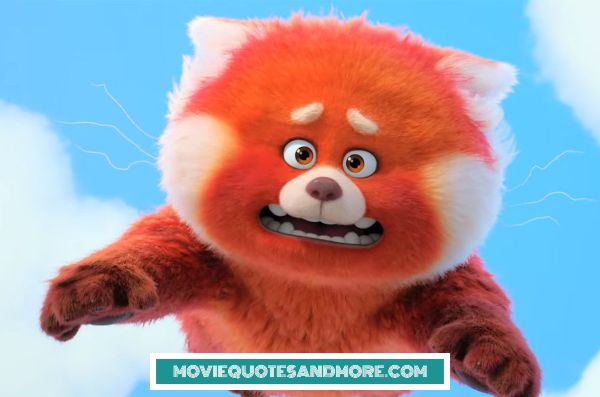 Panda Meilin: I'm calm. Zen.
Meilin: [poofs into human form] Yes! Okay. No biggie. You'll figure this out, Lee. Just be the calm, mature adult you totally are. You got this.
---
Miriam: Tyler's been telling everyone about the Daisy Mart.
Meilin: What?
Abby: He said your mom went nuts.
Priya: And that you're kind of a perv.
Meilin: [trying to stay calm] I am not a… Tyler is an insecure jerkwad. Words were exchanged. Slightly uncomfortable secrets were revealed. End of story.
---
Ming: [as Meilin sees Ming outside her class] Mei, Mei! Tell him it's me! Mei-Mei!
Security Guard: I will report you for trespassing.
Ming: Tell him it's Mommy! Mei-Mei! Tell him you forgot your pads!
[suddenly Meilin poofs into her panda form]
---
Ming: [over phone] Jin. Jin, get home now. There's been an emergency.
Jin: Is it the woman thing?
Ming: No! Another one.
---
Panda Meilin: Don't look at me! Stay back!
Ming: Sweetie, it's okay. Mommy is here.
Panda Meilin: What's happening to me?
Jin: What is it? It's happened already?
Panda Meilin: What did you say?
Jin: Ming? It's time.
---
Ming: [to Meilin] As you know, our ancestor, Sun Yee, had a mystical connection with red pandas. In fact, she loved them so much that she asked the gods to turn her into one.
---
Ming: Sun Yee passed this gift to her daughters, for when they came of age. And they passed it to theirs. But over time, our family chose to come to a new world. And what was a blessing became an inconvenience.
Panda Meilin: Are you serious?!
---
Ming: There's a cure!
Panda Meilin: Really? How do you know?
Ming: Because it happened to me.
Panda Meilin: Why didn't you warn me?
Ming: I thought I had more time! You're just a child. I thought, if I watched you like a hawk, I'd see the signs, and be able to prepare. But it's going to be fine. I overcame it, and you will too.
---
Ming: [referring to the talisman] On the next red moon, you'll undergo a ritual that will seal your red panda spirit into one of these. And then you'll be cured, for good. Just like me. But any strong emotion will release the panda. And the more you release it, the more difficult the ritual will be.
---
Ming: There is a darkness to the panda, Mei-Mei. You only have one chance to banish it, and you cannot fail. Otherwise, you'll never be free.
---
Trailer: