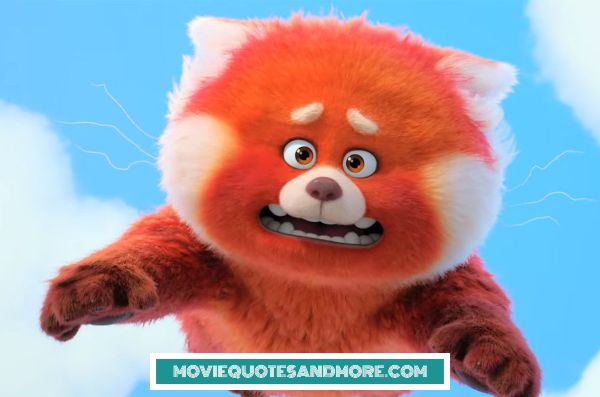 Copyright Notice: It's easy to see when our selected quotes have been copied and pasted, as you're also copying our format, mistakes, and movie scene descriptions. If you decide to copy from us please be kind and either link back, or refer back to our site. Please check out our copyright policies here. Thanks!
Starring: Rosalie Chiang, Sandra Oh, Orion Lee, Wai Ching Ho, Ava Morse, Maitreyi Ramakrishnan, Hyein Park, Tristan Allerick, Addie Chandler
Story:
Disney Pixar's animated coming of age comedy directed by Domee Shi. Turning Red (2022) centers on thirteen-year-old Mei Lee (Rosalie Chiang), who is torn between staying her mother's, Ming (Sandra Oh), dutiful daughter and the chaos of adolescence. Also, whenever she gets too excited, "poofs" into a giant red panda, which for a teenager is practically always.
We'll add the best quotes once the movie is released and we've had a chance to watch it, but for now, here's a small selection.
Quotes:
Mei Lee: I'm Meilin Lee. I wear what I want, say what I want. Twenty-four-seven, three-sixty-five. I know. It's a lot! But I don't got time to mess around.
---
Mei Lee: All about that hustle. Am I right?
---
Priya, Miriam, Abby: Oooh. 4-Town.
---
Mei Lee: [moviequotesandmore.com] This is going to be the best year ever. And nothing's going to get in my way.
Mei, Priya, Miriam, Abby: Alright!
---
Ming: Is everything okay?
Mei Lee: I'm a gross red monster! Don't look at me. Stay back!
Jin: It's happened already?
Mei Lee: What did you say?
---
Ming: Our ancestors had a mystical connection with red pandas.
Mei Lee: Are you kidding me?!
Ming: This little quirk runs in our family.
---
Ming: Any strong emotion will release the panda.
---
Ming: [moviequotesandmore.com] Do you know how dangerous this is? You'll get whipped up into a frenzy and panda all over.
---
Teacher: Alright, guys. The quadratic formula! Let the fun begin! Who can tell me how the formula begins? X equals?
[Mei gets a note saying "your mom is outside" during class]
Mei Lee: No! No! No! This isn't happening!
---
Security Guard: Hi!
Ming: Excuse me, my child goes to this school.
[the students see Ming arguing with the security guard outside]
Student: What is that? Oh, snap!
Teacher: Alright. Settle down, little goblins. Woh.
---
Mei Lee: No! Please! No!
Ming: Mei, Mei! Tell him it's me! Tell him it's Mommy!
[suddenly Mei poofs into a large red panda]
---
Panda Mei Lee: [as she's running on rooftops] Don't look down! Don't look down! Got to get home! Got to hide!
---
Panda Mei Lee: I'm calm. Zen.
Mei Lee: [poofs into human form]Yes!
Panda Mei Lee: [poofs back into panda form] No!
---
Abby: [referring to Mei's panda form] You're so cute!
Priya: Sick. I've always wanted a tail.
Mei Lee: I'm a freak.
Miriam: We love you, Mei.
Priya: You're our girl.
Miriam: [as they hug her, Mei turns back into her human form] You're you!
---
Mei Lee: Abby, Hit me.
[Abby punches her]
---
Stacy: [upon seeing Mei in her panda form] O-M-G!
---
Mei Lee: [moviequotesandmore.com] My whole life I've been perfect little Mei Mei. But maybe I like this new me.
Trailer: