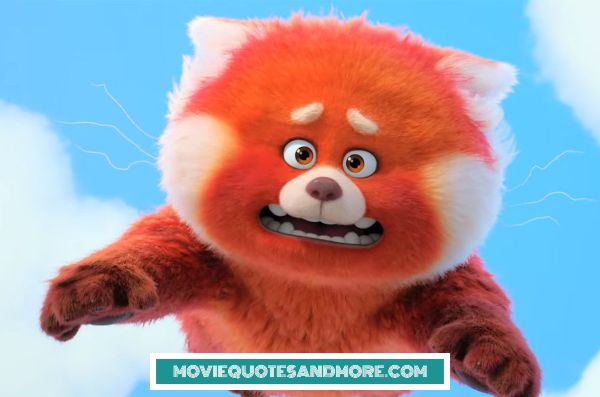 Starring: Rosalie Chiang, Sandra Oh
Story:
Disney Pixar's animated coming of age comedy directed by Domee Shi. Turning Red (2022) centers on thirteen-year-old Mei Lee (Rosalie Chiang), who is torn between staying her mother's, Ming (Sandra Oh), dutiful daughter and the chaos of adolescence. Also, whenever she gets too excited, "poofs" into a giant red panda, which for a teenager is practically always.
Copyright Notice: It's easy to see when our quotes have been copied and pasted, as you're also copying our format, mistakes, and movie scene descriptions. If you decide to copy our movie quotes please be kind and either link back, or refer back to our site. Please check out our copyright policies here. Thanks!
We'll add the best quotes once the movie is released and we've had a chance to watch it, but for now, here's a small selection.
Quotes:
Teacher: Alright, guys. The quadratic formula! Let the fun begin! Who can tell me how the formula begins? X equals?
[Mei gets a note saying "your mom is outside" during class]
Mei: No! No! No! This isn't happening!
---
Security Guard: Hi!
Ming: Excuse me, my child goes to this school.
[the students see Ming arguing with the security guard outside]
Student: What is that? Oh, snap!
Teacher: Alright. Settle down, little goblins. Woh.
---
Mei: No! Please! No!
Ming: Mei, Mei! Tell him it's me! Tell him it's Mommy!
[suddenly Mei poofs into a large red panda]
---
Panda Mei: [as she's running on rooftops] Don't look down! Don't look down! Got to get home! Got to hide!
---
Panda Mei: I'm calm. Zen.
Mei: [poofs into human form]Yes!
Panda Mei: [poofs back into panda form] No!
Trailer: