By Luke Henderson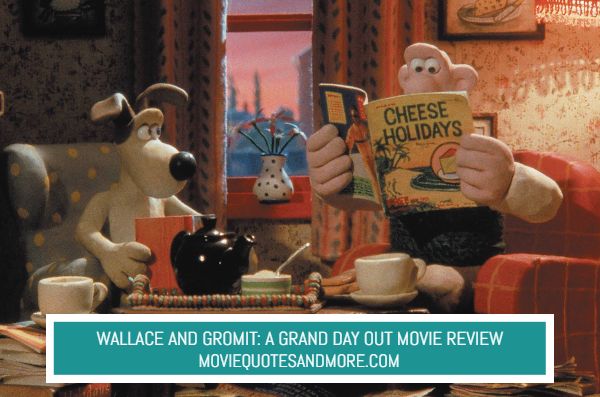 If you had to get some more cheese for a platter of crackers, would you go to the grocery store or the moon? According to Wallace and Gromit, the best option would be to go to the moon! Wallace and Gromit: A Grand Day Out revolves around our two titular characters Wallace, a middle-aged bald inventor who wears his signature white shirt, green sweater vest, and khakis, and Gromit, his faithful dog sidekick. At the start of the film, we open to Wallace and Gromit looking through some catalogs while Wallace spins a globe. They're looking for a great place for a holiday, but can't seem to find anything of interest. As Wallace discusses their dilemma with Gromit the tea kettle starts to whistle. Wallace walks over to prep their plate with cheese and crackers only to find they've run out of cheese. He walks back over to a disappointed Gromit to sit down when he has a brilliant thought.
They would go somewhere where there was cheese for their holiday! And what better place to go than the moon; for everyone knows the moon is made of cheese. But first, before they can go to the moon, Wallace must first build a rocket. He begins work with the help of Gromit in a scene full of hilarity and slapstick goodness. As Wallace is hammering, drilling, and painting, Gromit is working in perfect sync alongside him, getting the work done. After several antics, the bright orange rocket is finished and ready for launch.
An aspect of this movie that absolutely sells it is the sidestepping of physics and logic. Why's the rocket not moving? The handbrake's on! How does the rocket take off? With a fuse! How in the world do Wallace and Gromit breathe on the moon? Well, how are they supposed to eat their cheese with a helmet on! It only adds to the viewing experience for both adults and children alike. What also adds to this is the fact that there isn't a big bad character with a brooding plot and twisted backstory, or a time sensitive MacGuffin that needs to be retrieved, or some massive journey filled with peril and loss that our characters must embark on to achieve some lifelong dream. It's a simple lighthearted movie, and that's what I love about it. The simple story line and charming characters result in a relaxed watching experience that I'd love to pair with a coffee and a plush chair next to a fire. It's a movie to relax with.
Watching Wallace and Gromit is watching 30 minutes of pure British charm. Wallace's voice actor, Peter Sallis, gives Wallace a perfect personality of a kind, naive, and brilliant man. Making Wallace seem like a kid in a man's body only adds to the appeal of the movie. Additionally, one of the greatest feats is the way they portrayed Gromit. Gromit doesn't say a word in the movie and doesn't even have a mouth, but his face is so expressive, all you need is a furrow of an eyebrow or a slight roll of the eyes and you know exactly what he's thinking. However, I can't talk about Wallace and Gromit without talking about the most prominent feature of this film, which of course must be the clay animation.
The clay animation is smooth and fluid, with each fingerprint on the plasticine models conveying the time, effort, and passion that went into this film. In fact, Wallace and Gromit: A Grand Day Out was a college project made by Nick Park, who was inspired by the studio Aardman Animations to make his film, and who would eventually be hired by them to make animations alongside them, resulting in one of the most recognizable franchises on the planet. In fact, Wallace and Gromit: A Grand Day Out was so well received, it was nominated for an Oscar as best animated feature, but lost to Creature Comforts, another stop motion animation made by none other than Nick Park.
Speaking of Oscar Nominees, many movies attempt to use claymation's uncanny nature to create an unsettling vibe. For example, the movies Coraline and A Nightmare Before Christmas use very slender spindly characters with more pronounced edges and silhouettes, enforcing their themes of being unsettling horror-esque movies. In direct contrast, Wallace and Gromit stand out with a much smoother and rounded style. This style makes the characters very cartoonish and pleasing to the eye and would be a style that would carry over to the rest of Aardman Animations claymation creations.
All I have to say is that if you want a movie to sit down with family or friends and have a good laugh, then Wallace and Gromit: A Grand Day Out is the movie for you. Now if you'll excuse me, I seem to be out of Wensleydale.
Rating: 5/5