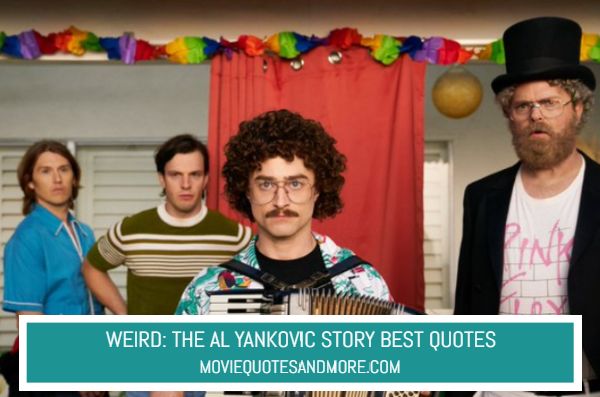 Copyright Notice: It's easy to see when our selected quotes have been copied and pasted, as you're also copying our format, mistakes, and movie scene descriptions. If you decide to copy from us please be kind and either link back, or refer back to our site. Please check out our copyright policies here. Thanks!
Starring: Daniel Radcliffe, Evan Rachel Wood, Rainn Wilson, Toby Huss, Julianne Nicholson, Quinta Brunson, Will Forte
Story:
Bio-comedy drama directed and co-written by Eric Appel. A parody of the biopic genre, Weird: The Al Yankovic Story (2022) tells the fictionalized tale of Al Yankovic (Daniel Radcliffe) exploring every facet of Yankovic's life, from his meteoric rise to fame, with early hits like 'Eat It' and 'Like a Surgeon', to his torrid celebrity love affairs and famously depraved lifestyle.
We'll add the best quotes once the movie is released and we've had a chance to watch it, but for now, here's a small selection.
Quotes:
'Weird Al' Yankovic: I'm tired of people thinking I'm some kind of joke.
---
Mary Yankovic: [to young Al] Your dad and I agreed it would be best if you just stop being who you are and doing the things you love.
---
Cop: [to Mary] I'm afraid we found your son at Polka Party.
---
'Weird Al' Yankovic: My whole life, all I wanted is to make up new words to a song that already exists.
Friend: Oh. Well, you should do that.
---
'Weird Al' Yankovic: Anyone got an accordion?
---
'Weird Al' Yankovic: [singing] Ooh, my little hungry one, hungry one. Open up a package of my bologna.
Friend: Dude, I've got chills.
---
'Weird Al' Yankovic: What can I say? I'm full of surprises.
---
Dr. Demento: Every once in a great while, I can spot a talent that I know is the future of music. But first, we got to find you a stage name. Al Yankovic. It's long, it's hard to pronounce. I'm just going to throw this out there. "Weird Al" Yankovic.
'Weird Al' Yankovic: I love it.
---
Record Executive: Oh, Al, you can't smoke in here.
Record Executive: [after Al puts out the cigarette on his hand] I totally deserved that.
---
'Weird Al' Yankovic: I hope you guys are ready for this.
---
'Weird Al' Yankovic: Do I know you?
Madonna: Madonna. I was wondering if you were going to do a parody of my song, Like a Virgin?
'Weird Al' Yankovic: I'm curious. Is that song autobiographical?
Madonna: Yes. Except for the fact that I've had a lot of sex.
---
Dr. Demento: Name me one creative genius that doesn't have a checkered past, involving alcohol, and drugs?
---
Dr. Demento: I think Madonna is a bad influence on you.
'Weird Al' Yankovic: What?
Dr. Demento: [to Madonna] No offense.
---
'Weird Al' Yankovic: I'm a train wreck. My parents wrote me off. I pushed away my band.
---
'Weird Al' Yankovic: [to his band] You're all just a bunch of normals! I'm the weird one!
---
Dr. Demento: [to Al] You've got to take care of yourself. I saw in you something special. An artist with something to give to the world.
---
'Weird Al' Yankovic: In front of all the billions of people watching around the world right now, all I want to say is, be as weird as you want to be. You will never find true happiness until you can truly accept who you are. Thank you.
Trailer: