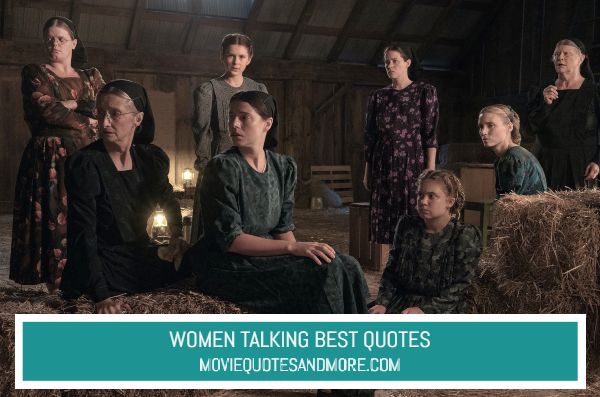 Copyright Notice: It's easy to see when our selected quotes have been copied and pasted, as you're also copying our format, mistakes, and movie scene descriptions. If you decide to copy from us please be kind and either link back, or refer back to our site. Please check out our copyright policies here. Thanks!
Starring: Rooney Mara, Claire Foy, Jessie Buckley, Ben Whishaw, Frances McDormand, Judith Ivey, Sheila McCarthy, Michelle McLeod, Emily Mitchell, Liv McNeil, Kate Hallett
Story:
Drama written and directed by Sarah Polley. Women Talking (2022) centers on the women of an isolated religious community as they grapple with reconciling their reality with their faith.
We'll add the best quotes once the movie is released and we've had a chance to watch it, but for now, here's a small selection.
Quotes:
Ona: Why does love, absence of love, the end of love, the need for love, result in so much violence?
---
Autje: It was all waiting to happen before it happened. You could look back and
follow the breadcrumbs along the path that led to violence. When we looked back, it had been everywhere.
---
Scarface Janz: It is a part of our faith to forgive. We will be forced to leave the colonies, if we do not forgive these men.
---
Mariche: We will be forced to leave the colony if we don't forgive the men.
Salome: I cannot forgive them. I will never forgive them.
---
Mariche: None of you will listen to reason.
---
Salome: We know that we've not imagined these attacks. We know that we are bruised, and infected, and pregnant, and terrified!
---
Mejal: I want to stay and fight.
Mariche: But won't we lose the fight to the men and be forced to forgive them anyway?
---
Agata: This colony is the only home I've ever known.
---
August: I want to help, and I don't know how.
---
Ona: Hope for the unknown is good. It is better than hatred of the familiar.
---
Ona: And we cannot endure any more violence.
---
Greta: We have been preyed upon like animals. Maybe we should respond like animals.
---
Ona: How would you feel if in your entire life, it never mattered what you thought?
---
Ona: When we liberated ourselves, we will have to ask ourselves who we are.
---
Agata: We must decide now to stay and fight or leave. We will not do nothing.
---
Scarface Janz: Does entering the Kingdom of Heaven mean nothing to any of you?
Ona: Surely, there must be something worth living for in this life. Not only the next.
---
Scarface Janz: We have always forgiven those who have wronged us. Why not now?
Salome: Because now we know better.
---
Autje: The vote was tied between staying and fighting or leaving.
Trailer: