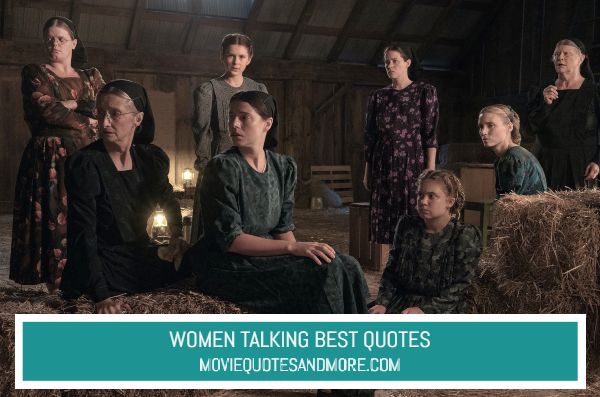 Copyright Notice: It's easy to see when our selected quotes have been copied and pasted, as you're also copying our format, mistakes, and movie scene descriptions. If you decide to copy from us please be kind and either link back, or refer back to our site. Please check out our copyright policies here. Thanks!
Starring: Rooney Mara, Claire Foy, Jessie Buckley, Ben Whishaw, Frances McDormand, Judith Ivey, Sheila McCarthy, Michelle McLeod, Emily Mitchell, Liv McNeil, Kate Hallett
OUR RATING: ★★★☆☆
Story:
Drama written and directed by Sarah Polley. Women Talking (2022) centers on the women of an isolated religious community as they grapple with reconciling their reality with their faith.
Our Favorite Quotes:
'Freedom is good. It is better than slavery. Forgiveness is good. It's better than revenge. And hope for the unknown is good. It is better than hatred of the familiar.' - Ona (Women Talking)
Click To Tweet
Best Quotes
---
Autje: This story ends before you were born.
---
Autje: I used to wonder who I would be if it hadn't happened to me. I used to miss the person I might have been. I don't anymore. Because it's doomsday and a call to prayer. It's both.
---
Autje: We were given two days to forgive the attackers before they returned. If we did not forgive them, we would be ordered to leave the colony and be denied entry into the Kingdom of Heaven.
---
Neitje: Do nothing.
Salome: Stay and fight.
Neitje, Salome: Leave.
---
Autje: Girls in our colony had very little schooling. We hardly knew how to read or to write. But that day, we learned how to vote.
---
Autje: The vote was tied between staying and fighting, or leaving.
---
Autje: We only had twenty-four hours to imagine what world you would be born into.
---
Scarface Janz: It is a part of our faith to forgive. We have always forgiven those who have wronged us. Why not now?
Salome: Because now we know better.
'Find out where you can be of help and leave what you can't help behind.' - Autje (Women Talking)
Click To Tweet
Mariche: We will be forced to leave the colony if we don't forgive the men. How will the Lord, when he arrives, find the women, if we aren't in the colony.
Salome: Jesus was able to return to life, live for thousands of years, and then drop down to Earth from Heaven to scoop up his supporters. Surely he'd also be able to locate a few women who left the colony.
---
Salome: I cannot forgive them. I will never forgive them.
---
Scarface Janz: We have everything we want here.
Salome: No. Want less.
---
Scarface Janz: Does entering the Kingdom of Heaven mean nothing to any of you?
Ona: Surely, there must be something worth living for in this life. Not only the next.
---
Autje: Your grandmother used to say, "Find out where you can be of help and leave what you can't help behind." I think that's easier when you're old like her.
'I think that it is possible to leave something or someone in one frame of mind and arrive elsewhere in another entirely unexpected frame of mind.' - August (Women Talking)
Click To Tweet
Agata: So we must decide now to stay and fight, or leave. Those are the options in front of us. We will not do nothing.
---
Greta: I want to talk about my horses, Ruth and Cheryl. When Ruth and Cheryl are frightened by Dueck's dogs on the mile road that leads to the church, their initial instinct is to bolt. These horses don't organize meetings to decide what they will do. They run.
Agata: But, Greta, we are not animals.
Greta: We have been preyed upon like animals. Maybe we should respond like animals.
---
Agata: In my lifetime, I have seen horses confront angry dogs and try to stomp them to death. Animals don't always flee.
Salome: Is this how we want to teach our daughters to defend themselves. By fleeing?
Greta: Not fleeing, but leaving. Now, I was just talking about leaving.
Salome: I would rather stand my ground and shoot each man in the heart and bury him in a pit than flee. And I'll deal with God's wrath if I have to.
---
Agata: "Leaving" and "fleeing" are different words with different meanings. They each say something about us.
'Is forgiveness that's forced upon us true forgiveness?' - Ona (Women Talking)
Click To Tweet
Mejal: I want to stay and fight.
Mariche: But won't we lose the fight to the men and be forced to forgive them anyway?
Salome: I want to stay and fight too.
Mariche: No one's surprised that you do. All you do is fight.
---
Mariche: None of you will listen to reason.
Salome: Well, why are you here with us? Why are you still here with us, if that is what you believe? Just leave with the rest of the "do nothing" women.
Greta: She is my daughter. And I want her here with us.
---
Ona: Is forgiveness that's forced upon us true forgiveness?
Salome: Keep nonsense like that to yourself please.
---
Autje: Many of us saw ourselves from above. I'm not sure if it was God and we were seeing ourselves through his eyes. Or if we just couldn't be there. In our own bodies.
---
Autje: Where I come from, where your mother comes from, we didn't talk about our bodies. So when something like this happened there was no language for it. And without language for it, there was a gaping silence. And in that gaping silence was the real horror.
'The only certainty we'll know is uncertainty, no matter where we are.' - Salome (Women Talking)
Click To Tweet
Autje: This is never going to end.
Neitje: We'll be dead and they'll still be talking.
Autje: Or worse. We'll have to live through it.
---
Agata: We could create the possibility of a new order right here in a place that is familiar to us.
Salome: Not simply familiar, but a place that is ours.
---
Mejal: Do we need to write the cons? Isn't it obvious that we must stay and fight?
Greta: Cons. We won't be forgiven.
---
Ona: Would it be a good idea before we list the pros and cons of "staying and fighting" to talk about exactly what it is we're fighting for?
Salome: It's obvious. We are fighting for our safety and for our freedom from attacks.
Ona: But what would that mean to us? Perhaps we need a statement which describes what we want the colony to be like after winning the fight. Perhaps we need to understand more what it is we are fighting to achieve, not only what we are fighting to destroy.
'Why does love, the absence of love, the end of love, the need for love, result in so much violence?' - Ona (Women Talking)
Click To Tweet
Ona: Men and women would make all the decisions for the colony collectively. Women would be allowed to think. Girls would be taught to read and to write. The schoolhouse must display a map of the world so that we can begin to understand our place in it. A new religion taken from the old, but focused on love, would be created by the women of the colony. Our children would be safe.
---
Mariche: Ona, you're a dreamer.
Ona: We're women without a voice. We have nothing to return to. Even the animals are safer in their homes than we women are. All we have are our dreams. So of course we are dreamers.
---
Mariche: What if the men who are in prison are not guilty?
'Little is taught by contest or dispute, everything by sympathy and love.' - August (Women Talking)
Click To Tweet
Salome: We aren't in charge of whether or not they are punished. We know that we've been attacked by men. Not by ghosts or Satan as we were led to believe for so long. We know that we've not imagined these attacks. That we were made unconscious with cow tranquilizer. We know that we are bruised, and infected, and pregnant, and terrified, and insane, and some of us are dead. We know that we must protect our children, regardless of who is guilty.
---
Salome: It's the elder's quest for power that is responsible.
Ona: Because they needed to have those…
Salome: Those they'd have power over.
Mejal: And those people are us.
Agata: And they have taught the lesson of power to the boys and men of the colony, and the boys and men have been excellent students.
---
Autje: We caught them.
Mariche: Yes, you did.
Autje: Then why are you making it so complicated?
Neitje: This is very, very boring.
'We like to put frames around things. Even when they are spilling out the edges.' - Autje (Women Talking)
Click To Tweet
Agata: None of us have ever asked the men for anything. Not a single thing. Not even for the salt to be passed. Not even for a penny, or a moment alone. Or to take the washing in. Or to open a curtain. Or to go easy on the small yearlings. Or to put your hand on the small of my back while I try again for the twelfth or thirteenth time to push a baby out of my body. Isn't it interesting that the one and only request we women would have of the men would be for them to leave?
---
Autje: Sometimes I think people laugh as hard as they'd like to cry.
---
Trailer: