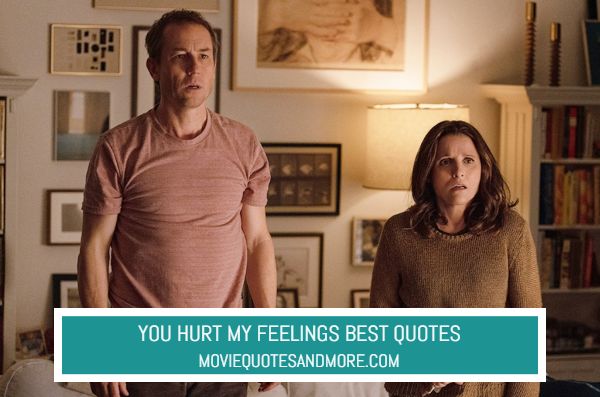 Copyright Notice: It's easy to see when our selected quotes have been copied and pasted, as you're also copying our format, mistakes, and movie scene descriptions. If you decide to copy from us please be kind and either link back, or refer back to our site. Please check out our copyright policies here. Thanks!
Starring: Julia Louis-Dreyfus, Tobias Menzies, Michaela Watkins, Arian Moayed, Amber Tamblyn, David Cross, Jeannie Berlin
OUR RATING: ★★★☆☆
Story:
A24 comedy drama written and directed by Nicole Holofcener. You Hurt My Feelings (2023) centers on Beth (Julia Louis-Dreyfus), an author, struggling with a lack of self-confidence, whose longstanding marriage with unsuccessful therapist, Don (Tobias Menzies), is suddenly upended when she overhears him giving his honest reaction to her latest book.
Best Quotes
---
Carolyn: See? When I talk to him, he doesn't look at me.
Don: Is there a reason you're not looking at Carolyn?
Jonathan: I thought I was.
Carolyn: What, do you have eyes on the side of your head?
Jonathan: This is how I listen.
---
Don: Carolyn, maybe if Jonathan repeats back to you what you've said, would that help you to feel heard?
Carolyn: No, I don't need him to repeat back to me what I just said. I need him to f***ing look at me.
---
Jonathan: [as he and Carolyn are arguing during therapy] Don, you want to intervene here? I mean, we can do this at home.
---
Don: Well, both of you know a more productive way to communicate. So how about, yeah. With a little less contempt, and some more honest feelings.
Jonathan: Okay, here's a more honest feeling. We've been coming here a long time, and nothing changes.
Carolyn: You know what, Jonathan? Leave him alone he looks tired. You do.
---
Billy: So, I knew this girl once who talked too much. It drove me crazy. And one day, a bee flew in her mouth, and I thought it was hysterical, and just so perfectly poetic. I literally thought, "Thank God! Maybe now she'll actually shut up." But then she had an allergic reaction and died.
Beth: Oh, wow. I didn't see that coming. That's terrible.
---
Beth: What kind of story were you thinking about, Hal?
Hal: Something in a prison.
Beth: Oh. Alright. And what about a prison specifically interests you?
Hal: Jail?
Beth: For sure.
---
Don: [to Beth] Trust me, your memoir was great. Your new book is great.
---
Beth: We're so lucky.
Don: Yeah. We are.
---
Beth: Don't call old people adorable.
Sarah: She was adorable.
Beth: No, babies are adorable, right?
---
Eliot: Why don't you guys get your own food?
Don: We like to share.
Beth: Why does that bother you?
---
Don: Maybe you two should see a therapist together.
Eliot: We're twenty-three.
Don: Listen, it's never too early.
---
Eliot: You're sharing an ice cream cone?
Beth: Yeah. You want some?
---
Beth: God, whatever happened to regular coffee shops with their red booths and the perfect tuna?
Sylvia: Ooh, did you want to go somewhere else?
Beth: No, but you know what I mean. You know, with the the filthy menus and the mean people.
---
Sylvia: You're competing with writers of all ethnicities. Refugees, cancer, murder, abuse.
Beth: I had abuse.
Sylvia: Verbal abuse.
Beth: It was still abuse.
Sylvia: Of course it was. And you wrote about it beautifully.
'It's like the whole planet is melting, and I'm just out shopping for cashmere walls.' - Sarah (You Hurt My Feelings)
Click To Tweet
Beth: She said I wasn't a new voice.
Don: You're the best voice.
Beth: An old voice. I'm not that old.
---
Don: I look tired. I'm aging.
Beth: What are you, nuts?
Don: Well, you get Botox.
Beth: Well, I just get a little bit right here. You know, I can still move my eyebrows. Watch. Watch.
Don: Oh, yeah. So expressive.
---
Beth: Since when are you so vain?
Don: I don't know. I was young and hot.
Beth: Well, you're still younger than me.
---
Georgia: [to Beth, referring to her book] It should've done better.
Beth: Well, maybe if Dad hadn't just been verbally abusive, it would've been a bestseller.
Georgia: What? What is the matter with you? Don't say that.
---
Beth: Okay, so what have you been up to, Mom?
Georgia: Physical therapy. Netflix. TMC.
Sarah: No. TCM.
Georgia: Why would it be called The Channel Movie? It's The Movie Channel.
Beth: Turner Classic Movies.
Georgia: No kidding?
Sarah: Yep. True story.
Georgia: Oh. I meant TMZ.
Sarah: No, you didn't.
Georgia: I don't f***ing know. There's so many channels.
---
Sarah: [referring to Georgia] Is she jealous of the homeless?
Beth: Yeah, she is. Because they got everything going for them. So I suppose so.
---
Beth: You cannot be that crazy lady.
Georgia: I'm not a crazy lady. And I'm not a lady. None of us are ladies. We are women.
---
Mark: Any new crazies?
Don: No new ones. No. I don't know. I'm feeling kind of off my game.
Mark: Oh, really. What do you mean?
Don: I don't know. My crazies are fine. Actually, I shouldn't call them that. Do you mind?
---
Mark: This is my life.
Don: What pumpkin movie?
Mark: It's this movie I did about ten years ago.
Don: Did you play a pumpkin?
Mark: No, that was the lead.
---
Mark: [as Beth overhears Don talking to Mark] I thought that you liked her writing.
Don: I do, generally. But I don't like this new book.
Mark: And this is a memoir?
Don: No. No. She's written a novel. It's fiction. It's kind of a mystery. Yeah, I don't know. I don't know what it is.
'I know the whole world is falling apart. Of course I know that. But this is my world. My small little narcissistic world. And, you know, I'm hurt.' - Beth (You Hurt My Feelings)
Click To Tweet
Mark: [referring to Beth's book] Can you say anything?
Don: No, I can't. I can't. I could have, maybe should have, you know, like second, third, twentieth read.
Mark: Twentieth read?
Don: Yeah. Yeah. Draft, after draft, after draft, she was asking for notes and I didn't know how to. And now it feels too late.
Mark: And it's no good?
Don: Not to me.
---
Sarah: [after she hears Don talking about her book] He loves you more than life itself.
Beth: What does that have to do with anything here?
Sarah: I'm saying that he doesn't love your book, okay? He doesn't love your book. I mean, who cares?
---
Beth: [referring to Don] Do you understand I've been working on this book for two years, right? I've given him like a million drafts to read, and every time he reads it, every single time, he tells me how much he loves it. Every single time!
---
Sarah: [referring to Don] You're going to talk to him.
Beth: Well, that's a joke. I am never going to be able to look him in the face ever again. Okay, that's over.
---
Beth: [referring to Don] Oh, God. What about my memoir? He probably thinks it's bad. Oh, my God. This whole time.
Sarah: It's about you. How could he think that?
Beth: How could he possibly respect me?
Sarah: Of course he respects you.
Beth: No. Not if he doesn't like my work. You know that.
---
Beth: [referring to Don] He's a liar. What a p**ck too, you know? That he doesn't think I could take it. Like that alone is so insulting.
Sarah: Beth, he loves you. Even if he doesn't like your book.
Beth: I just need his approval. Of all people.
---
Sarah: [referring to Beth's book] Well, let me read it.
Beth: It's okay. You don't read.
Sarah: Am I in it?
Beth: No.
---
Sarah: You know what? Like Mark isn't always great. Okay? I mean, as an actor. It kind of depends on the role.
Beth: Why are you whispering? Is he hiding under the couch?
Sarah: I'm just saying, he's not always good. You know? And I think that's kind of the same thing.
---
Beth: [referring to Mark's acting] So the times when you don't think he's good, what do you say to him?
Sarah: That he's good.
Beth: Well, what if he found out that you were lying?
Sarah: He'd croak.
Beth: Well, I want to croak.
---
Trailer: