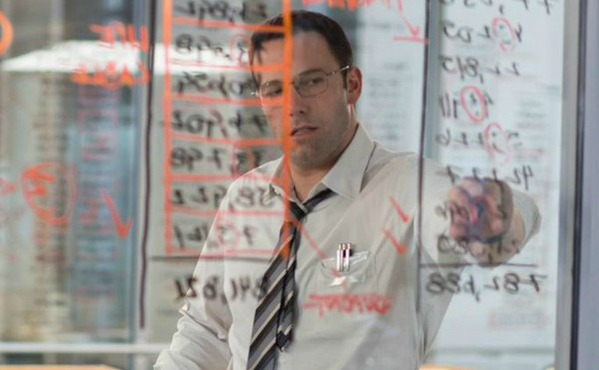 Starring: Ben Affleck, Anna Kendrick, J. K. Simmons, Jon Bernthal, Jeffrey Tambor, John Lithgow
Action thriller directed by Gavin O'Connor which follows math savant Christian Wolff (Ben Affleck) who has more affinity with numbers than people. Behind the cover of a small-town CPA office, he works as a freelance accountant for some of the world's most dangerous criminal organizations.
With the Treasury Department's Crime Enforcement Division (Crime Enforcement Division), run by Ray King (J.K. Simmons), starting to close in, Christian takes on a legitimate client: a state-of-the-art robotics company where an accounting clerk (Anna Kendrick) has discovered a discrepancy involving millions of dollars. But as Christian uncooks the books and gets closer to the truth, it is the body count that starts to rise.
REVIEWS
Best Quotes from Trailer:
Young Chris's Father: [to Christian] You're different. Sooner or later, different scares people. You think if you don't fight back then maybe they'll like you, stop picking on you and calling you a freak. Victim or not, make a decision.
---
Neurologist: Your son is a remarkable young man, and it wouldn't surprise me if he has more in common with Einstein and Mozart and Picasso than he does with us. He has highly advanced competence skills, the obsessive personality.
Young Chris's Father: Can our son lead a normal life?
Neurologist: Define normal.
Young Chris's Father: Maybe he's capable of much more than we know.
---
Neurologist: Your son is a remarkable young man; he has highly advanced cognitive skills. He has more in common with Einstein or Mozart than he does with us. I'd like to work with your son, help him develop the skills he'll need to lead a full life.
Young Chris's Father: It's not going to happen. The world is not a friendly place and that's where he needs to learn to live.
---
Dana Cummings: How did you get into financial consulting? My dad was an accountant. You know, had had the whole shtick, the dorky pocket protector.
Christian Wolff: I have a pocket protector.
[he lifts his jacket to show it to her]
Dana Cummings: That's a nice one.
---
Ray King: If you like puzzles tell me what you see?
[Marybeth goes through the photos of Christian meeting various people]
Ray King: It was taken three years ago by an undercover agent.
Marybeth Medina: It's the same person.
Ray King: He was spotted in Tehran, Tel Aviv and Naples. This guy risks his life on cooking the books for some of the scariest people on the planet. Drug cartels, arms brokers, money launderers, assassins. Who survives this kind of clientele? Imagine the secrets this guy has.
---
Ray King: Say you're the head of the Sinaloa Cartel, who can you trust to track your stolen cash. He's capable of coming in cold, uncooking years of books and getting out alive. Imagine the secrets this guy has.
---
Marybeth Medina: So who is he?
Ray King: The accountant.
Marybeth Medina: Like a CPA accountant?
Ray King: Not quite.
---
[Christian finds Dana in his trailer where he keeps his weapons and money]
Christian Wolff: What are you doing in here?
Dana Cummings: Who are you?
---
Christian Wolff: [to Dana] I have difficulty socializing with other people even though I want to.
---
Woman's Voice: [to Christian] There's people looking for you.
---
Ray King: If they're secrets get too big killing him maybe the cost of doing business.
---
Francis Silverberg: [to Christian] If you go down this road you can't go back.
---
Christian Wolff: Some of my clients are quite dangerous.
Dana Cummings: Why would your clients follow you, you're an accountant!
---
Dana Cummings: We have to go to the police.
Christian Wolff: Police can't protect you.
The Accountant is set for release in the US October 14th and UK November 4th.
Trailers:
Featurette:
The Accountant – Comic Book: