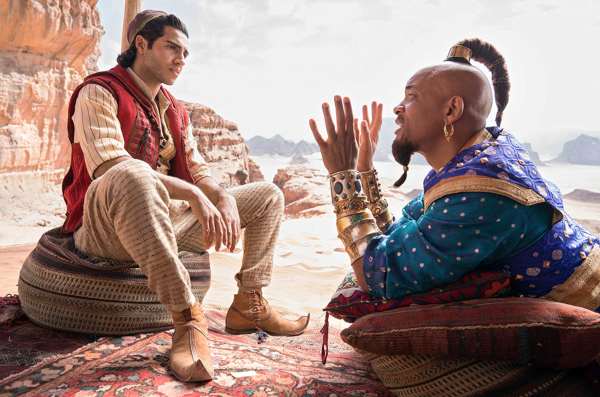 Starring: Will Smith, Mena Massoud, Naomi Scott, Marwan Kenzari, Navid Negahban, Nasim Pedrad, Billy Magnussen, Numan Acar
OUR RATING: ★★★½
Story:
Disney's live action musical fantasy adventure directed and co-written by Guy Ritchie. Based on Disney's Aladdin 1992 animated movie, which follows Aladdin (Mena Massoud), a poor street urchin who spends his time stealing food from the marketplace in the city of Agrabah. His adventures begin when he meets the Sultan's (Navid Negahban) daughter, Princess Jasmine (Naomi Scott), who wants to have a say in how she lives her life. Aladdin's luck suddenly changes when he retrieves a magical lamp from the Cave of Wonders. What he unwittingly gets is a fun-loving Genie (Will Smith), who only wishes to have his freedom. Little do they know is that the Sultan's sinister advisor Jafar (Marwan Kenzari), has his own plans for both Aladdin and the lamp.
Our Favorite Quotes:
'Here's the thing about wishes. The more you have, the more you want.' - Genie (Aladdin)
Click To Tweet
'The more you gain by pretending, the less you're actually going to have.' - Genie (Aladdin)
Click To Tweet
Best Quotes
---
Omar: Their ship is so big.
Lian: Wish ours was that fancy. I'd be so happy if ours was that fancy, because then…
Mariner: Why is that? Because is looks better? This boat has seen us through many a storm. It may not look like much, but it has something theirs never will.
Omar: What? Wood rot and rats?
---
Jafar: [to the guard, referring to the prisoners ] You bring me the rough, but never a diamond. Take them away. Take them away.
---
Jasmine: And thank you for getting me out of there. Aladdin, isn't it?
Aladdin: You're welcome.
Jasmine: I'm Dalia.
Aladdin: Dalia. From the palace.
Jasmine: How could you tell?
Aladdin: Well, only someone from the palace could afford a bracelet like that. And that silk lining is imported too. It comes from the merchant boats straight to the palace, but not to servants. At least not most servants. Which means you are a handmaid to the Princess.
Jasmine: Impressive.
Aladdin: You think that's impressive. You should see the city from up there.
---
Jasmine: Agrabah. It's so beautiful. I should get out more.
Aladdin: You should tell the Princess to get out more. The people haven't seen her in years.
Jasmine: They won't let her. Ever since my, the Queen was killed, the Sultan's been afraid. So she's kept locked away.
Aladdin: Seems everyone's been afraid since then. But the people of Agrabah had nothing to do with that. The people loved her.
Jasmine: They did, didn't they?
---
Jasmine: [referring to the oud] Is this yours?
Aladdin: It's kind of borrowed.
[Jasmine starts playing a tune on the oud]
Aladdin: My mother taught me that song.
Jasmine: Mine too.
Aladdin: It's all I remember of her.
Jasmine: And what about your father?
Aladdin: I lost them both when I was young. Been on my own ever since. It's alright, it's just…
Jasmine: What?
Aladdin: It's a little sad, having a monkey as the only parental authority in your life. We get by. Every day, I just think things will be different, but it never seems to change. Just sometimes, I feel like I'm…
Jasmine: Trapped. Like you can't escape what you were born into?
Aladdin: Yes.
---
Aladdin: It's just another prince coming to court the princess.
Jasmine: Yes, and I have to get her ready. Oh, do you have my bracelet?
Aladdin: Sure. I'm sure I put it in here. Somewhere. Abu, did you take it?
Jasmine: That was my mother's bracelet.
Aladdin: Yes, it's beautiful.
Jasmine: You are a thief.
Aladdin: No. No. Yes, but…
Jasmine: I was so naive.
Aladdin: No.
Jasmine: Excuse me.
Aladdin: Wait. Wait. Wait! Wait, it's not like that!
---
Aladdin: [referring to taking Jasmine's bracelet] Abu. There's a time that we do steal, and a time we don't. This was definitely a don't.
---
Jasmine: But Dalia, there has to be something I can do.
Dalia: A handsome prince wants to marry you. Oh, when will life get easier?
Jasmine: It's not that I don't want to marry, it's just…
Dalia: You want to be sultan. But why?
Jasmine: You remember my mother used to say, "We would only ever be as happy as our least happy subject." If she saw what I saw today, she would be heart broken.
Dalia: She would also want you to be safe. And clean. I'll draw the bath.
---
Jasmine: How did you get past the guards?
Aladdin: That was challenging. But I have my ways. While the Princess is out, would you like to go for a stroll? Have a little chat?
Jasmine: You're unbelievable. You cannot just break into a palace and walk around like you own the place.
Aladdin: If you don't have anything, you have to act like you own everything. So, what do you say? I did find your bracelet.
Jasmine: You did not find it, you stole it.
Aladdin: Correction, the monkey stole it.
Jasmine: He's your monkey.
Aladdin: He's still just a monkey.
---
Aladdin: Where am I?
Jafar: In a world of trouble, boy.
Aladdin: That bracelet. Is that what this is about? Because I didn't steal it. The handmaid…
Jafar: What was a handmaid doing wearing the Queen's bracelet?
Aladdin: The Queen? No, no. She said that it belonged to…
Jafar: Her mother. Well, at least she told the truth about one thing.
Aladdin: Are you saying that was the Princess? I was talking to the…
Jafar: She was toying with you. It amuses her to meet commoners. Did you actually think she liked you?
---
Jafar: What do they call you?
Aladdin: Aladdin.
Jafar: Aladdin. People like us must be realistic.
Aladdin: Us?
Jafar: You see, I was once like you. A common thief. Only I thought bigger. Steal an apple, and you're a thief. Steal a kingdom, and you're a statesman. Only weak men stop there. You're either the most powerful man in the room, or you're nothing. You, you stumbled upon an opportunity. I can make you rich. Rich enough to impress a princess. But nothing comes for free.
Aladdin: What would I have to do?
Jafar: There's a cave nearby, and in it, a simple oil lamp. Retrieve it for me, and I will make you wealthy enough to impress a princess. You're nothing to her. But you could be. Your life begins now, Aladdin.
---
Jafar: [to Aladdin] The Cave of Wonders. When you enter, you will see more riches than you ever dreamed of. Gold, diamonds, and the lamp. Bring it to me and I will make you rich and free. But take no other treasure, no matter how sorely you are tempted. And you will be tempted.
Cave of Wonders: [as Aladdin approaches the cave, it opens up] Only one may enter here. One whose worth lies far within. A diamond in the rough.
Jafar: Remember, take nothing but the lamp.
---
Aladdin: [as Abu touches one of the jewels] Abu, no!
Cave of Wonders: You have touched the forbidden treasure! Now, you will never again see the light of day!
---
Aladdin: [trying to escape from the closing cave] Could you give me a hand?
Jafar: First, the lamp.
Aladdin: No, no, first, your hand.
Jafar: We don't have much time. Give me the lamp.
Aladdin: [gives Jafar the lamp] Your hand!
Iago: Second no more, Master.
Aladdin: Now, your hand!
Jafar: How about my foot?
Aladdin: [as [Jafar kicks him off the ledge] No!
Jafar: [Abu jumps onto Jafar] Get off me, monkey!
Iago: [the cave closes with Aladdin still inside] Dirty monkey.
[just then Jafar notices that he doesn't have the lamp and yells out]
---
Aladdin: [referring to the lamp] Abu. How did you…? You cunning little monkey. Now, all we need's a way out. Hey, carpet, do you know a way out of here?
Aladdin: [carpet points to the lamp] The lamp?
---
Genie: [as Aladdin rubs Genie's lamp] O great one who summons me. Terrible one who commands me. I stand by my oath. Loyalty to wishes three. I said, O great… Excuse me. Boy, where's your boss? Help me out here, where's your boss? If I was going to talk to myself, I coulda just stayed in the lamp. Hello?
Aladdin: Um…
Genie: Use your big boy voice.
Aladdin: I'm talking to a smoking blue giant?
Genie: No! I am not a giant. I am a genie. There's a difference. Giants are not real.
---
Genie: Where's your boss?
Aladdin: My boss?
Genie: Look, kid, I've been doing this a long time, alright? There's always a guy, you know. He's cheated somebody, or buried somebody, or, I mean, you get my point. Where's that guy?
Aladdin: I know that guy. He's outside.
Genie: So, it's just you and me down here, and a monkey. That's your personal business, but we going to need to talk about that monkey later. Such a pretty little monkey. So, you rubbed the lamp?
Aladdin: Uh-huh.
Genie: Okay.
---
Genie: Hey, do you mind if I just stretch it out over here? Do you mind?
Aladdin: Are you asking me?
Genie: You're my master.
Aladdin: I'm your master?
Genie: [as he stretches] Downward dog!
Aladdin: No, no, no. You look like you should be my master.
Genie: Right, but that's not quite how it works though.
Aladdin: How long have you been trapped in here?
Genie: About a thousand years.
Aladdin: A thousand years?
Genie: [makes himself look like Aladdin]  "A thousand years?" Kid, is it me, or does like everything surprise you? So, you really don't know who I am? Genie, wishes, lamp? None of that ringing a bell? Wow. Well, that's a first.
---
Genie: [after he raps for Aladdin] I'm the best. Yeah. Not enough, huh?
Aladdin: Uh…
Genie: I'm kidding. Watch this.
---
Aladdin: [after Genie's finishes singing Friend Like Me] So, how does it work?
Genie: You're kidding, right? The whole song was the instructions! Obviously you can't dance and listen at the same time.
---
Genie: So here's the basics. Step one, rub the lamp. Step two, say what you want. Step three, there is no step three. See? It's that easy. You get three wishes. They must begin with rubbing the lamp and saying, "I wish." Got it?
Aladdin: I think so.
Genie: A couple other rules. You can't wish for more wishes. Three is enough. Now, I can't make anybody love anybody. Or bring anybody back from the dead. Feel free to interrupt me anytime you don't understand. I'm kidding. Don't ever interrupt me, no matter what. Now, I usually don't have to go through all this, because by the time the guy gets to me, he pretty much knows what he wants, and it generally has to do with tons of money and power. Do me a favor, do not drink from that cup. I promise you, there's not enough money and power on earth for you to be satisfied. Good?
---
Genie: So, what's your first wish?
Aladdin: Mm, well, I have to think about it. I mean, if there are only three. Why are there only three, anyway?
Genie: I don't know. Who cares?
Aladdin: You don't know. I thought you were all-knowing?
Genie: That's because you don't listen. I never said I was all-knowing. I said I was all-powerful. The most powerful being in the universe. Look, whatever I don't know, I know I can learn it, side in the sun.
---
Genie: Why you playing hard to wish? I know you can't tell, but I'm very pale. This is sky blue. My natural pigmentation is navy. Give us some sun!
Aladdin: Okay, Genie. I wish for you to get us out of this cave.
Genie: Oh, yeah! He has made his first wish!
---
Genie: [after he's gotten them out of the cave] Inside the lamp, everything's like, brass! Brass! Brass! Brass! Like, "Ooh, is that some copper? Nope! Brass!" Sort of the problem with the genie life. Phenomenal cosmic powers, but itty-bitty living space.
Aladdin: So, is this magic? Or are you magic?
Genie: Kind of a package deal.
---
Aladdin: So, do I have to make all my wishes here? I mean, if I take you back to Agrabah, won't people…?
Genie: [makes himself look overweight] No, no, no, no, no. I can look totally normal.
Aladdin: Right. Totally normal. Still blue.
[he changes his color to his normal human color]
Aladdin: Do we need the top knot?
Genie: That's my little cherry on top.
Aladdin: Okay, okay.
---
Genie: So, what are you going to wish?
Aladdin: Oh, I haven't thought about that.
Genie: Mm. You really are not that guy.
Aladdin: Okay. So what would you wish for?
Genie: No one's ever asked me that before. An easy one though. I wish to be free. To not have to say, "Can I help you? What would you like? Welcome to the lamp. May I take your order, please?" Freedom. I wish to be human.
Aladdin: Why don't you just set yourself free?
Genie: [laughs] Carpet! Did you hear what this boy said? Why don't I set myself free? Only way a genie gets to be free is if the owner of the lamp uses one of his wishes to set him free. And the last time that happened was like the fourth of Never-ary.
Aladdin: I'll do it. I've got three, right?
Genie: Actually, you have two left. You used one to get out of the cave, remember?
Aladdin: Did I? Or did you? I thought I had to be rubbing the lamp?
Genie: Okay, little street boy. Let's rewind the tape. Ooh! The old monkey with the lamp trick. Never seen that one before. Keep my eye on you.
Aladdin: At least now I can use my third wish to set you free.
---
Genie: Here's the thing about wishes. The more you have, the more you want.
Aladdin: That's not me.
Genie: Hm. We'll see about that.
---
Aladdin: But there is something.
Genie: Uh-oh. Seen that face before. Who is she? Who's the girl?
Aladdin: She's a princess.
Genie: Aw, aren't they all? Treat your woman like a queen, I always say.
Aladdin: No. No, she's an actual princess.
---
Aladdin: Hey, can you make me a prince?
Genie: There's a lot of gray area in "make me a prince". I could just make you a prince.
[he uses his magic to create a prince]
Aladdin: Oh, no.
Genie: But you'd be snuggled up with that dude for the rest of your life.
Prince: [from a distance] Yoh! Y'all seen my palace?
---
Trailer: