Our list of the best quotes from the lauded horror slasher Scream franchise, with the first four films directed by Wes Craven. The story centers on Sidney Prescott and a psychopathic serial killer who adopts the guise of Ghostface to stalk and kill their victims.
Best Quotes from all Scream Movies
---
1. Scream (1996)
We follow teenager Sidney Prescott (Neve Campbell) as she comes under attack from a serial killer dubbed Ghostface while dealing with the anniversary of her mother's murder.
The Voice: You like scary movies?
Casey: Uh-huh.
The Voice: What's your favorite scary movie?
Casey: I don't know.
The Voice: You have to have a favorite. What comes to mind?
Casey: Halloween. You know, the one with the guy in the white mask, who walks around and stalks babysitters?
The Voice: Yeah.
Casey: What's yours?
The Voice: Guess.
Casey: Nightmare on Elm Street.
---
The Voice: [to Casey] You should never say, "Who's there?" Don't you watch scary movies? It's a death wish. You might as well just come out here to investigate a strange noise or something.
---
The Voice: Do you like scary movies, Sidney?
'Movies don't create psychos. Movies make psychos more creative!' - Billy (Scream)
Click To Tweet
The Voice: What's your favorite scary movie?
Sidney Prescott: Oh, come on. You know I don't watch that s**t.
The Voice: Why not? Too scared?
Sidney Prescott: No. No. It's just, what's the point? They're all the same. Some stupid killer stalking some big-breasted girl who can't act, who's always running up the stairs when she should be going out the front door. It's insulting.
---
Gale Weathers: Jesus! The camera, hurry!
Kenny: My name isn't Jesus.
---
Gale Weathers: [to Kenny] I know that you're about fifty pounds overweight, but when I say hurry, please interpret that as, "Move your fat, tub of lard a** now!"
'We all go a little mad sometimes.' - Billy (Scream)
Click To Tweet
Gale Weathers: If I'm right about this, I could save a man's life. Do you know what that could do for my book sales?
---
Principal Arthur Himbry: You're both expelled. Get out!
Expelled Teen #1: Come on, Mr. Himbry. It was just a joke!
Expelled Teen #2: That is not fair!
Principal Arthur Himbry: You're absolutely right. It is not fair. Fairness would be to rip your insides out, hang you from a tree, so we can expose you for the heartless, desensitized little s**ts that you are.
---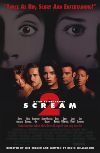 2. Scream 2 (1997)
We follow Sidney Prescott again, now a college student, and other Woodsboro survivors, who becomes the target of a copycat killer using the guise of Ghostface.
Maureen: [as they're watching Stab] B**ch, hang the phone up and star sixty-nine his a**! Damn!
---
Cici: You can't blame real life violence on entertainment.
Film Class Guy #1: What?
Film Class Guy #2: Wait a second. Yes, you can. Don't you even watch the news?
Film Class Guy #1: Yeah. Hello! The murderer was wearing a ghost mask, okay? Just like in the movie. It's directly responsible.
Cici: No, it's not. Movies are not responsible for our actions.
Mickey: It's a classic case of life imitating art, imitating life.
Film Class Mopey Girl: This is not a hypothetical. It's not about art. I had Biology with that girl. This is reality.
---
Randy: Sequels suck. Oh, please. Please. By definition alone, they're inferior films.
Mickey: It's bulls**t generalization. Many sequels have surpassed their original.
Randy: Oh, yeah?
Cici: Name one.
Film Class Guy #2: Aliens. Far better than the first.
Cici: Yeah, well, there's no accounting for taste.
Randy: Thank you. Ridley Scott rules. Name another.
Film Class Guy #1: No. Aliens is a classic, okay? "Get away from her, you b**ch!"
Randy: I believe the line is "Stay away from her, you b**ch." It's film class, right?
---
Randy: [referring to good sequels] Another.
Mickey: T2.
Cici: You've got a hard-on for Cameron.
Randy: Big one.
'Stupid people go back. Okay? Smart people run.' - Hallie (Scream 2)
Click To Tweet
Film Class Mopey Girl: So, Mr. Originality, how would you make it different?
Randy: I'd let the geek get the girl.
---
Debbie Salt: It would be such an honor for me if I could just get a quote from you for my story.
Gale Weathers: Okay. Begin quote.
Debbie Salt: Great.
Gale Weathers: "Your flattering remarks are both desperate and obvious." End quote.
---
Gale Weathers: [to Joel] Hey, you need to check your conscience at the door, sweetie. We're not here to be loved.
---
Mickey: Empire Strikes Back. It was a better story, improved effects.
Randy: Not a sequel. Part of a trilogy, completely planned.
Hallie: Yeah, I like those little furry things.
Mickey: Ewoks. They blow.
---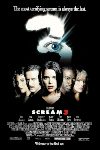 3. Scream 3 (2000)
We follow Sidney Prescott, who has gone into self-imposed isolation but is drawn out to go to Hollywood after a new Ghostface begins killing the cast of a horror film, which then leads to the truth about her mother that led to the start of the Ghostface killings.
John Milton: Detectives, there's no reason to presume Cotton's death had anything to do with this movie, is there?
Wallace: He was making a movie called Stab. He was stabbed.
---
Gale Weathers: Deja voodoo.
---
Jennifer Jolie: Listen, I know we've never met, and I don't mind you never returning my calls, but I have to tell you, after two films, I feel like I am in your mind.
Gale Weathers: That would explain my constant headaches.
---
Gale Weathers: I'm sorry things didn't work out with Brad Pitt, but being single, that's a pretty good fallback.
Jennifer Jolie: Gives me more time for my work. After all, Gale Weathers, you're such a complex character.
Gale Weathers: Oh, and to be played by an actress with such depth and range.
---
Dewey Riley: Well, surprise, surprise. Someone dies and Gale comes running.
---
Mr. Prescott: I'm worried about you, kid. Out here by yourself. You never see anyone. The only people you talk to don't even know your real name. It's as if you don't exist.
Sidney Prescott: That's the idea. Psychos can't kill what they can't find.
---
Gale Weathers: I only got into this because the police asked for my help.
Dewey Riley: Why would the police come to you?
Gale Weathers: Well, I did write the definitive book on the Woodsboro murders.
Dewey Riley: I'm sure you just can't wait to write another one.
---
Gale Weathers: Dewey, I took care of you. I waited until you were well, but I couldn't stay there. It was like dog years. One year in Woodsboro is like seven anywhere else.
Dewey Riley: So it's off to Paris for a week? New York for a month? LA Forever?
Gale Weathers: It was f***ing 60 Minutes II. I couldn't say no. I could've been the next Diane Sawyer.
Dewey Riley: What's wrong with just being Gale Weathers? I liked her.
---

4. Scream 4 (2011)
Final film to be directed by Wes Craven. The story takes place on the fifteenth anniversary of the original Woodsboro murders and involves Sidney Prescott, who has written a self-help book and returns to Woodsboro for her book tour, where Ghostface once again begins killing.
Rachel: [in Stab 7] A f***ing Facebook killer? You're kidding me, right?
Chloe: I guess now it would be Twitter. That'd make more sense.
Rachel: A bunch of articulate teens sit around and deconstruct horror movies until Ghostface kills them one by one. It's been done to death. The whole self-aware, postmodern meta s**t. Stick a fork in 1996, already.
Chloe: I like the Stab movies. They're scarier. It's not aliens, or zombies, or little Asian ghost girls. There's something real about a guy with a knife who just snaps.
---
Jenny Randall: Who is this?
The Voice: Not an app.
---
Jenny Randall: What did you do with Marnie?
The Voice: She's on the cutting room floor.
Jenny Randall: That's not funny.
The Voice: This isn't a comedy. It's a horror film. People live, people die. And you'd better start running.
'You forgot the first rule of remakes. Don't f*** with the original.' - Sidney Prescott (Scream 4)
Click To Tweet
Dewey Riley: Looks like the celebration's begun.
Deputy Judy Hicks: High school kids, probably.
Dewey Riley: Yeah. One generation's tragedy is the next one's joke.
---
Deputy Judy Hicks: Hey, I made some lemon squares. They're in my car.
Dewey Riley: Thanks, Deputy, but no thanks.
Deputy Judy Hicks: Sheriff, you're not cheating on your wife if you eat my lemon square.
Dewey Riley: Yeah, but I would be cheating on my diet.
---
Robbie Mercer: You're a genre nut, Kirby. What's your favorite scary movie?
Kirby Reed: Bambi. Dork.
'One generation's tragedy is the next one's joke.' - Dewey Riley (Scream 4)
Click To Tweet
Jill Roberts: [to Trevor] When you're done with a phone call, you let someone go. Or when you take someone to the airport, you let them go. But when you tell someone you love her, and she gives you evertyhing, and then you just go out with someone else, that is not letting her go. That's dumping her. Okay? That's betrayal.
---
Gale Weathers: Okay, listen to me, Judy. I don't mind that you're working with my husband, or that you even bake him those little treats as you do. But if you're going to start acting like him, you got to put a moustache on, because you sound ridiculous.
---
Directed by Matt Bettinelli-Olpin and Tyler Gillett. Set twenty-five years after the original series of murders in Woodsboro, a new Ghostface killer emerges again, targeting a group of teenagers, to resurrect secrets from the town's deadly past, and Sidney Prescott must return to uncover the truth.
Dewey Riley: Give me one good reason why I should talk to you.
Sam Carpenter: I'm Billy Loomis's daughter.
Dewey Riley: That's a terrible reason for me to talk to you.
---
Sidney Prescott: So I want you to help us kill him.
Sam Carpenter: You want me to help you and the host of a morning show commit murder?
Gale Weathers: Correct.
Sidney Prescott: Yeah.
---
Sidney Prescott: You might actually be the most derivative one of all. I mean, Christ, the same house?
Ghostface: Maybe so. But you forgot the first rule of surviving a Stab movie. Never answer the…
Sidney Prescott: I'm bored.
Ghostface: Wait!
---
Amber Freeman: But it wouldn't work with just you, Sam. See, we had to bring the legacy characters back to make it matter. Can't have a bona fide Halloween without Jamie Lee!
---
Sam Carpenter: I'm introducing a new rule.
Richie Kirsch: And what would that be? Huh? Well?
Sam Carpenter: Never f*** with the daughter of a serial killer.
---
Tara Carpenter: [as she shoots Amber] I still prefer The Babadook.
---
The survivors of the Ghostface killings leave Woodsboro behind and start a fresh chapter in New York City.
Jason Carvey: [as he's being stabbed] But we have to finish the movie.
Ghostface: Who gives a f*** about movies?
---
Sam Carpenter: You called me "unstable" and a "born killer".
Gale Weathers: That's taken out of context.
Sam Carpenter: That's literally a quote.
---
Mindy Meeks-Martin: It would make sense if this were just a sequel. But we're not in a sequel, because nobody just makes sequels anymore. We're in a franchise!
---
Ghostface: You would've made a good killer, Gale. Sidney never would've made sense, and Dewey was the fan favorite. But you cracking under the pressure and turning into Ghostface would've been a great twist.
---
Mindy Meeks-Martin: Oh, my God. We all survived. It's a twist on a twist.
---