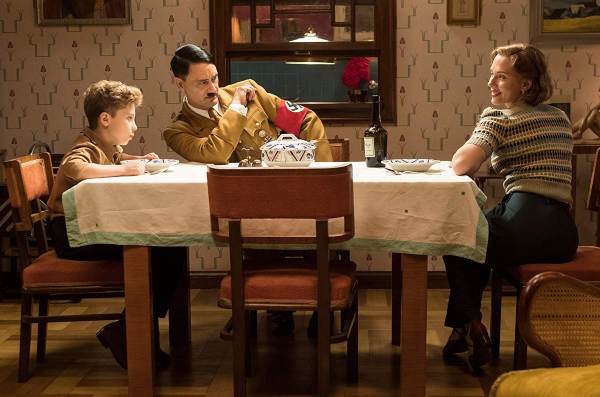 Copyright Notice: It's easy to see when our selected quotes have been copied and pasted, as you're also copying our format, mistakes, and movie scene descriptions. If you decide to copy from us please be kind and either link back, or refer back to our site. Please check out our copyright policies here. Thanks!
Starring: Roman Griffin Davis, Taika Waititi, Scarlett Johansson, Thomasin McKenzie, Rebel Wilson, Stephen Merchant, Alfie Allen, Sam Rockwell
OUR RATING: ★★★★☆
Story:
Dark comedy drama directed and written by Taika Waititi. Set during World War II, Jojo Rabbit (2019) follows a lonely German boy, Jojo "Rabbit" Betzler (Roman Griffin Davis), whose world view is turned upside down when he discovers that his single mother, Rosie (Scarlett Johansson), is hiding a young Jewish girl, Elsa Korr (Thomasin McKenzie), in their attic. Aided only by his idiotic imaginary friend, Adolf Hitler (Taika Waititi), Jojo must confront his blind nationalism.
Our Favorite Quotes:
'You look a tiger in the eye. And trust without fear. That's what it is to be a woman.' - Rosie (Jojo Rabbit)
Click To Tweet
'Let everything happen to you. Beauty and terror. Just keep going. No feeling is final.' - Rainer Maria Rilke (Jojo Rabbit)
Click To Tweet
Best Quotes
---
Jojo: [looking at himself in the mirror] Jojo Betzler. Ten years-old. Today, you join the ranks of the Jungvolk, in a very special training weekend. It's going to be intense. Today, you become a man.
---
Jojo: Adolf, I don't think I can do this.
Adolf: What? Of course you can. Sure, you're a little bit scrawny, and a bit unpopular, and you can't tie your shoelaces, even though you're ten years-old. But you're still, the bestest, most loyal little N**i I've ever met. Not to mention the fact you're really good looking. So, you're going to get out there, and we're going to have a great time, okay?
Jojo: Okay.
Adolf: That's the spirit!
---
Captain Klenzendorf: [to the children at the training camp] So, a little about me. Who am I, and why am I here, talking to a bunch of little t*tty-grabbers instead of leading my men into battle towards glorious death? Good question. I've asked it myself every day since Operation Screw-Up, where I lost a perfectly good eye in a totally preventable enemy attack. And according to my superiors, you need two eyes to be a meaningful part of the war effort.
---
Captain Klenzendorf: [to the children at the training camp] Over the next two day, you little critters, get to experience some of the things that the mighty German army goes through everyday. And even though it would appear our country is on the back foot, and there really isn't much hope of us winning this war, apparently, we're doing just fine.
---
Fraulein Rahm: Now, get your things together, kids. It's time to burn some books!
---
Yorki: But how would you know if you saw one? They could look just like us.
Jojo: I'd feel its head of horns. And they smell like Brussels sprouts.
Yorki: Oh, yeah. I forgot about the Brussels Sprouts bit.
---
Yorki: I guess I'm just a kid in a fat kid's body.
---
Adolf: [as Jojo is by himself crying] Poor, Jojo. What's wrong, little man?
Jojo: Hi, Adolf.
Adolf: Want to tell me about that rabbit incident? What was all that about?
Jojo: They wanted me to kill it. I'm sorry, I couldn't.
Adolf: Don't worry about it. I couldn't care less.
Jojo: But now they call me a scared rabbit.
Adolf: Let them say whatever they want. People used to say a lot of nasty things about me. "Oh, this guy's a lunatic. Oh, look at that psycho, he's going to get us all killed."
[he then shrugs his shoulders]
---
Adolf: I'll let you in on a little secret. The rabbit is no coward. The humble little bunny faces a dangerous world everyday, hunting carrots for his family, for his country. My empire will be full of all animals, lions, giraffes, zebras, rhinoceroses, octopuses, rhineoctopuses, even the mighty rabbit.
Adolf: [opens his cigarette case] Cigarette?
Jojo: Oh, no, thanks. I don't smoke.
---
Adolf: [to Jojo] Let me give you some really good advice. Be the rabbit. The humble bunny can outwit all of his enemies. He's brave, and sneaky, and strong. Be the rabbit.
---
Yorki: Are you alright, Jojo? Who were you talking to?
Jojo: Nobody.
Yorki: Oh, I thought you were crying.
Jojo: Are you a teardrop specialist?
Yorki: No.
Jojo: Case closed. Now, it's time for Jojo to show those stick insects who's the real cowardly rabbit.
Yorki: I'm sorry. What are you talking about?
Jojo: Never mind.
Yorki: Jojo, where are you going?
Jojo: To be the rabbit!
---
Rosie: [after Jojo is scarred from the grenade explosion] My darling little cub.
Jojo: Why are you so happy? Your son is ugly like a monster.
Rosie: Hey, you're no monster.
---
Rosie: Now then, let's get on our way out. I think getting out of the house will do wonders for you recuperation.
Jojo: I don't want to go out there.
Rosie: What? Don't be silly. Of course you do.
Jojo: I look stupid! People will stare.
Rosie: Enjoy the attention, kid. Not everyone's lucky enough to look stupid. I for one am cursed to look incredibly attractive. Now, we're going to pluck up your courage, walk out that door, and have an incredible adventure. Okay?
Jojo: Okay.
---
Captain Klenzendorf: Frau Betzler. You're looking fetching as usual.
Captain Klenzendorf: [Rosie knees him in the groin] Ow!
Rosie: It's because of you my son can't walk properly and has a messed up face.
Captain Klenzendorf: Still angry with me.
Rosie: [slaps him across the face with her glove] Yes. So, you are going to look after him while I'm at work? Hm? Make sure he has a job and feels included. Got it?
Captain Klenzendorf: [holding his crotch in pain] Got it. Yeah, I really got it.
Rosie: Good.
---
Jojo: [referring to the people that have been left hanging in the street] What did they do?
Rosie: What they could.
---
Jojo: [after discovering Elsa] What do you want? Are you a ghost?
Elsa: Sure. A ghost.
---
Elsa: [as Jojo tries to run to open the door, she catches him] Don't make me run, kid. I'm far too hungry, and you know how much we love the taste of blood.
---
Elsa: I'm not a ghost, Johannes. I'm something worse, but I think you already know that, don't you? You know what I am?
Jojo: No.
Elsa: Yes. You know what I am. Say it. Say it!
Jojo: A Jew.
Elsa: Gesundheit.
---
Jojo: You can't be here.
Elsa: Well, your mother invited me. So I suppose that makes me her guest.
Jojo: You're not allowed.
Elsa: What will you do, sweet Lebkuchen? Hm?
Elsa: [Jojo look at their phone] Of course. Go on then, tell them. But do you know what happens if you do? I'll tell them you helped me, and your mother too. And you'd all be kaput. And if you tell her you know about me, just one word, I'll do the world a great big favor, and cut your N**i head off.
Elsa: [holds Jojo's knife against his throat] Got it?
Jojo: [fearfully] Yes.
Elsa: [holds up Jojo's knife] I think I'll hold on to this, it's pretty.
---
Jojo: [referring to discovering Elsa] What am I going to do?
Adolf: Honestly, no idea. I mean, there could be more of them. Hundreds of them living in your walls.
---
Adolf: [referring to Elsa] How did she get control like that?
Jojo: She must have used her powers, mind control.
Adolf: Oh, typical.
---
Adolf: [referring to Elsa] Oh, what to do. What to do.
Jojo, Adolf: Got it!
Jojo: I'll negotiate.
Adolf: Let's burn down the house and blame Winston Churchill.
Adolf: [pause] Or negotiate.
---
Jojo: [to Elsa, through the wall] Okay, well, I'll just say what I have to say. And that's this. I'm not scared of you, and I think you should find somewhere else to live. Okay?
Elsa: [comes up from behind and Jojo yells in terror] Not okay. Get the hell out of my room.
---
Jojo: [referring to how to deal with Elsa] You think of something!
Adolf: Huh, now I'm the expert?
Jojo: [as Adolf offers him cigarettes] Stop offering me damn cigarettes! I'm ten!
Adolf: Alright! Sorry, I'm stressed out!
---
Adolf: [referring to Elsa] There's no reason this thing in the attic needs to ruin your life. In fact, you could use it to your advantage.
Jojo: How?
Adolf: When someone tries to use mind powers on me, know what I do? Use mind powers back on them.
---
Adolf: [referring to Elsa] What I mean is this, make her feel safe, and then she'll drop her guard, and then you will be the one in control.
Jojo: Reverse psychology!
Adolf: Don't complicate things. Just use my backward mind power trick, and everything will be fine.
---
Jojo: I heard her.
Rosie: What? Who?
Jojo: Nina. A ghost.
Rosie: Oh, it's so sad for you. You've lost your mind. It's sadder for me though, because I have to live with a crazy person.
---
Jojo: I heard noises, upstairs.
Rosie: Ghosts. Honestly. You know what I heard? Rats! Yes, we have them. Can you believe that? Dirty animals. I've been meaning to tell you to stay away from upstairs until I've cleared them all, okay? I don't want you getting sick.
Jojo: Okay, mama. I'll watch out for those dirty rats.
---
Trailer: