Our list of the best quotes from Netflix's fantasy drama series created by Eric Heisserer, based on the Grishaverse novels by Leigh Bardugo. Shadow and Bone is set in a war-torn world, and follows soldier and orphan Alina Starkov (Jessie Mei Li), who has just unleashed an extraordinary power that might unite her world. Alina is then torn from everything she knows to train as part of an elite army of magical soldiers known as Grisha. But as she struggles to hone her power, she finds that allies and enemies can be one and the same, and that nothing in this lavish world is what it seems.
Copyright Notice: It's easy to see when our selected quotes have been copied and pasted, as you're also copying our format, mistakes, and movie scene descriptions. If you decide to copy from us please be kind and either link back, or refer back to our site. Please check out our copyright policies here. Thanks!
1. A Searing Burst of Light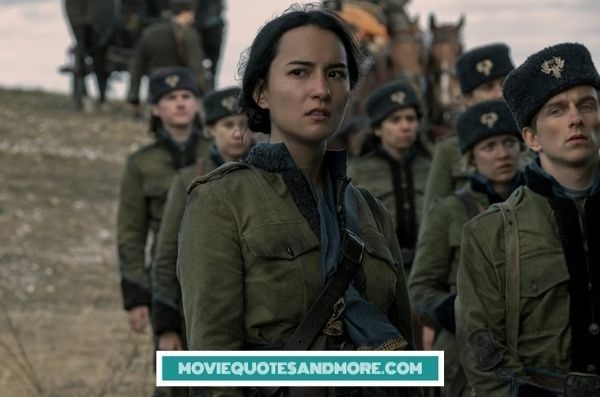 Alina Starkov: When I was young, I was afraid of the dark. When I got older, I learned that darkness is a place, and it's full of monsters.
---
Alina Starkov: I live in East Ravka, but I've never been welcome here. Because I look like my mother, and she looked like the enemy.
---
Ana Kuya: [to young Alina] Keep a pencil in your hand. Or else someone will put a rifle in it instead.
---
Alina Starkov: I spent years thinking I'd find a way out. Around the Fold, to go somewhere where no one cares where I'm from. But now, I'm old enough to know the only way out is through.
---
Ana Kuya: Can't hide forever.
Young Mal: Yes, I can!
Ana Kuya: Alright, maybe you can. But this is what you become! A boy who hides from a fight! Get very good at it, maybe you'll survive to see twenty.
---
Alina Starkov: So we're back together?
Malyen Oretsev: They can't keep best friends apart for too long.
Alina Starkov: Corporal Oretsev, are you saying you miss me?
Malyen Oretsev: Well, I need someone to take the fall for my petty crimes, that's all.
2. We're All Someone's Monster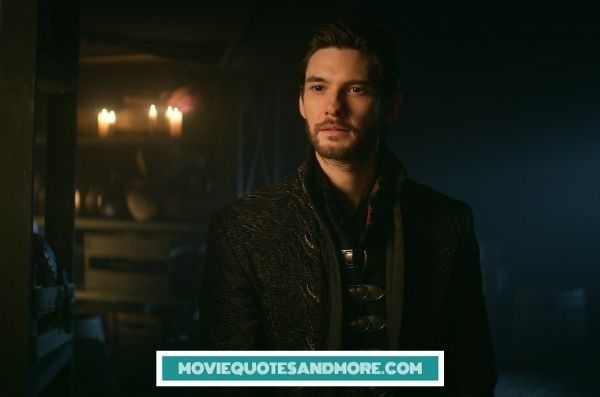 'Never make decisions out of fear. Only out of spite.' - Kaz Brekker (Shadow and Bone) Click To Tweet
Young Mal: Don't you want to know if you're Grisha?
Young Alina: Not if we can't go together.
---
Inej Ghafa: It was one thing when we had at least week to find a way across the Fold. But sunrise? We have to say no.
Kaz Brekker: No.
Inej Ghafa: That's a "no" to the job then?
Kaz Brekker: That's a "no" to saying "no".
---
Kaz Brekker: If I can't crack this, none of us is going anywhere.
Inej Ghafa: And if you do?
Kaz Brekker: Then maybe you stay here!
Inej Ghafa: Maybe I won't be here when you get back.
---
General Kirigan: What are you?
Alina Starkov: Alina Starkov, Assistant Cartographer, Royal Corps of Surveyors. They're all gone. It's my fault. That's why I'm here, isn't it?
General Kirigan: Answer the question. What are you?
Alina Starkov: A mapmaker, sir.
---
General Kirigan: Our mapmaker. Is this true? Can you summon light?
3. The Making at the Heart of the World
'Getting lost can happen even when you know where you are.' - Alina Starkov (Shadow and Bone) Click To Tweet
Alina Starkov: Dear Mal, I don't know where this letter will find you, but you mustn't worry about me. I'm fine. Safe in the Little Palace. It's like I blinked and the whole world changed.
---
Alina Starkov: [after hearing the servants saying she smells like horse] I am perfectly capable of washing myself. And, yes, I smell like horse. I was on one for two hundred miles. After nearly being killed. Twice. And I understand Old Ravkan, and that was really quite rude.
---
Alina Starkov: Don't change my eyes.
Genya Safin: I don't care that you're part Shu. I care that you look terrible.
'True north is home. It is where you feel safe. And loved. You have always been my true north.' - Alina Starkov (Shadow and Bone)
Click To Tweet
Genya Safin: I'm a Tailor. I can fix, but I can also modify.
Alina Starkov: I've never met a Tailor before.
Genya Safin: I'm almost as rare as you. Though I'd hardly say saving the Queen from sagging tits makes me as important as you. Important to the Queen, of course, and she does not like to see cracks in her porcelain.
---
Alina Starkov: [referring to the scar on her hand] No, that one's a reminder of home.
Genya Safin: Sentimental. We'll work on that too.
---
Alina Starkov: I can't go in front of the King. I need more time. I've only been a Grisha for a day.
Genya Safin: Maybe you've only been aware for a day. But you've been a Grisha your whole life.
4. Otkazat'sya
'Know that when I told you about true north, I was talking about you. You are my true north, and I can see my way to you now.' - Malyen Oretsev (Shadow and Bone) Click To Tweet
Malyen Oretsev: Dear Alina, weeks gone and still no word from you. This is my third letter. My unit has been sent to Chernast where the Fjerdans keep attacking at night. I tried bribing a Squaller to get word to you. He laughed at me. I petitioned the lieutenant to write to Little Palace on my behalf. Before he dismissed me, he asked, "What is she to you, anyway?" And I wasn't sure how to answer.
---
Malyen Oretsev: [writing to Alina] I can't stop seeing your face that day on the skiff. I'm not sure I ever will.
---
Alina Starkov: [referring to Kirigan] Black is his color. Not mine.
---
General Kirigan: Tell me, are you so anxious to be like everyone else?
Alina Starkov: It would be nice to know what that feels like, someday, General.
General Kirigan: Well, that day is not today.
---
Kaz Brekker: It turns out the Kribirsk archives house the Little Palace blueprints. But they're kept under lock and key. Far from the prying eyes of the masses.
Jesper Fahey: Yes!
Arken: What does that mean?
Jesper Fahey: Time for a heist.
5. Show Me Who You Are
'Where you are doesn't matter nearly as much as who you're with.' - Jesper Fahey (Shadow and Bone) Click To Tweet
Alina Starkov: Let's just say the Fold is gone. What then? Ravka will be revived. The Second Army won't be as necessary. Grisha will have new opportunities. I've always wanted to travel the world. See the True Sea. Visit the library at the University of Ketterdam. Mal always talked about retiring to a farm. I never really liked farms. But perhaps a dacha in Balakirev.
Genya Safin: Assuming Saints get to retire.
---
Genya Safin: I like seeing you this way, but I want you to be careful.
Alina Starkov: Of what?
Genya Safin: Powerful men.
---
Alina Starkov: [referring to David] You never compliment anyone to their face. You like him.
Genya Safin: Not a word.
Alina Starkov: [mockingly] "Ingenious."
'When there's something you want, better to act without thinking than think without acting.' - Jesper Fahey (Shadow and Bone)
Click To Tweet
Inej Ghafa: Aren't you supposed to be scouting our way out?
Jesper Fahey: What do you think I'm doing?
Inej Ghafa: I think you're flirting with that stable hand.
Jesper Fahey: What stable… Oh, him. I suppose he's moderately attractive, but I hadn't really noticed.
---
Jesper Fahey: Tell me, what makes one carriage faster than another? Wheels? Weight? The year it was built? Tell you what, don't answer. Trick question. The right answer is there is no right answer, because the carriage doesn't matter. It's the horse that makes the difference. The horse determines how far, how fast. And that determines whether you get caught or not.
Inej Ghafa: No human being should ever be as proud as you are right now.
6. The Heart is an Arrow
'I'm sorry that it took me this long to see you, Alina. But I see you now.' - Malyen Oretsev (Shadow and Bone) Click To Tweet
Jesper Fahey: We have a secure route through the Fold.
Alina Starkov: I prefer to travel alone.
Jesper Fahey: Don't be rash. You stick with us, everybody gets what they want.
Alina Starkov: I'm not being anyone's captive ever again. So step aside, and let me pass.
Kaz Brekker: I'm afraid we can't let that happen.
---
Nina Zenik: It was my power keeping you warm, Druskelle. You won't get far out here without it. If you'd rather call me names while you freeze and drown, that's your choice.
Matthias: Your kind are tricksters! Not to be trusted. You intend to kill me!
Nina Zenik: If I wanted you dead, I would have slowed your heart instead of speeding it up.
---
Matthias: Why would you save me?
Nina Zenik: Because you're human! And despite what you've been taught, Grisha are not monsters.
Matthias: You need my strength to swim to shore.
Nina Zenik: And you need my power not to freeze to death.
---
Nina Zenik: [to Matthias] So there is a brain inside all that muscle.
---
General Kirigan: [referring to Alina] I know exactly how she felt. The King's soldiers treated me the same way. Because they knew. They knew that I was more important than any of them.
7. The Unsea
General Kirigan: [flashback] They're punishing us for being Grisha.
Baghra: Punishing you. You made him afraid. Now he wants you to fear him.
General Kirigan: I won a war for him.
Baghra: And in doing so, started a war on us.
---
General Kirigan: You're the one who taught me how to kill, Mother. Their blood is on your hands as much as mine.
Baghra: I taught you so you could protect yourself. Not them. I told you as much, but you are so stubborn. You wouldn't listen. Maybe you will now.
---
General Kirigan: We need to safeguard all Grisha. We need to teach them how to fight.
Baghra: Most Grisha aren't fighters. They fix things. They make things.
General Kirigan: Then we make an army. Morozova did it. Forge new life to amplify our power. We are his bloodline. He made us too.
Baghra: You mean to use merzost? We practice the Small Science. Not magic!
---
Baghra: You cannot control it.
General Kirigan: I could create, just like he did.
Baghra: Then you will die! Like he did. It's unpredictable. Unstable. The Small Science feeds us. Merzost feeds on us. I forbid it. Now, do you hear me?
---
General Kirigan: I have no army to fight yours, so I shall remake yours as my own. Submit to me!
[releases his shadow and the Fold is formed]
---
Baghra: What did you do?
General Kirigan: I made something.
8. No Mourners
'Greed is a poor motivator. True wealth is the friends you make along the way.' - Jesper Fahey (Shadow and Bone) Click To Tweet
Alina Starkov: [as they go through the Fold] I should just tear this down now.
General Kirigan: And what can you really do on your own? Besides, it would be a monumental waste of power.
---
Jesper Fahey: We are in the worst place in the world, on a ship full of people who want us dead, surrounded by monsters who want us in their gullets. I should have brought Milo.
Inej Ghafa: Who's Milo?
Jesper Fahey: The goat.
---
Matthias: If we were in Fjerda, my people would help.
Nina Zenik: Help kill me, maybe.
'It's dangerous to go looking for the dead. What you see may haunt you for the rest of your days.' - Kaz Brekker (Shadow and Bone)
Click To Tweet
Matthias: I will go north in the night.
Nina Zenik: No. This can't be it. I'm not done tormenting you.
---
Nina Zenik: There must be a place where we're not just Grisha and Druskelle.
Matthias: Somewhere beyond Ravka? Beyond Fjerda?
Nina Zenik: A place where we're just Nina Zenik and Matthias Helvar.
Season 1 Trailer: