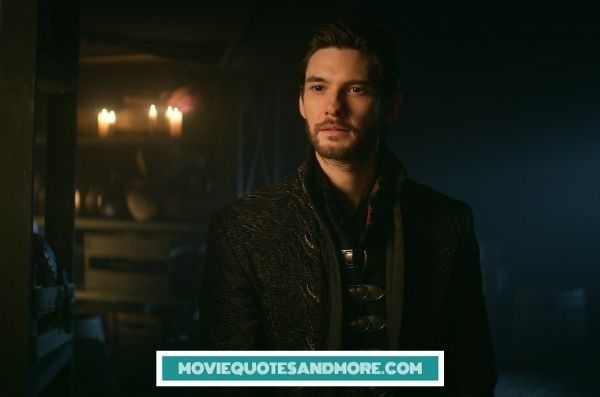 Our list of the best quotes from Netflix's fantasy drama created by Eric Heisserer, based on the Grishaverse novels by Leigh Bardugo. Shadow and Bone is set in a war-torn world, and follows soldier and orphan Alina Starkov (Jessie Mei Li), who has just unleashed an extraordinary power that might unite her world. Alina is then torn from everything she knows to train as part of an elite army of magical soldiers known as Grisha. But as she struggles to hone her power, she finds that allies and enemies can be one and the same, and that nothing in this lavish world is what it seems.
You can get a copy of the Shadow and Bone Trilogy boxed set here.
Copyright Notice: It's easy to see when our quotes have been copied and pasted, as you're also copying our format, mistakes, and movie scene descriptions. If you decide to copy our movie quotes please be kind and either link back, or refer back to our site. Please check out our copyright policies here. Thanks!
We'll add the best quotes once the series is released and we've had a chance to watch it, but for now here's a small selection.
Quotes:
General Kirigan: The Shadow Fold. A scar on the map that tore our country in two. To destroy it, we need a miracle.
---
Jesper Fahey: What the hell are you doing here?
Alina Starkov: I'll make it. Promise.
---
Milana: You're safe now. Tell me what happened in the Fold. What saved you?
Malyen Oretsev: You won't believe me, but it was a Sun Summoner.
---
Man: So who actually saw what happened?
Alina Starkov: We were attacked. And then there was a searing light.
---
General Kirigan: [to Alina] Is this true? Can you summon light?
---
General Kirigan: [to Alina] Lift up your sleeve.
[slashes open her arm]
General Kirigan: What are you? Answer the question. What are you?
Alina Starkov: A mapmaker, sir.
General Kirigan: Our mapmaker. Well, you and I are going to change the world.
---
Kaz Brekker: She's real.
---
General Kirigan: [to Alina] Our enemies are threatened by your mere existence.
---
Jesper Fahey: [to Alina] The whole world will be after you.
---
Dreesen: The prize is one million kruge. Bring me Alina Starkov.
---
Alina Starkov: Am I a prisoner?
General Kirigan: All of Ravka is. Until you and I enter the Fold and destroy it from within.
Alina Starkov: So no pressure.
---
Alina Starkov: Everyone is looking at me, like I'm the answer.
---
General Kirigan: [to Alina] The only thing more powerful than you or me, the two of us together.
---
Baghra: [to Alina] Bring the light.
---
Baghra: [to Alina after she brings the light] Good girl. Now the work begins.
---
Alina Starkov: If it goes wrong?
Jesper Fahey: I'll find my way back to you.
---
Kaz Brekker: How many bullets do you have?
Boy: Not enough.
---
General Kirigan: She'll realize she has only one equal. There are no others like us, and there never will be.
---
The Apparat: You have no idea how much larger a role you have to play.
Trailer: