Review By Spencer Stechman (Phoenix, AZ)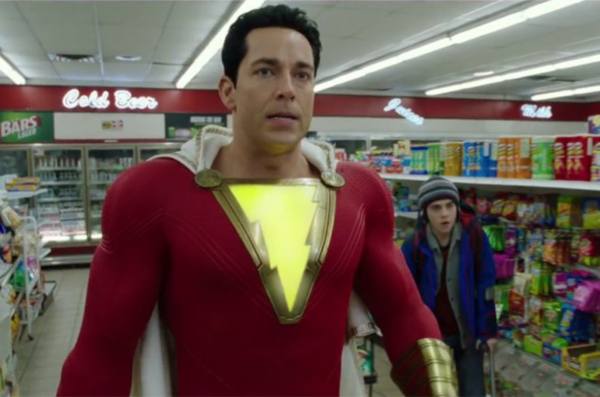 I know what you're saying. A superhero that gets his powers by saying…Shazam? It's a weird concept, I know. Ridiculous to say the least, but in short that is the origin story of 12 year old Billy Batson. Shazam! Which stars the likes of Zachary Levi, Asher Angel, Jack Dylan Grazer and Mark Strong lead a very strong case for what may be the best film in the DC Universe. The plot itself of Shazam follows Billy, a foster child who has already had a rough life. Jumping from foster home to foster home he seems like he'll always be a runner. Yet when he encounters a magical wizard who grants him powers of transforming into an adult superhero just by saying the word "Shazam", things really start to go bonkers.
Zachary Levi who plays the previously mentioned adult super hero NAILS this role to perfect. Every scene he's in, he's able to steal the show by being lighthearted, goofy and show the true potential of Billy Batson's character. Zachary is the perfect fit for this role and my goodness does it show. Every scene he's in is going to be the best scenes in the film because he plays the role that well.
What makes this film different from the rest is its use of comedy. This film is flat out funny, and has every great attribute for what it takes for it to be a great comedy. What's rare about this film however is the tone it takes. It's light hearted, its goofy and it knowns its own worth. Compare that to any other superhero film out right now and it stands alone. With people getting turned into dust in Infinity War and Bruce Wayne losing his parents at about the twenty minute mark of every Batman film ever, we can finally laugh throughout a superhero movie without having to feel bad for it.
Jack Dylan Grazer easily is the main reason for that. Jack plays Freddie Freeman, Billy's roommate at the foster home both are staying at. Right off the get go we understand the relationship between Billy and Freddie will not be easy and to compensate Freddie makes jokes to lighten the mood. As the plot progresses forward the Freddie still makes the same jokes but they land even harder and it just gets better with each time. Jack Dylan Grazer has already made himself known when he was in the 2017 version of IT but by nailing his role again in Shazam, it only cements his status as a child actor to be taken seriously.
The one flaw I saw within this film was its villain, Dr. Thaddeus Sivana played by Mark Strong. Way too long of an intro backstory and weak motive leaves the audience wanting more of a true villain for Billy to square off with. The performance is fine, it's just that the writing for the character kind of trailed off at some point and its noticeable which is a shame.
Overall Shazam is a self-aware superhero that is outright funny, filled with great performances and only gives DC the boost they need in the right direction. What's not to truly love about this film?

SHAZAM!
Rating: 5/5