Review By Alex Skrapits (Wantagh)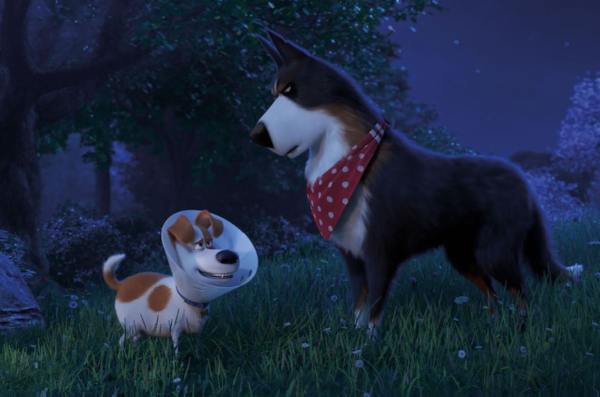 While the Despicable Me franchise continues to reign as the commercially successful non-Disney animated franchise, Illumination gives the sequel treatment to their previous projects, including The Secret Life of Pets.

Looking back at the first film, I still find it cute for its interesting premise, colorful animation, catchy musical score and a cast of memorable, side characters. My only issue(s) were that the plot was predictable and Max & Duke, while not intolerable, didn't leave much an impression for me.

However, my expectations began to blossom ever since the marketing for the sequel came out. After months of anticipation, the movie took me by surprise on how much it improved.

The sequel has three stories: 1. After Katie got married and has a son, Max (Patton Oswalt) became overprotective of his new playmate and must learn to overcome his fears. 2. Gidget (Jenny Slate) tries to rescue Max's favorite toy from an apartment room full of cats. 3. Reformed villain Snowball (Kevin Hart) dons a superhero alter-ego and must save a tiger from an abusive circus owner (Nick Kroll).

In hindsight, the plot would sound like a mess and have a lack of focus on which story to follow. In practice, however, the stories intertwine pretty well and does deliver an entertaining and intense climax in the third act. The plot is one of the major improvements over the original. The stories are more character-driven and sticks more close to the title of the franchise more than Max & Duke's buddy-comedy journey, which took majority of the first. The comedy is also a set-up from the predecessor where the jokes are more hit than miss. In fact, laughed out more than chuckling a few times in the past.

One of the highlights of any Illumination movie is the animation. Sure, some may argue that the Illumination animation quality and the character designs are too simplistic and doesn't visually stand out comparing to other animation studios. As an animator myself, I sense that the animators continue using heavy emphasis on shape on the animals' design that are executed well in their movements and humor. You can tell the animators had fun referencing how the animals move and behave, and animate them to their full potential. As for the setting for New York City, it retains its colorful appeal from the first film. They also added new scenery to give a different atmosphere from a pet's perspective. It can whether Max & Duke visiting the upstate farmland or Snowball venturing through the carnival fairgrounds. For the latter, it also provided some decent and energized action sequences.

Most of the characters return and they are still likable and funny, thanks to the actors' performances. There are couple of characters worth mentioning. I'll start off with Max. First, he is now voiced by Patton Oswalt replacing Louis C.K. after exposing his…history. He is, for the most part, a fitting replacement. But, there are times when his voice can be a little noticeable since both said actors have different pitches and deliveries. Outside his performance, Max goes through a major character development where he and Duke become friends with Katie's son, Liam. But, Max slowly and progressively becomes brave and less worried. I consider Max to be more likable than he was last time. Snowball went through a major transition from villain to a happily living as a pet while determining to helping others as a superhero (though at times, pretends for fun).
As for the new characters, they are mostly welcoming additions and provide their own charm. The only exception(s) that I felt weren't interesting enough were Katie's husband Chuck and son Liam. Again, not bad characters, they didn't leave much of an impression. On Snowball's side of the plot, we have Daisy, a kind-hearted Shih Tzu who idolizes Snowball's alter-ego and wants to be like him. Hu, the captive white tiger that gives out more personality than words with behaving like a house cat and having a childlike innocence. If I had to pick two of my favorite new additions of the pack, it would be Rooster and Sergei. Rooster (voiced the first time and remarkably well by Harrison Ford) is the farm dog that acts as Max's mentor on how to overcoming fears. I'd classify Sergei as the most menacing villain in Illumination history for his dark and threatening design and nature, comparing to the comedic, over-the-top villains from other movies.

Overall, The Secret of Life of Pets 2 is a major improvement over the first film, thanks to a well-thought out story, appealing animation, good laughs and great performances. If you are an animal lover, Illumination fan, or have kids, I'd definitely recommend this movie. It'll be fun to sit through and a good appetizer before Toy Story 4.
Rating: 4/5