Our list of the best quotes from Season 1 of Disney+'s MCU spin-off series based on the character Loki. Set after the events of the Avengers: Endgame (2019), we follow an alternate version of Loki (Tom Hiddleston) created in a new timeline, where he is is brought to the mysterious Time Variance Authority organization after stealing the Tesseract, where he uses it to travel through time altering human history, ending up trapped in his own crime thriller.
Where to Watch:
1. Glorious Purpose
'For nearly every living thing, choice breeds shame, and uncertainty, and regret. There's a fork in every road, yet the wrong path always taken.' - Loki
Click To Tweet
Loki: I am Loki of Asgard. And I am burdened with glorious purpose.
---
Hunter B-15: Variant identified.
Loki: I beg your pardon.
Hunter B-15: On behalf of the Time Variance Authority, I hereby arrest you for crimes against the Sacred Timeline. Hands up. You're coming with us.
Loki: I'm sorry. Who's "us"?
---
Loki: It's been a very long day, and I think I've had my fill of idiots in armored suits telling me what to do. So, if you don't mind, this is actually your last chance. Now get out of my way.
Hunter B-15: [hits Loki in the face] You are now moving at one sixteenth speed, but feeling all that pain in real time.
---
Casey: Can you at least tell me what it is?
Loki: It's the Tesseract. Be very careful with it.
Casey: It sounds dumb.
---
Loki: Know this. You cross me, there are deadly consequences.
Hunter B-15: We'll see.
---
Paperwork Clerk: Please sign to verify this is everything you've ever said.
Loki: What?
Paperwork Clerk: [the printer prints out a page] Sign this too.
Loki: Oh, this is absurd.
Paperwork Clerk: And this.
---
Scanner Clerk: Please confirm to your knowledge that you are not a fully robotic being, were born an organic creature, and do in fact possess what many cultures would call a soul.
Loki: What? To my knowledge? Do a lot of people not know if they're robots?
Scanner Clerk: Thank you for your confimration. Please move through.
2. The Variant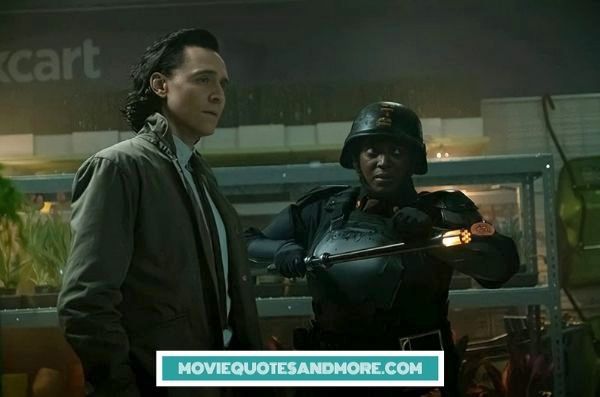 'Existence is chaos. Nothing makes any sense, so we try to make some sense of it.' - Mobius (Loki) Click To Tweet
Miss Minute: What happens when a nexus event branches past red line?
Loki: Very bad things.
Miss Minute: Come on, Loki. What is it?
Loki: It's when the TVA can no longer reset a nexus event. Okay? Boring.
Miss Minute: Right. And that would lead to the destruction of the timeline, and the collapse of reality as we know it.
---
Loki: Can you hear me? Are you a recording? Or are you alive?
Miss Minute: Sort of both.
---
Hunter B-15: C-20 and her team went dark shortly after they jumped into the 1985 branch. All signs point to another ambush. We've grabbed enough temporal aura to know it's our Loki Variant. But which kind of Loki, remains unknown.
Loki: They're the lesser kind, to be clear.
'No one bad is ever truly bad. And no one good is ever truly good.' - Loki
Click To Tweet
Hunter B-15: I don't want anybody out there to forget what you are.
Loki: Oh, your only hope of capturing a murderer?
Hunter B-15: No. A cosmic mistake.
---
Mobius: Here's the deal. When we get out on the branch, we're not just looking for a Time Criminal. We're looking for a Loki. A variation of this guy. A type we should all be very familiar with, because the TVA has pruned a lot of these guys, almost more than any other Variant. And no two are alike. Slight differences in appearances, or not so slight. Different powers, although, powers, generally include shape-shifting, illusion-projection, and my favorite…
Loki: Duplication-casting.
Mobius: Illusion-projection.
3. Lamentis
'Love is a dagger. It's a weapon to be wielded far away, or up close. You can see yourself in it. It's beautiful. Until it makes you bleed. But ultimately, when you reach for it, it isn't real.' - Loki Click To Tweet
Loki: A few questions.
Sylvie: Have you got nothing else better to do?
Loki: Rude.
---
Loki: Are you sure you're a Loki?
Sylvie: You're in my way.
Loki: You are my way!
---
Loki: [as he's fighting with Sylvie] I thought perhaps we could work together. But now I see you lack vision. So either you'll come willingly, or you won't. Either way, that's how I get to meet the Time Keepers.
Sylvie: Oh, God. Shut up!
---
Sylvie: [holding Loki at knife point] Come any closer and I'll kill him.
Ravonna Renslayer: Go for it.
---
Sylvie: [referring to the TemPad] Just give it back to me. You don't even know how to recharge it.
Loki: Of course I do. You're not the only tech savvy Loki.
Sylvie: Don't ever call me that.
Loki: Tech savvy?
Sylvie: No, a Loki.
4. The Nexus Event
'Welcome to the real world. Down there, we're awful to one another to get what we want.' - Loki Click To Tweet
Mobius: [referring to the Time Keepers] What did they say? Are you okay?
Ravonna Renslayer: No. No, Mobius. I'm not. Under the best of circumstances, it's jarring to stand before the Time Keepers. And this is not the best of circumstances.
Mobius: Yeah, but they can't blame you.
Ravonna Renslayer: They can and do.
---
Ravonna Renslayer: The Time Keepers are all that stand between us and full-scale calamity.
Mobius: And I'm glad they're on our side. But if they want me to find Loki, and the Variant, I need access to Hunter C-20.
Ravonna Renslayer: I'm sorry, but that's impossible.
---
Ravonna Renslayer: She's dead, Mobius!
Mobius: What? How?
Ravonna Renslayer: The Variant, she enchanted C-20, scrambled her mind.
Mobius: I don't get it. She seemed okay. She seemed fine.
Ravonna Renslayer: At first, yes. But by the time she got in here, she could barely speak. The decline was steeper after that.
'You could be whoever, whatever you want to be, even someone good.' - Mobius (Loki)
Click To Tweet
Ravonna Renslayer: [to Mobius] Every moment those Variants are out there, we're all in danger. Find them!
---
Sylvie: I remember Asgard. Not much, but I remember. My home, my people, my life. The universe wants to break free, so it manifests chaos. Like me being born the Goddess of Mischief. And as soon as that created a big enough detour from the Sacred Timeline, the TVA showed up, erased my reality, and took me prisoner. I was just a child. I escaped. Stole a TemPad and I ran for a long, long time, which really sucked. Everywhere and every-when I went, it caused a nexus event. Sent up a smoke flare. Because I'm not supposed to exist. Until, eventually, I figured out where to hide. And so, that's where I grew up, the ends of a thousand worlds. And now, that's where I'll die.
5. Journey into Mystery
'When you think the ends justify the means, there's not much you won't do.' - Mobius (Loki) Click To Tweet
Loki: What is this place? Where are we? Who are you?
Classic Loki: This is The Void. That's Alioth. And we're his lunch. Come on!
---
Sylvie: Who's really behind the TVA?
Ravonna Renslayer: I'm as in the dark as you are.
Sylvie: Poor Judge Renslayer. Your whole reality's been destroyed. Tell me, how does it feel to be on the other side of it?
---
Sylvie: This is it, isn't it? This is where you dragged me after you stole my life. A fitting place, then, to take yours.
Ravonna Renslayer: And what if I said Loki wasn't dead? Not yet, anyway.
Sylvie: I'd say you were lying.
Ravonna Renslayer: Maybe. Or maybe we want the same thing.
---
Ravonna Renslayer: I'm telling you this willingly.
Sylvie: Why?
Ravonna Renslayer: Because I want to know who's at the top of this. I want to know who lied to me.
---
Ravonna Renslayer: When we prune a branched reality, it's impossible to destroy all of its matter. So we move it to a place on the timeline where it won't continue growing. Basically, the branched timeline isn't reset. It's transferred.
Sylvie: To where?
Ravonna Renslayer: A void at the end of time. Where every instance of existence collides at the same point and simply stops.
Sylvie: Why?
Ravonna Renslayer: I don't know.
6. For All Time. Always.
'We're all villains here. We've all done horrible, terrible, horrific things. But now, we, you have a chance to do them for a good reason.' - He Who Remains (Loki) Click To Tweet
Sylvie: Aren't you going to tell me not to kick the door in?
Loki: It never made a difference.
Sylvie: Well, if you think it's a bad idea, I prefer you to speak your mind.
Loki: No. Nothing to say.
Sylvie: That'll be a first.
---
Sylvie: I was pruned before you even existed. I have been waiting for this moment my entire life. I just need a second to get my head straight, okay?
Loki: Sure. Of course.
---
Miss Minutes: Congratulations. Y'all had an awfully long journey to get here. He's impressed.
Sylvie: Who's impressed?
Miss Minutes: He Who Remains.
Loki: And who is he?
Miss Minutes: He created all, and he controls all. At the end, it is only He Who Remains. And he wants to offer you a deal. He's been making a few creative adjustments, and he's worked it out so we can reinsert both of y'all back into the Timeline in a way that won't disrupt things.
'All I know is, I don't want to hurt you. I don't want a throne. I just want you to be okay.' - Loki
Click To Tweet
Miss Minutes: The TVA can keep doing its vital work, and y'all can live the lives
you've always wanted.
Loki: And what have we always wanted?
Miss Minutes: Now, don't play coy with me, mister. You know how you got into this mess.
Loki: What?
Miss Minutes: The Battle of New York, silly. You versus those self-righteous Avengers.
---
Miss Minutes: How would you like to win? But not just there. You can kill Thanos. You want the Infinity Gauntlet? Yours. Throne of Asgard? No problem. What about you, missy? All those years on the run. Desperate, alone. How would you like to wake up tomorrow with just a lifetime of happy memories? Two Lokis in the same place.
Loki: Both of us together on the Timeline.
Miss Minutes: It's crazy, but he could make it work. All of it. Everything. Exactly the way you've always wanted. And you can have it all, together.