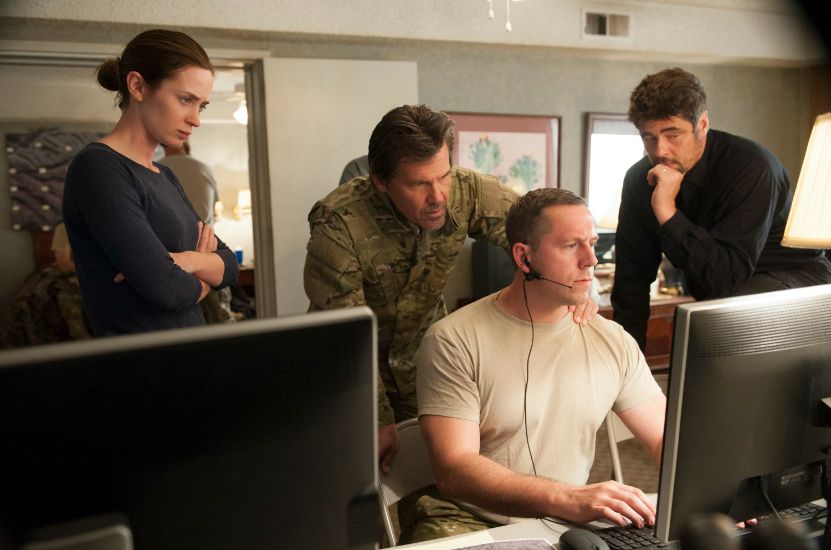 Starring: Emily Blunt, Josh Brolin, Benicio Del Toro, Jon Bernthal, Victor Garber, Jeffrey Donovan, Raoul Trujillo, Daniel Kaluuya, Maximiliano Hernández
OUR RATING: ★★★★☆
Story:
Crime drama directed by Denis Villeneuve. In Mexico, Sicario means hitman. In the lawless border area stretching between the US and Mexico, idealistic FBI agent Kate Macy (Emily Blunt) is enlisted by an elite government task force official, Matt (Josh Brolin), to aid in the escalating war against drugs. Led by an enigmatic consultant, Alejandro (Benicio Del Toro), with a questionable past, the team sets out on a clandestine journey forcing Kate to question everything that she believes in order to survive.
Best Quotes
---
Matt: State Department's pulling an agent that specializes in responding to escalated cartel activity. You'll be part of the team.
Kate Macer: This is not my department.
---
Matt: You want to be a part of this?
Kate Macer: Do we get an opportunity to get the men responsible for today?
Matt: The men who are really responsible for today.
---
Kate Macer: What's our objective?
Matt: To dramatically over-react.
---
Kate Macer: You're not American.
Alejandro: No.
Kate Macer: Who do you work for now?
Alejandro: Well, I go where I'm sent.
---
Alejandro: Every day I cross that border, people are kidnapped with or killed with his blessing. To find him would be like discovering a vaccine.
---
Alejandro: You're asking me how the watch is made. For now just keep your eye on the time.
---
Kate Macer: I just want to know what I'm getting into.
---
Alejandro: You will not survive here.
---
Kate Macer: I'm not a solider, this is not what I do!
---
Matt: You saw things you shouldn't have seen.
---
Kate Macer: He's a hitman.
Matt: He works for anyone who will turn him lose.
---
Kate Macer: I'm going to tell everyone what you did.
Matt: That would be a major mistake.
---
Alejandro: Nothing will make sense to your American ears, but in the end you will understand.
---
Kate Macer: They used me as bate.
---
Kate Macer: I was about to have sex with my hitman.
Alejandro: He wasn't going to kill you, he just wanted to know what you know.
---
Alejandro: You should move to a small town, somewhere the rule of law still exists. You will not survive here. You are not a wolf, and this is a land of wolves now.
---
Trailer: