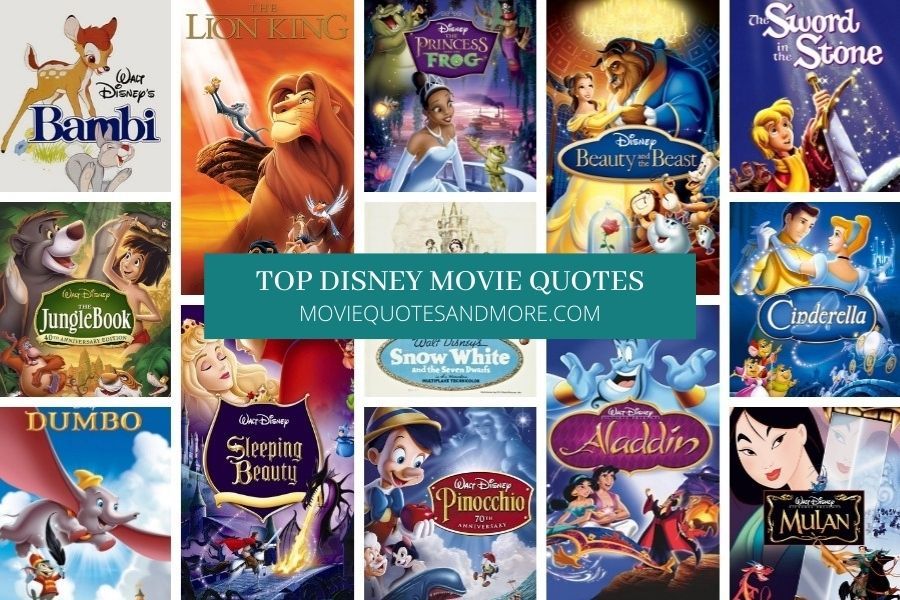 What's a movie quotes site without some Disney movie quotes? So here we have compiled our top Disney quotes in alpha order. You can also checkout our top Pixar movie quotes here.
Best Disney Movie Quotes
---
Aladdin (1992)
Merchant: Do not be fooled by its commonplace appearance. Like so many things, it is not what outside, but what is inside that counts.
---
Genie: Here's the thing about wishes. The more you have, the more you want.
---
Alice in Wonderland (1951)
Doorknob: Nothing's impossible.
---
The Aristocats (1970)
Marie: Ladies don't start fights, but they can finish them!
---
Holly Short: How do I know I can trust you?
Artemis Fowl: My father used to say, "A friend's eye is a good mirror."
---
Bambi (1942)
Thumper: If you can't say something nice, don't say nothing at all.
---
Beauty and the Beast (1991)
Narrator: She warned him not to be deceived by appearances, for beauty is found within.
---
Beast: You think you could be happy here?
Belle: Can anybody be happy if they aren't free?
See more Beauty and the Beast Quotes
---
Big Hero 6 (2014)
Hiro: We didn't set out to be superheroes. But sometimes life doesn't go the way you planned.
---
Chip 'n Dale: Rescue Rangers (2022)
Dale: So, what's been up with you?
Chip: Oh, you know, this, that. Other vague things to fill the space of this conversation.
See more Chip 'n Dale: Rescue Rangers Quotes
---
Cinderella (1950)
Cinderella: [singing] No matter how your heart is grieving, if you keep on believing, the dream that you wish will come true.
---
Cinderella: Just because it's what's done doesn't mean it's what should be done!
---

Cruella: But the thing is, I'm not sweet Estella, try as I might. I never was. I'm Cruella. Born brilliant. Born bad. And a little bit mad.
---

Scroll: Stepmothers. Well, they're wicked.
Giselle: Wicked good.
---
Dumbo (1941)
Timothy Q. Mouse: The very things that hold you down are going to lift you up.
---
Max Medici: Why me? A face only a mother could love.
Miss Atlantis: Sir, many of us find you handsome.
Max Medici: I was talking about the elephant!
---
Wade: There are a million reasons why this can't work. A million nos. But there's also one yes. We touched.
---

Mirabel: Gift or no Gift, I am just as special as the rest of my family.
---
Olaf: Love is putting someone else's needs before yours.
---
Olaf: Hey, Anna, I just thought of one thing that's permanent.
Anna: What's that?
Olaf: Love.
---

Eleanor: Forget ever after. Just live happily.
---
The Hunchback of Notre Dame (1996)
Laverne: Quasi, take it from an old spectator. Life's not a spectator sport. If watching is all you're going to do, then you're going to watch your life go by without you.
---
The Jungle Book (1967)
Baloo: Don't spend your time looking around for something you want that can't be found.
---
Baloo: [singing] Forget about your worries and your strife.
Mowgli: What's that?
Baloo: That's a song about the good life.
See more The Jungle Book Quotes
---
Frank Wolff: Ladies and gentlemen, get ready for the eighth Wonder of the World. Wait for it. The backside of water!
Boat Tourist: It looks just like the front side.
---
Buzz Lightyear: Narrating helps me focus. Stay sharp.
---
The Lion King (1994)
Mufasa: Simba, I'm only brave when I have to be. Being brave doesn't mean you go looking for trouble.
---
Mufasa: Everything you see exists together in a delicate balance. As king, you need to understand that balance and respect all the creatures, from the crawling ant to the leaping antelope.
---
The Little Mermaid (1989)
Sebastian: Ariel, listen to me. The human world is a mess.
---
King Triton: You shouldn't have had to give up your voice to be heard.
See more The Little Mermaid Quotes
---
Giulia Marcovaldo: You know, we underdogs have to look out for each other, right?
Alberto Scorfano: What's under the dogs?
---

Andy: You know, sometimes it takes somebody else to help you see yourself.
---
Maleficent: Mistress of Evil (2019)
Queen Ingrith: If I didn't know better, I'd say you were making a threat.
Maleficent: Well, do you?
Queen Ingrith: Do I what?
Maleficent: Know better.
See more Maleficent: Mistress of Evil Quotes
---
Michael Banks: It is wonderful to see you.
Mary Poppins: [looking at herself in the mirror] Yes, it is, isn't it?
See more Mary Poppins Returns Quotes
---
Maui: When you use a bird to write with, it's called tweeting.
---
Mulan (1998)
The Emperor of China: The flower that blooms in adversity is the most rare and beautiful of all.
---

Mulan: I wish I was as brave as you.
Zhou: There is no courage without fear.
---
Noelle Kringle: Sometimes, all you need is a nice word from a friend to make you feel comfortable in your own boots.
---

Ivan: Change is scary for all of us. Sometimes you just have to take a leap of faith. Trust that kindness will always be there when you need it.
See more The One and Only Ivan Quotes
---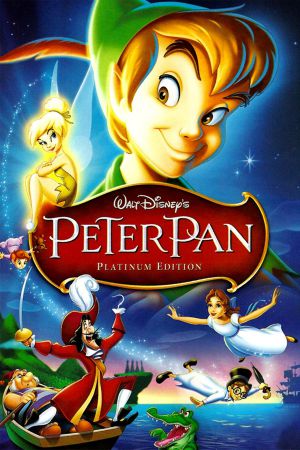 Peter Pan (1953)
Peter Pan: All it takes is faith and trust.
---
Pinocchio (1940)
The Blue Fairy: Always let your conscience be your guide.
---
Blue Fairy: The most important part about being real isn't what you're made of. It's about what's in your heart.
---
Pocahontas (1995)
Grandmother Willow: Sometimes the right path is not the easiest one.
---
The Princess and the Frog (2009)
Tiana: Fairy tales can come true. You got to make them happen, it all depends on you.
---
Ralph Breaks the Internet (2018)
Vanellope: Sweet mother of monkey milk!
Ralph: Woh! Kid, I don't think we're in Litwak's anymore.
Vanellope: We most certainly are not, friendo. We are in the Internet. Come on, Ralph!
See more Ralph Breaks the Internet Quotes
---
Raya and the Last Dragon (2021)
Raya: The world's broken. You can't trust anyone.
Sisu: Or maybe the world's broken because you don't trust anyone.
See more Raya and the Last Dragon Quotes
---
Sleeping Beauty (1959)
Princess Aurora: They say if you dream a thing more than once, it's sure to come true.
---
Snow White and the Seven Dwarfs (1937)
Snow White: You're never too old to be young.
---
Searcher Clade: My whole life, I worked so hard to be the exact opposite of my dad. And looks like I ended up just like him.
---
The Sword in the Stone (1963)
Merlin: Everybody's got problems. The world is full of problems.
---
Tangled (2010)
Hook Hand Thug: [to Rapunzel] Go. Live your dream.
Flynn Rider: I will.
Hook Hand Thug: Your dream stinks. I was talking to her.
---
Wreck-It Ralph (2012)
Wreck-It Ralph: I'm bad, and that's good. I will never be good, and that's not bad. There's no one I'd rather be than me.
---
Chief Bogo: [to Judy] Life isn't some cartoon musical where you sing a little song and all your insipid dreams magically come true. So let it go.
---