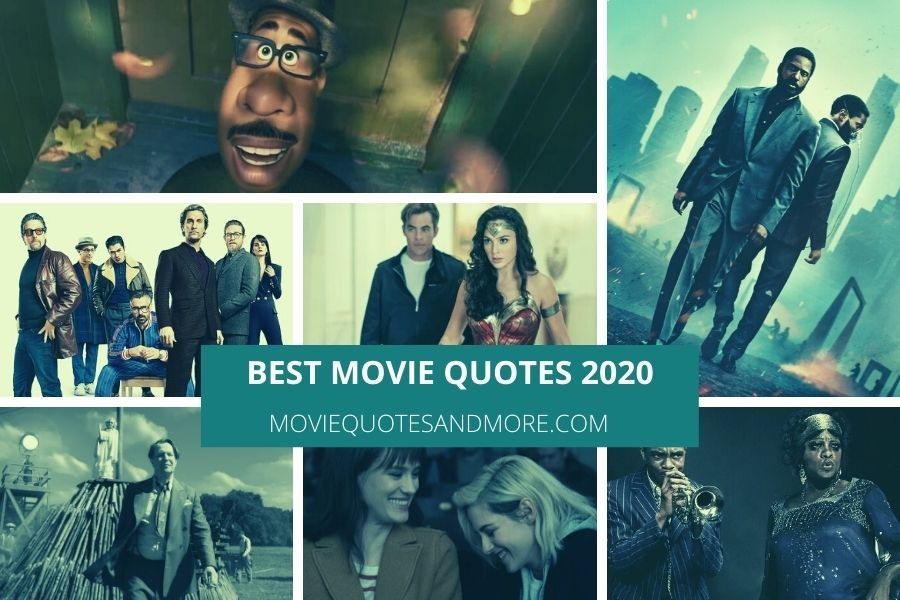 Here's our pick of the best movie quotes of 2020 in alphabetical order.
Top Movie Quotes 2020
---

Tobias Ellis: You're in control. But we need fuel.
---
Charlotte Murchison: "Is it that I am all alone? Yet in my dreams, a form I view that thinks on me and loves me too. I start, and when the vision's flown, I weep and I am all alone."
---

Herschel Greenbaum: This is what we're reaching for, everybody. This is the dream. This is the goal. Perfect jar of pickle.
See more An American Pickle Quotes
---

Veronica: Sometimes what looks like anger is really just fear. Things are not always what they appear to be.
---
Commander Root: Our world has never been so much in danger. It's not perfect. But it's ours. It's a light to guide us, and it's worth fighting for.
---
Duke: It's not until you know how someone dies that you know what really mattered to them. What they cared about, what they'd sacrifice for. What they would die for. Who they loved, and who loved them in return.
---
Marcus: Mike, you don't need a grenade launcher.
Mike: Yeah, but I want one.
See more Bad Boys for Life Quotes
---

Bill & Ted Face the Music (2020)
The Great Leader: What have you got to say for yourselves?
Bill: Be excellent to each other.
Ted: And party on, dudes.
See  more Bill & Ted Face the Music Quotes
---
Harley Quinn: You know, psychologically speaking, vengeance rarely brings the catharsis we hope for.
---

The Broken Hearts Gallery (2020)
Eva Woolf: Pain, my dear, is inevitable. It's what you do with it that matters.
See more The Broken Hearts Gallery Quotes
---
John Thornton: The world's a dangerous place. You never know what's coming. You never know.
See more The Call of the Wild Quotes
---

Johnny: The only thing that really matters, Fonse, is how a man treats his family.
---

 Sedrick Roundtree: The universe is like one huge street, full of things we can never explain. One day you're walking down, thinking the s**t you're in is never going to pass. And the next, it does.
See more Critical Thinking Quotes
---
Grug: It's not just Punch Monkeys. It's Kick Monkeys, Headbutt Monkeys, Low-blow Monkeys, Bite Monkeys, Ab-tight Monkeys! Shoulders that punch! Tails that crunch! Deranged stranglers! Strange danglers! Fanged manglers! Mouth breathers! Brain squeezers! And a dude with weird eyes.
See more The Croods: A New Age Quotes
---

Paul: See, we're Bloods. We got a bond. We fought in an immoral war that wasn't ours, for rights we didn't have.
---

Lee Bodecker: Some people were born just so they could be buried.
See more The Devil All the Time Quotes
---
Emma Woodhouse: I have been unpardonably vain, and insufferably arrogant. I have been inconsiderate, and indelicate, and irrational, and unfeeling.
---

Sherlock Holmes: It's always there, the truth. You just need to look for it.
---

Eurovision Song Contest: The Story of Fire Saga (2020)
Lars Erickssong: Remember, give up on your dreams now while you're still young.
See more Eurovision Song Contest: The Story of Fire Saga Quotes
---

Ovi Mahajan: "You drown not by falling into the river, but by staying submerged in it."
---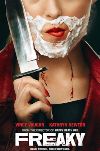 Nyla: He's still following us!
The Butcher (Millie): Guys!
Josh: You're Black! I'm gay! We are so dead!
---
Mickey Pearson: If you wish to be the king of the jungle, it's not enough to act like a king. You must be the king. There can be no doubt. Because doubt causes chaos and one's own demise.
---

Mackenzie: People want more than fearmongering. They want to laugh, and to hope, and be inspired to see the magic in the world. Because it's real.
---

Nathan Garrity: My friend Teddy says your life flashes in front of your eyes when you die. I think it would be better if it did that while you lived. That way, you could see all the good memories and be happy.
---

Captain Krause: "Repetition will bring hell down from on high."
---

Ellie Chu: Gravity is matter's response to loneliness.
See more The Half of It Quotes
---
John: Everybody's story is different. There's your version, and my version, and everything in between.
See more Happiest Season Quotes
---

Grace Davis: We could just pretend. We could pretend that we live in some sort of magical world where, I don't know, let's see, age and race are not a thing. And then do you know what the problem is? I, not the label, not Jack, not you, have to come up with s**t that people give a s**t about, and I don't know how to do that anymore!
---

Mamaw: Everyone in this world is one of three kinds. A good Terminator, a bad Terminator, and neutral.
See more Hillbilly Elegy Quotes
---

Tom: I've robbed twelve banks in seven states. I have a little over nine million dollars in cash. And no one knows who I am.
---

Hubie's Mom: True bravery is being kind. Even to those who are being cruel to you.
See more Hubie Halloween Quotes
---
I'm Thinking of Ending Things (2020)
Young Woman: "Nothing is more rare in any man," says Emerson, "than an act of his own." And it's quite true. Most people are other people. Their thoughts are someone else's opinions. Their lives a mimicry. Their passions a quotation. That's an Oscar Wilde quote.
See more I'm Thinking of Ending Things Quotes
---
Cecilia Kass: He's listening. He's in the room, James.
Detective Reckley: You're saying that the person who killed your sister is in the room right now, but we can't see him?
See more The Invisible Man Quotes
---

Jingle Jangle: A Christmas Journey (2020)
Jeronicus: Never be afraid when people can't see what you see. Only be afraid if you no longer see it.
See more Jingle Jangle: A Christmas Journey Quotes
---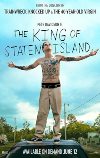 The King of Staten Island (2020)
Scott: So what is this?
Claire: It's paintbrushes and some paint. Well, I know you're into art, so I thought you could expand your horizons while I'm gone.
Scott: You got a gift receipt for this?
See more The King of Staten Island Quotes
---
George Blackledge: Sometimes that's all life is, Margaret. A list of what we've lost.
---

Joel: Good instincts are earned by making mistakes. If you're lucky enough to survive a few mistakes, you're going to do alright out here.
See more Love and Monsters Quotes
---

Jibran: We're asking the questions. And the answers to our questions better be answers. But the answers to your questions are going to be my fists.
---

Ma Rainey's Black Bottom (2020)
Ma Rainey: The more music you have in the world, the fuller it is.
See more Ma Rainey's Black Bottom Quotes
---

Robert: Disappointment is an absolute certainty. Everyone lets everyone down at some point. How you come back from that, that's romance.
---

Herman Mankiewicz: The narrative is one big circle, like a cinnamon roll. Not a straight line pointing to the nearest exit. You cannot capture a man's entire life in two hours. All you can hope is to leave the impression of one.
---

Mulan: When employed correctly, four ounces can move a thousand pounds.
---

Danielle Moonstar: My father used to tell me that inside every person, there are two bears. One bear is all things good. Compassion, love, trust. The other is all things evil. Fear, shame, and self-destruction. I asked him, "Which one wins?" He answered, "The one you feed."
See more The New Mutants Quotes
---

Captain Kidd: We're all hurting. These are difficult times.
See more News of the World Quotes
---

Andy: It's not what time steals, it's what it leaves behind. Things you can't forget.
---

Felix: Do you know a woman is at her most beautiful between the ages of thirty-five and thirty-nine?
Laura: Great, so I have many months left.
---

Ivan: My father used to say, "Anger is precious. Use it to keep order and warn others of danger."
See more The One and Only Ivan Quotes
---

Cassius Clay: Power just means a world where we're safe to be ourselves. To look like we want. To think like we want. Without having to answer to anybody for it.
See more One Night in Miami Quotes
---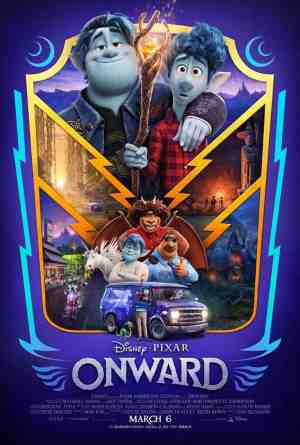 Ian Lightfoot: I think, with a little bit of magic in your life, you can do almost anything.
---

Fei Fei: Once you lose the person you love the most…
Gobi: It changes you.
---
Roy: You got to find your Irvine.
Nyles: I don't have an Irvine.
Roy: We all have an Irvine.
---
The Personal History of David Copperfield (2020)
Peggotty: You need to love those that help you out, and help out the ones you love.
See more The Personal History of David Copperfield Quotes
---
Christina: Sometimes the heart can be so full of love, it's like a weight on your chest making it impossible to move. That's how I felt when I was with him.
See more The Photograph Quotes
---
Martha: How can I give this pain to someone else? Someone who's already suffered? And I know she would not want that. At all. That is not why my daughter came into this world for the time that she did. And that is all I have to say.
See more Pieces of a Woman Quotes
---

Art: In the real world, the power goes to where it always goes, to the people that already have it.
---

Al Monroe: I mean, it's every guy's worst nightmare, getting accused like that.
Cassandra: Can you guess what every woman's worst nightmare is?
See more Promising Young Woman Quotes
---

Mrs. de Winter: It's odd, isn't it? Some people seem perfectly happy alone, while others just need someone to pass the time with. It doesn't matter who.
---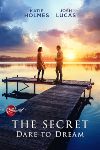 The Secret: Dare to Dream (2020)
Bobby: Nobody ever said that life was easy.
Miranda Wells: I don't want it to be easy. But I do want it to be worth it.
See more The Secret: Dare to Dream Quotes
---
Shaggy Rogers: People can grow. But it doesn't mean that we're growing apart. Because the one thing that will never change is that Scooby-Doo is my best friend.
---
Tom: Alright, pal. You need to start talking right now. Who are you? What are you?
Sonic: I'm a hedgehog. I feel like that's obvious.
See more Sonic the Hedgehog Quotes
---
22: You can't crush a soul here. That's what life on Earth is for.
---

Sylvie: But how do you know? If you love something absolutely, I mean.
Robert: I don't know. I guess when it's the only thing that matters.
---

David: How is it you don't have no kids, huh?
Creeper: Condoms, IUDs, birth control pills, morning after pills, plan A, plan B, plan C. There's a lot of options, boy.
David: You're going to hell, man.
Creeper: Yeah, but I'm at peace with that.
See more The Tax Collector Quotes
---
Neil: What's happened's happened. Which is an expression of faith in the mechanics of the world. It's not an excuse to do nothing.
---

The Trial of the Chicago 7 (2020)
John Froines: Any idea what's going on?
Lee Weiner: It's been years since I've had any idea what was going on.
See more The Trial of the Chicago 7 Quotes
---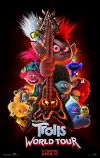 Poppy: You have to be able to listen to other voices, even when they don't agree with you. They make us stronger, more creative, more inspired.
See more Trolls World Tour Quotes
---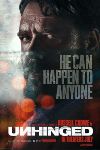 Man: We seem to have developed a fundamental inability to apologize to anyone, for anything.
---

Mabel Blanche: I think, at the lowest level, they send people on errands. They play with people's minds. They sway people to do things, and think certain ways so that we stay in conflict, focused on ourself. So that we're always cleaning house, or losing weight, or dressing up for other people. I think they get inside our heads and make us do destructive things, like drink and overeat. I've seen good people go bad, and smart people go mad.
See more The Vast of Night Quotes
---
Jack: I hope that one day you can see in me the man that you once hoped I would be.
---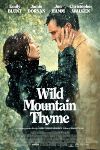 Rosemary: Everybody thinks they're something they're not.
See more Wild Mountain Thyme Quotes
---

The Cat: The best stories are the hard ones.
See more The Willoughbys Quotes
---

Grandma: It doesn't matter who you are, or what you look like, so long as somebody loves you.
---

Diana Prince: You cannot have it all. You can only have the truth. And the truth is enough. The truth is beautiful.
See more Wonder Woman 1984 Quotes
---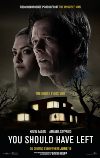 Stetler: That's the problem with mirrors. They always show you yourself.
See more You Should Have Left Quotes
---