New Movies Quotes and Lines
(Total New Quotes: 38)
Here are some of the quotes from recent top box office contenders and soon to be released movies listed in alphabetical order…
New Movie Quotes
---
Rachael Morgan: [to Stefan] I never thought I could be happy like this.
---
Alita: Battle Angel (2019)   REVIEWS
Alita: I'm not your daughter. I don't know what I am.
Dr. Dyson Ido: I do. You're the most advanced weapon ever. But that's just a shell. It's not bad or good. That part's up to you.
See more Alita: Battle Angel Quotes
---
Natasha Romanoff: This is going to work, Steve.
Steve Rogers: I know it is. Because I don't know what I'm going to do if it doesn't.
See more Avengers: Endgame Quotes
---
[reading his poetry to the crowd]
Moondog: "One day I will swallow up the world, and when I do, I hope you all perish violently."
---
Nick Fury: So Skrulls are the bad guys, and you're a Kree, a race of noble warriors.
Carol Danvers: Heroes. Noble warrior heroes.
See more Captain Marvel Quotes
---
Rafe: Harmony. Peace. It's a lie. Everything they're telling you is a lie. They're going to take everything.
---
Nels: I'm going to kill these guys.
Nel's Wife: Really?
---
The Curse of La Llorona (2019)
Man: It's La Llorona.
Chris: Is she coming?
Man: She's already here
See more The Curse of La Llorona Quotes
---
Bella: [voice over] Whenever life gets hard, it's our loved ones that help us get through it, and I was never going to stop searching for mine.
See more A Dog's Way Home Quotes
---
Milly Farrier: You're a miracle elephant, Dumbo.
---
Fighting with My Family (2019)   REVIEWS
Dwayne Johnson: Paige, I myself have come from a wrestling family too. I know exactly what it means to you. But don't worry about being the next me, be the first you.
See more Fighting with My Family Quotes
---
Stella: Human touch, we need that touch from the one we love almost as much as we need air to breathe. I never understood that until I couldn't have it.
See more Five Feet Apart Quotes
---
Elijah Price: Belief in oneself is contagious. We are part of something larger. We are fighting for the broken.
---
Tony Lip: You know, the world's full of lonely people afraid to make the first move.
---
Happy Death Day 2U (2019)    REVIEWS
Tree Gelbman: Oh, my God. Everything is different. This time it's coming after all of us.
See more Happy Death Day 2U Quotes
---
Nimue the Blood Queen: Out of the ashes, a new Eden will emerge.
Hellboy: Okay, I'd appreciate a prophecy with more relatable stakes.
---
Dr. Dibs: There is nothing to fear. Everything is going to be fine.
---
David: My kid is upstairs. Do you have a family?
Arjun: Yes, and I need to stay alive and see them.
---
How to Train Your Dragon: The Hidden World (2019)    REVIEWS
Hiccup: This is a new kind of enemy. We need to find the hidden world.
See more How to Train Your Dragon: The Hidden World Quotes
---
The Hummingbird Project (2019)
Vincent Zaleski: Tell me your dream, buddy.
Anton Zaleski: A country home on a hill, a small road, hummingbirds.
See more The Hummingbird Project Quotes
---
Charlie Peck: I you lost everything that was important, and then you had a chance to get it back, wouldn't you just go for it?
---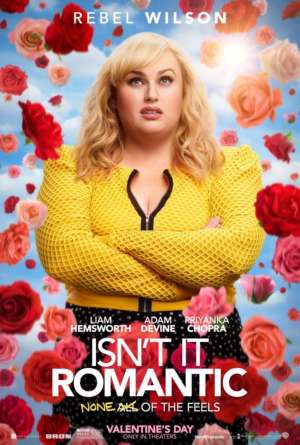 Whitney: Natalie's saying that romantic comedies are bad.
Natalie: All those movies are lies that's terrible pop songs.
See more Isn't It Romantic Quotes
---
The Lego Movie 2: The Second Part (2019)   REVIEWS
Lucy Wyldstyle: Emmet, you've got to stop pretending everything is awesome. It isn't.
Emmet Brickowoski: Yeah, I get it. And that's why I've cultivated a totally hard-edged side that's super tough and, look, look, a shooting star!
See more The Lego Movie 2: The Second Part Quotes
---
April: You have a chance anyone would kill for. Maybe you have to do something differently at this age.
Young Jordan: [confused] Botox?
---
Deb: Where are you going to get the money, Ollie?
Ollie: I'll figure something out.
---
Fred Flarsky: Do you like date?
Charlotte Field: I mean who wants to follow me around the world and hope I have five minutes to be affectionate?
Fred Flarsky: Yeah.
---
Adelina Fortnight: So let me see if I understand. You plan to travel around the world to the home of the yeti. I know the secret ways to the mountains.
---
Psychologist: You've been in isolation. What do you think about that?
Roman Coleman: I'm not good with people.
---
Jud Crandall: [to Louis] I know what you're thinking of doing, but they don't come back the same.
---
The Wizard: Billy Batson, I choose you. Say my name so my powers will become yours.
[we see Billy jumping off a building rooftop]
Billy Batson: Shazam!
---
Spider-Man: Into the Spider-Verse (2018)    REVIEWS
Miles Morales: How many more Spider-People are there?
Peter B. Parker: Save it for Comic-Con.
Miles Morales: What's Comic-Con?
See more Spider-Man: Into the Spider-Verse Quotes
---
Ugly Dog: Are we really not good enough for the big world?
Moxy: No, our flaws make us unique. Those are all worth fighting for.
---
Sam: I found some kind of code, or like a secret message in her apartment.
[he draws the symbol]
Sam's Friend: It means stay quiet.
See more Under the Silver Lake Quotes
---
[as they are paragliding]
Phillip: Just relax!
Dell: I am relaxed! This is me being relaxed!
---
Adelaide Wilson: They look exactly like us. They think like us. They know where we are.
---
Psychic Lady: I can help you connect with men. Why don't we have some tea?
Ali Davis: This smell like dirt.
Psychic Lady: No, that's just jasmine tea, if you don't count the weed, and the peyote, and the crack.
---
Where'd You Go, Bernadette (2019)
Bernadette Fox: Something unexpected has come up. There's much more explanation coming, but I have this one shot.
See more Where'd You Go, Bernadette Quotes
---
June: What happened here?
Boomer: The darkness happened. They brought an army of chimpanzombies.
Steve: So cute, but so naughty.
---
Total Quotes: 38